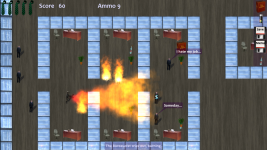 Just Another Day is part action game, part light-hearted questioning of the meaning of life and work. You play the role of a disgruntled office worker. Years and years in the same boring office, with the same boring jokes and the same paperwork... You feel your mind slowly dying. What are you doing it all for? Is this all there is to life?
And suddenly you snap. This is not how it's going to end.
And that's how it starts...
Featuring books and book quotes, flamethrowers and Molotov cocktails, graffiti and robocops, this game tries to combine action and light-hearted philosophy.