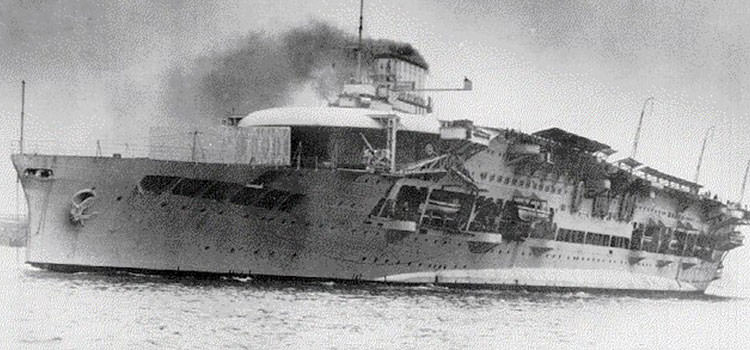 HMS Glorious was the second of the three Courageous-class battlecruisers built for the Royal Navy during the World War I. Glorious was then rebuilt as an aircraft carrier during the late 1920s. It was recalled home in April 1940 to provide air cover for British forces landing in Norway.
On the way through the Norwegian Sea the funnel smoke from Glorious and her two escorting destroyers, Acasta and Ardent, was spotted by Germans.
Glorious did not alter course or increase speed, no combat air patrol was launched, no aircraft was ready on the deck for a quick take-off.
Scharnhorst scored its first hit when one 28.3-centimetre shell hit the forward flight deck and burst into the upper hangar, starting a large fire. This hit destroyed two Swordfishes that were being prepared for flight and the hole in the flight deck prevented any other aircraft from taking off.
Glorious was hit again in the center engine room and this caused it to lose speed. The German ships closed to within 16,000 yards and continued firing. Glorious was sunk with over 1,200 lives lost.
The Royal Navy knew nothing about the sinking until it was announced on German radio. The circumstances of the sinking were the subject of a debate in the House of Commons on January 28, 1999. The absence of normal airborne patrols over Glorious and its destroyers, in conditions of maximum visibility, were named as contributors to the sinkings.
Photo: Historyinorbit.com