Greetings Pioneers!
This week we have been testing the new map along with new consumables as part of the upcoming survival mechanics expansion. That's food you gather from the plants as you harvest that you can then eat!
The food won't all be good however and some will leave you with a bad aftertaste and a certain amount of 'Corruption' which affects your stats and XP gain and requires treatments to counter. We've also been continuing work on new critters for the world which will also have consumable drops of their own.
See what we've been up to below:
John - Lead Designer
As well as organising production for the implementation of our new survival system, I've also taken a few days out of the studio to go down to Develop conference in Brighton, which has been great!
Matt - Art Director
Amongst creating decorative objects for the inside of Pioneers bases, i've been developing some rough models for key utility systems for the upcoming survival gameplay. Amongst these are a water tank, refinery, and water purifier. See if you can guess which one is which ;D ...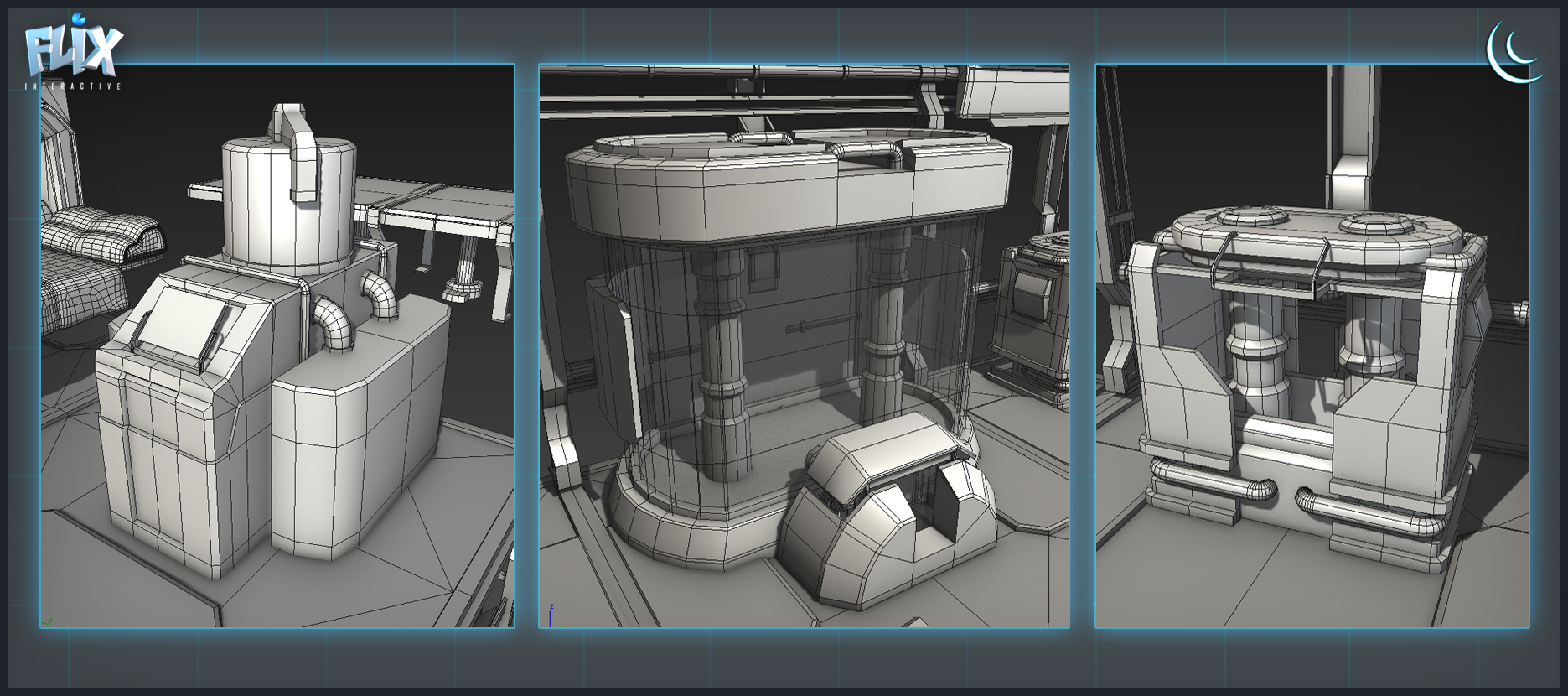 Lee - Technical Director
So this week I've been working on implementing some group behaviours for our AI. This will eventually mean groups of AI are able to work together to overcome an objective. I've also been adding some new functionality to the editor to allow our designers to update our own octree navigation system from the click of a button.
Tristan - Senior Developer
This week I have been working on implementing network dormancy into our game and looking into other ways we can improve our replications times.
Lauren - Animator
These past two weeks I've been continuing work on the modular weapons animations along with animating up new critters to scuttle around the new world. This one is a small neutral creature for the starting grasslands areas. I can't tell if he's more cute or gross but he needs a name so suggestions welcome! :)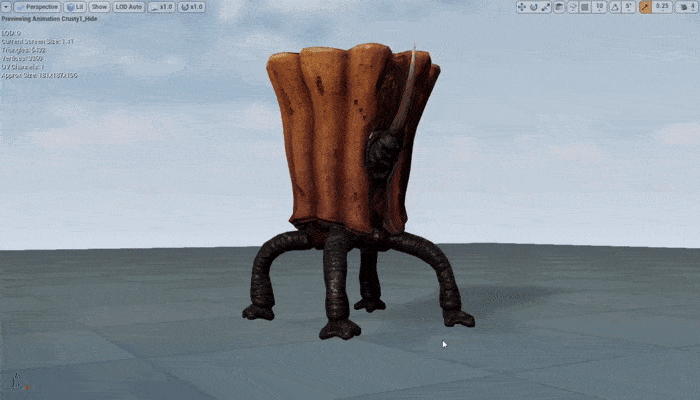 Yves - Senior Developer
Yves is on holiday galavanting or something. Prior to galavanting he has been working on a stat management system along with a number of the survival stats we have had lined up. Hopefully you'll be enjoying these soon.
Marcin - Designer
Last week's hotfix release finally freed us to pour straight into the game all those systems and big changes we've been cooking in the background for so long now: the new map, the progression system, survival mechanics, food and water, etc. The map is looking pretty good, but we're still working to make sure it's got all the creatures it's supposed to.
I've spent pretty much an entire week implementing new food items and treatments are next on my list. All those addition still require a massive amount of polish, so that's what I am doing, because I'm… also... polish. :D See what I did there? Huh? Anyone? Sigh.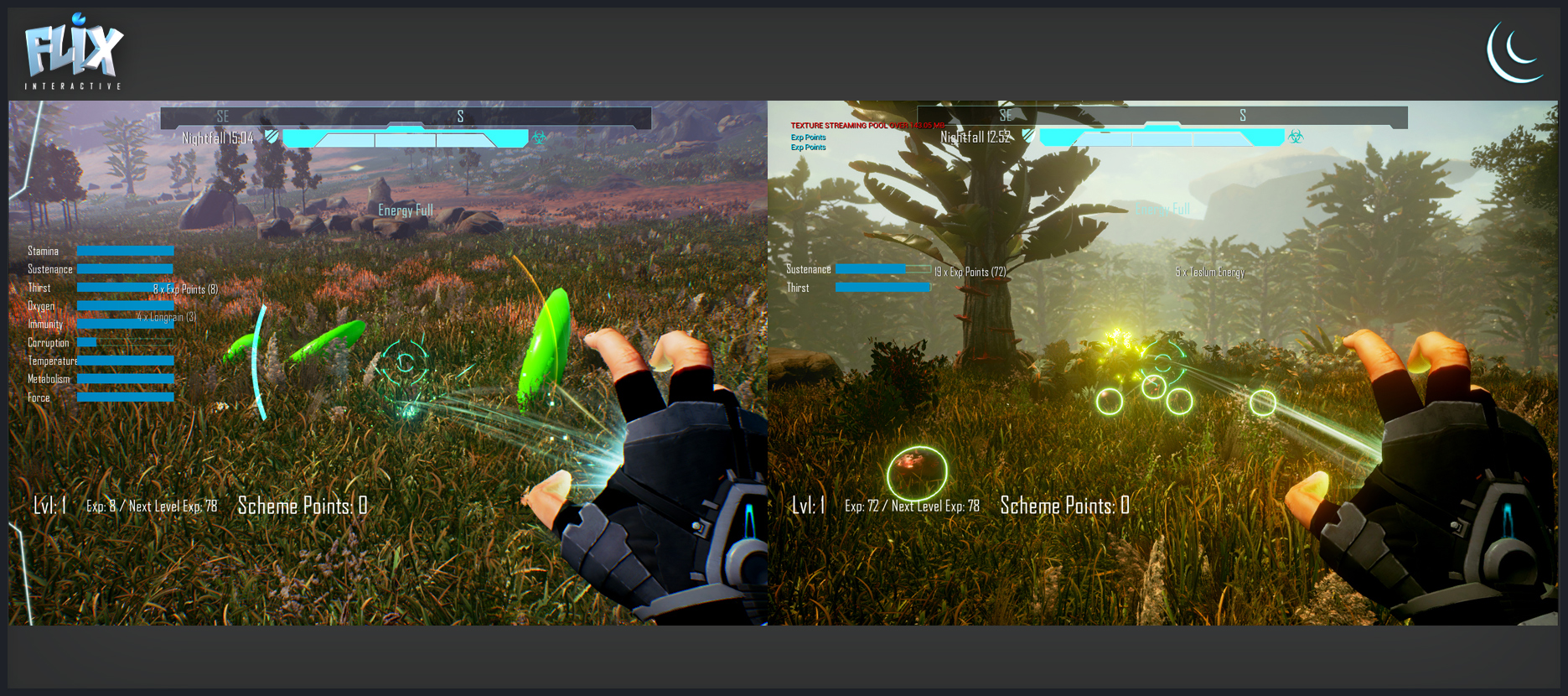 Anyway, enjoy a few very early screenshot of some of the upcoming features: first pass of the survival stats UI, placeholder UI for progression, and placeholder meshes for food item. Have a great weekend, everyone!
Ricky - Developer
Now there's a bare system in place for progression and statistics I've been sorting through and displaying them upon the HUD and UI. This involved sorting through a few issues with it too where you wouldn't die (I know, should I even fix that right?) and the consumables were not infact, despite their honourable title the "consumable" were not… get this… in fact… being consumed.
Joe - Environment Artist
The past couple of weeks have mainly been spent working on the art for a big new creature to populate our forest biomes - the 'Hog'! Roughly Juggernaut sized so you probably won't want to get in his way…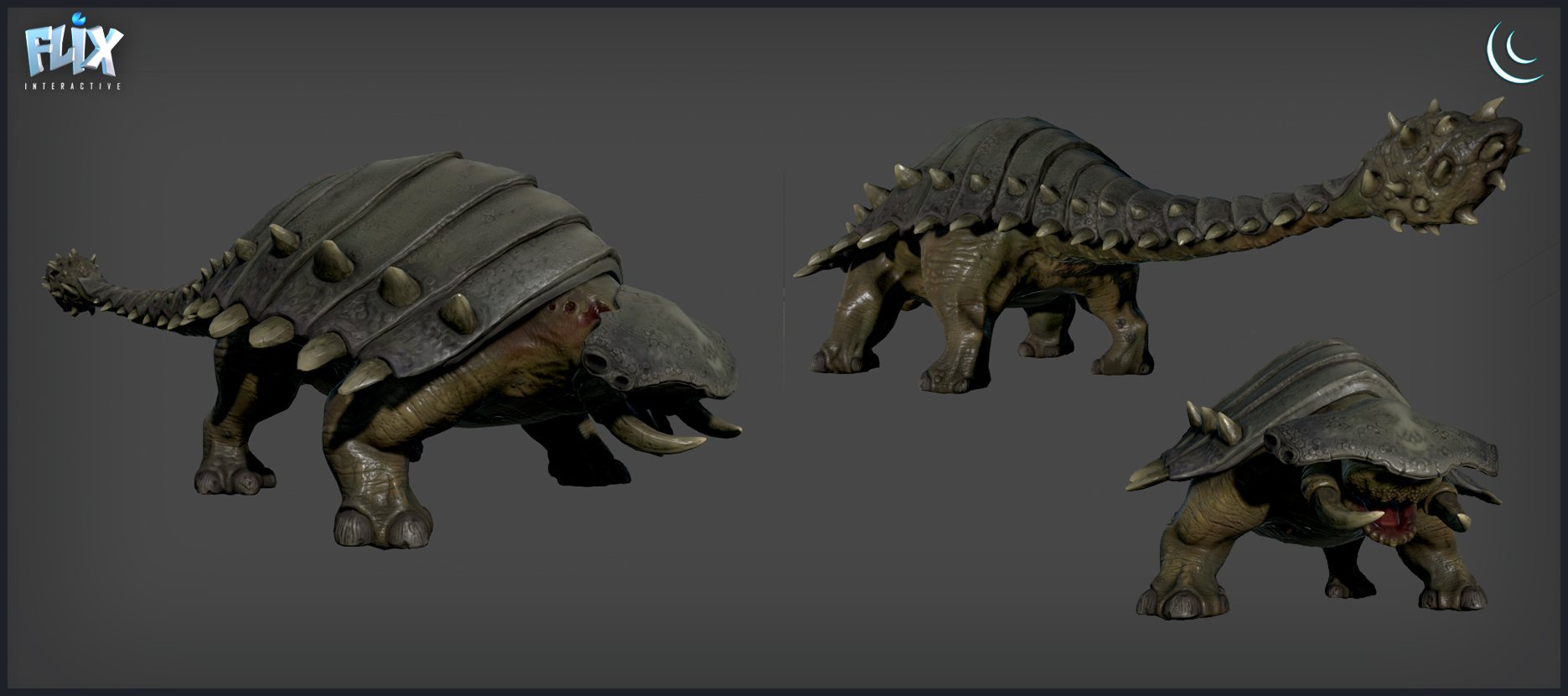 Once I finished up the Hog, I jumped onto fixing a bunch of bugs with the new map, some of which were pretty major. I'm now looking at our HUD redesign for survival and progression.
Tom - Character Artist
I've been working away at some sculpting changes to our vulture like creature before creating the game ready version!
Simone - Concept Artist
Over the past few weeks I've been busy with creature texture concepts for the Vulture and Lizard, making changes to a few different creature concepts, as well as creating orthographics for our new little crustaceans that will be walking around the world!
There has also been the addition of décor items that pioneers will be able to place in their bases that needed to be painted over to add details and colours schemes that we have been working on, as well as creating a holographic style sign that will make it easy to label your base's rooms!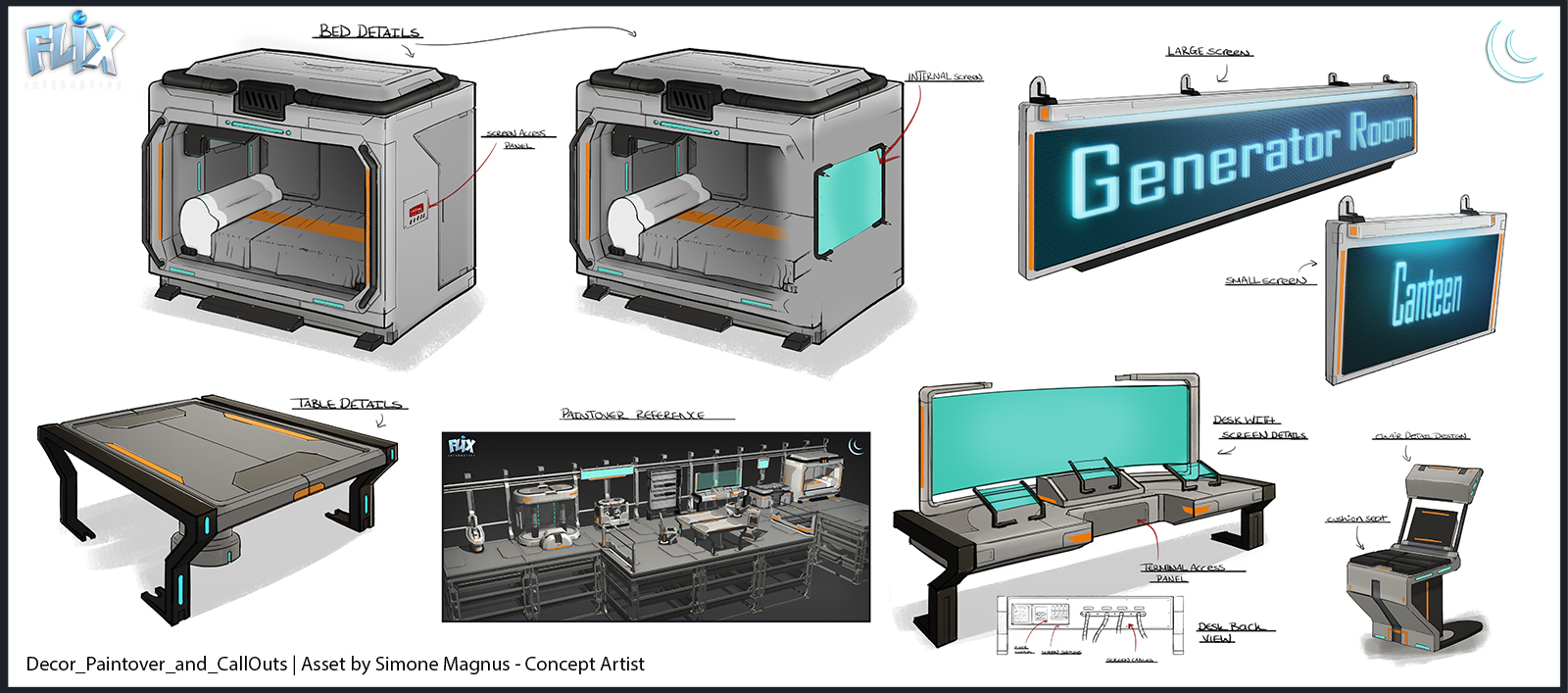 Andy - Lead QA
This week we managed to get the new map to test and although there are still a few kinks to iron out it is running really well. I have also been working with Marcin and Jamie to test the new player stats and how to best balance them.
Big thanks to Jamie who has been doing work experience with us in the studio for a few weeks, he's been very committed to the job. I physically shed a tear as he left this afternoon.. goodbye young Padawan.
See you in the fray!
-Team Flix