Sooooo the title...yeah it's not really original. Honestly I usually try to make these diaries to tie in with a cool story of a level or something new I'm working on buut this time the new trailer pretty much took that opportunity from me. The trailer features the Laudanum labs, that is my most ambitious level yet. Since I have to wrap up the story and the mod soon I decided to go out guns blazing. There will be some cinematic set pieces and some interesting chase/hide parts. Also I plan to place a flashback or at least some story telling element that will reveal the big story twist. It might just stay as a note since the level is already pretty loaded with stuff.
It's not the only thing I worked on. I have improved the other levels A LOT. There was a guy commenting that there were an odd ammount of torches in the Wine Cellar and while I kinda agreed I didn't really know if I wanted to change that. Then the mod grew and grew and if I changed that it meant I had to go trough the entire mod and change the lightning in every single level by hand. Well, I did that. That is why many pictures were marked as "(outdated torches and lightning)". Also at some places the level changed from the original picture so I have updated them as well with new pictures. There are quite a lot of new pictures but most of them don't show anything new, just old stuff with better looking lightning and most importantly, less torches on the walls.
You can look at it as Tinderboxes being more important or at least less useless since previously you needed that many torches to actually make useful light. Now you don't and thus the lantern is not so op. There have also been tons of QoL changes and bugfixes that I can't really tell you about (the changes to the DEMO levels have been documented on the DEMO's download page but as I said, the DEMO will NOT be updated). Let's see, what did I do also...Let me pull up the changelogs because I can't remember.
Oh yeah, there are now custom soundtracks as well in most levels and Chubby got his own sound effects those are different from any of the default monsters from TDD but still feel like they are from Amnesia. This is by the way the exact style I am looking for: "looks Amnesia, but it's not Amnesia", paraphrased from a commenter on one of the pictures of the Quarantied block.
With this post I offically decleare the 4th PHASE OF GRANDPA'S MANSION ALPHA. Yaaaaaay. (Technically it has been since the DEMO's release but now it was announced)
Stay tuned for next month's diary and the updated overview of all the levels ;) (I'll make it look professional this time I swear)
Edit: here is the overview ('right-click, open in new tab' to actually see whatever is written on it)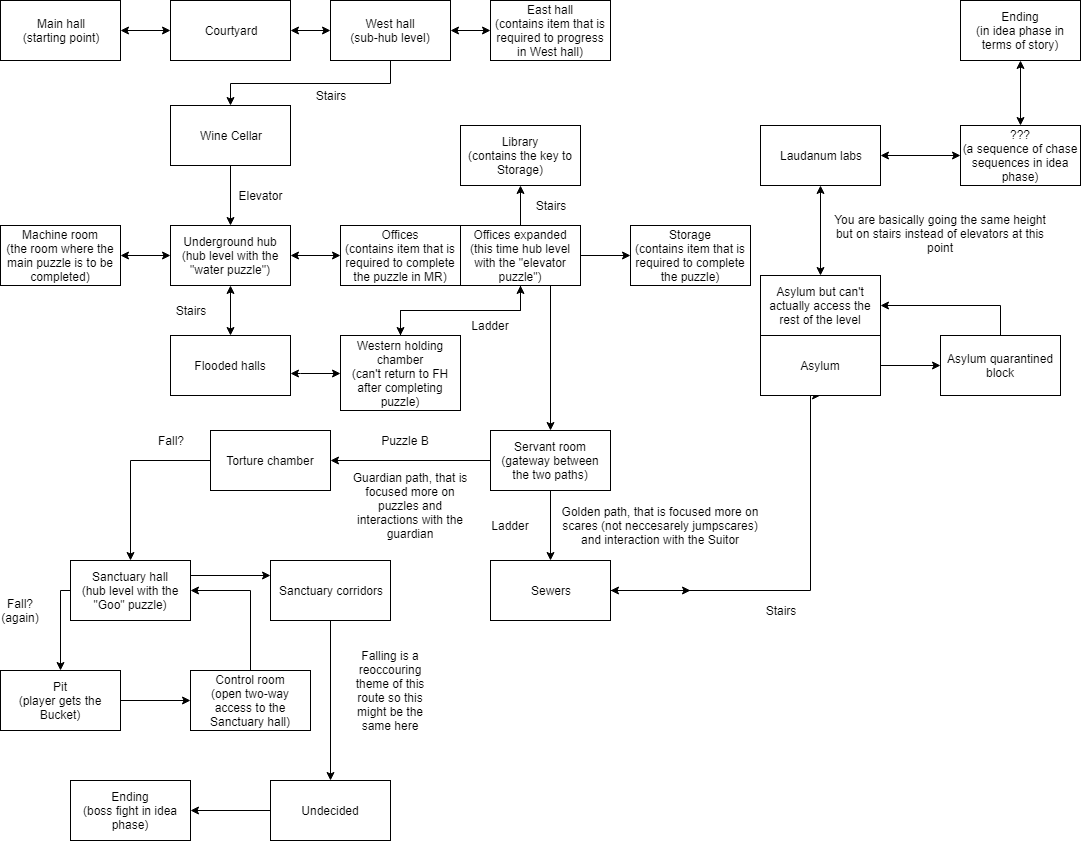 Edit 2: I have made a mistake on the graph; there is supposed to be a two way arrow from Storage to Offices expanded, you can return there