Julius Caesar was a famed Roman general who helped bring about the end of the Roman Republic and paved the way for the rise of the Roman Empire under his adopted son August Caesar. Famously, he was stabbed to death by those opposed to his rule. In Second Chance Heroes, Caesar is one of twelve playable characters and gets his revenge as a knife wielding rogue-type.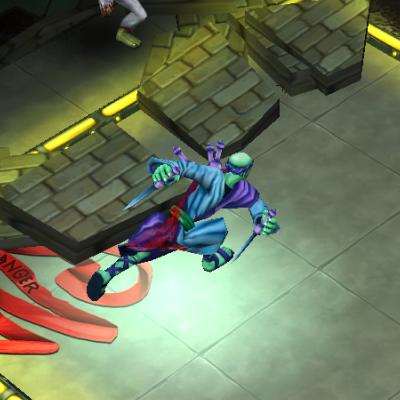 Julius Caesar in ghost form.
Many of our characters are subversions of some part of their history and Caesar is no different. To look at, he's a pretty straightforward vision of what you'd expect: Caesar in a Roman military uniform. It's with his secondary ability that Caesar's silly comes to shine. On right click knives once again stab Caesar in the back and he falls over dead. The reaction of first time players to this is often one of shock, followed by laughter, as Caesar is quickly replaced by a very angry and very stabby ghost who teleports around the scene ignored by enemies and stab whoever he likes for a short duration.
Caesar was designed to be a boss killer in our game. He's one of the only purely single target characters we have. His primary ability – knife throwing – is among the fastest and highest individual damage ability we have, but unlike most everyone else, it hits only one enemy at a time. Alone, Caesar can get surrounded and overwhelmed. Well supported against a boss though? Caesar is easily your best choice to chew through their hit points and take that guy down in a flash.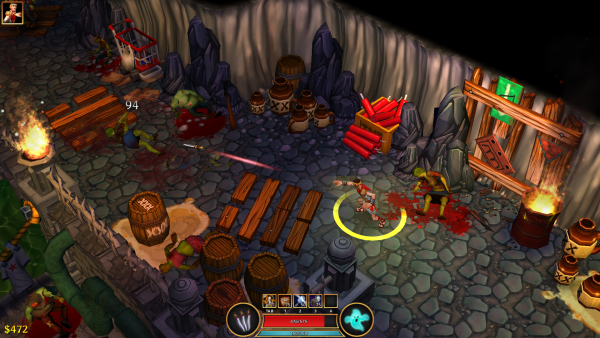 Julius Caesar performing his main ability
His secondary is our homage to rogues. When performed, he is invisible to all monsters. That alone provides him an easy escape mechanism for those times he is surrounded. That isn't enough though. He can also with a simple left click teleport and stab whoever is nearby. Properly executed, a Caesar ghost-mode can clear a room without a single monster even realizing he's there.
Many of our abilities are intentionally designed to serve multiple functions depending on the situation. Caesar can use his secondary for offense: the stabbing consumes energy faster and makes the ability end quicker; for escape: quickly get out from behind a wall of enemies who have cornered you; or for healing: when almost dead, become a ghost and the monsters will move onto your friends while you go grab that health power up behind enemy lines.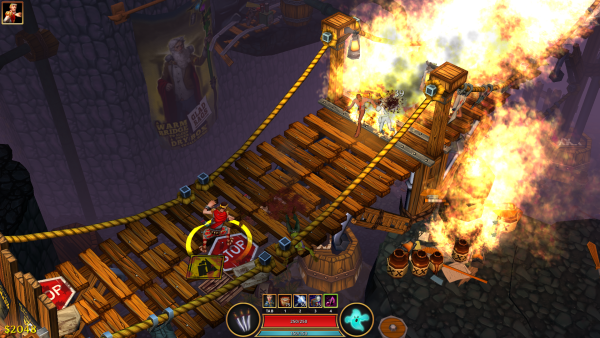 Julius Caesar takes on a bridge... of fire!
Second Chance Heroes is a cooperative game that can be played alone, but given how easy it is to change characters – you have the ability to swap between two during a level and can change between levels – we explicitly wanted to define roles for each. Caesar is admittedly not one of the best solo characters in the game. It's more than possible to do, but not highly recommended. He's a specialist who excels in groups or as a secondary character to overcome a particularly troublesome big boss.
For more information on Second Chance Heroes, check out our official website. There you can apply to take part in our ongoing Closed Beta. If you like what you see we would greatly appreciate your support on Steam Greenlight.
Until next time,
Dana Massey
Lead Game Designer
Second Chance Heroes