Alpha Release
It's been a while since alpha 2, and we've been working very hard. There are a lot of new mechanics and content, in addition to many bug fixes, in this latest release.
A few statistics:
35% of all the feedback we received in previous alphas (not including bugs) was implemented.
90% of all bugs reported by alpha players were fixed.
90% of all feedback / requests that were posted by more than one person have been implemented.
In Judgment, your voice as an alpha player counts! We are attentive to our community and love working closely with you in making Judgment the best we can make of it. We're looking forward to even more activity in alpha 3.
What's New
This is a quick recap of the main improvements, features and changes we've made since our previous alpha release.
The detailed descriptions can be found in the dev update posts and later in this article.
A full list of changes in alpha 3 can be found in our blog post.
Healing: Medicine can be gathered and used to craft med-kits or heal colonists in an infirmary.
Combat balancing: Lots of balancing and tweaks to combat like preventing units from stacking and items that can be used during combat.
Difficulty balancing: Defensive combat no longer becomes too hard as early as it used to, allowing for longer games.
New weapons, research and items: Lots of new items were added to the game including new weapons and new technologies to be researched.
New enemy creatures: New enemy creatures make the game more varied and interesting.
Visual Improvements: Including new animations, improved models and improved world map.
Dev Update: Healing, Combat Changes, New Items and Animations
A few more changes since our last update two weeks ago.
Medicine And Healing
New research subject "Medicine" unlocks construction of infirmary and crafting of med-kits. Medicine can be collected from ruins in the base and around the world and can be used in the infirmary to heal colonists faster, and to craft med-kits.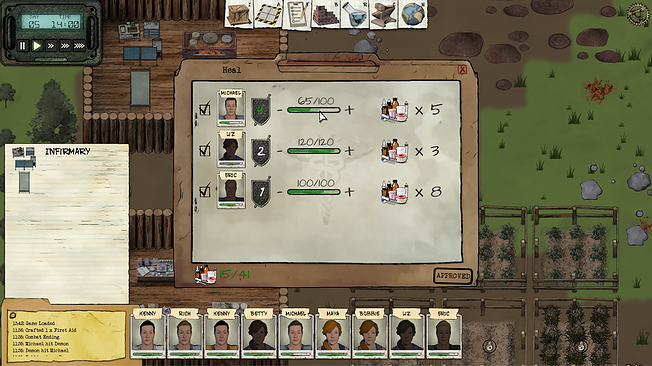 Combat Healing
Colonists now have a 3rd equipment slot in which they can assign a usable item. There are 3 levels of medkits that can be equipped, and these allow healing colonists during combat.
More usable items that can be used in combat are planned for future releases, such as grenades.
Work Animations
Different tasks now have different animations, replacing the placeholder hammer animation that was used for all tasks. The hammer animation, still used for construction and crafting, has been improved as well.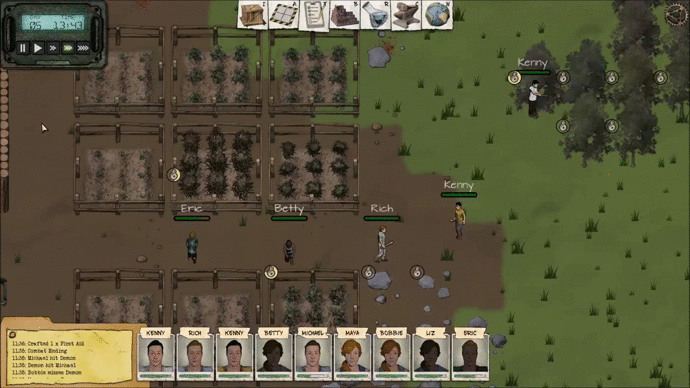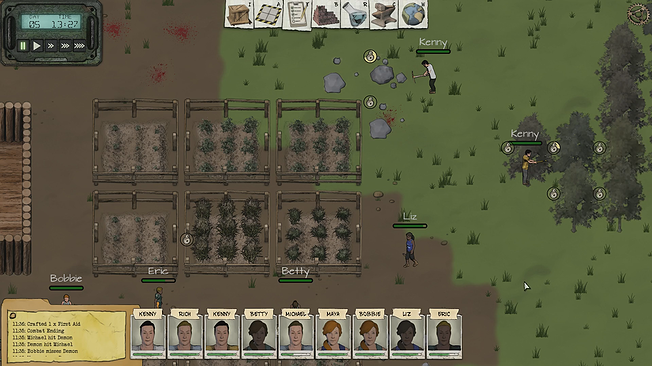 Combat Stacking
Units in combat will no longer stack on the same tile. Melee range has been increased to include diagonal tiles and melee units will now surround and attack their target from different directions instead of stacking on the same tile.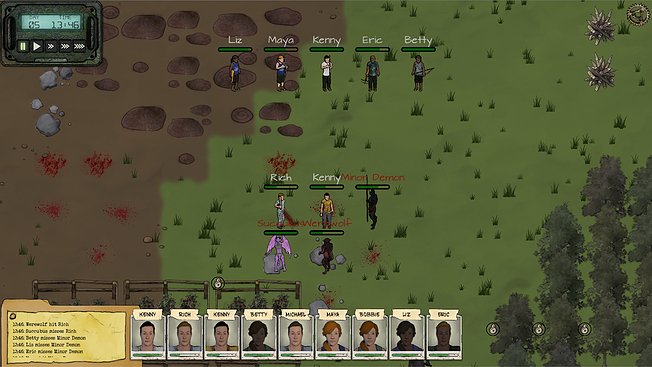 New Items and Resources
More than 11 new items have been added that will be used to craft high level items. Mineral resources have been added to the base map and require a mine to be built in order to gather them.
Advanced research now requires Science Parts, scavenged from high difficulty locations in the world map.