Hi Folks! It's been a month since our last news post here on IndieDB, and we just wanted to let you know that things have been progressing quite a bit despite our lack of updates! We are hesitant to post too much finished content, so as not to spoil the game. But, here's what has been going on in development lately:
Art:
- A new scene (Aura's bedroom/the attic) was finished.
- The third "battle" scene plus battle special effects is well underway.
- The design of the third boss is also underway, the basic design has been hammered out and the final art is in the line-work stage.
- Some potential NPCs have been concepted up to the line-work stage. Check them out: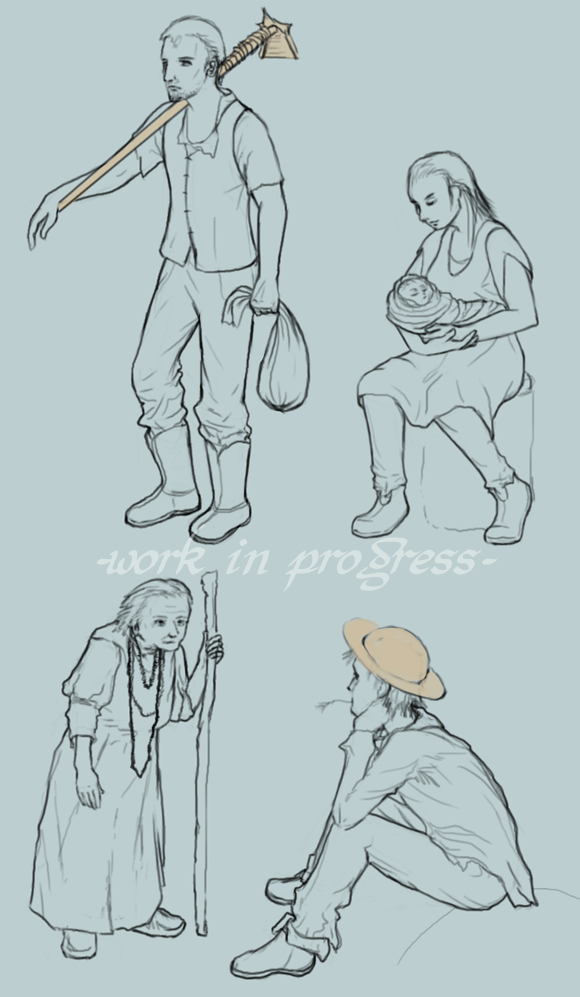 Animation:
- Aura's sit/stand animation has been completed.
- Animation has begun on the battle effects mentioned above.
Music:
Another music track was completed (this one is piano-centric and has an awesome mysterious vibe).
Story:
- Dialogue for Aura's hometown has been revised.
- Scenes and Dialogue for the second world have been written and await revision/polishing.
Lastly, we have decided to make Monday "Update Monday" for our facebook followers! Every week we will post short progress updates about what's been happening in development for Havencall! You can check out our facebook page here: www.facebook.com/havencall.
Also feel free to contact us via our forums!
Have a great week everyone!