Hey folks!
After finally getting the steam page for the game up last week, I realized I needed a singular place to post what I've been doing with development on a regular basis, so I decided to start this development blog to do just that.
With this blog I decided my top priority was to be as honest and transparent as possible(and legal), even when it means displaying an embarrassing lack of progress or something of the sort.
The Scary World of Marketing
I get a lot of anxiety when it comes to social media posts/marketing. When I have a seemingly insurmountable amount of work ahead of me, I can always bite the bullet, sit down, and get it done. But when it comes to marketing I can sometimes get a little existential. I guess because on a down day I can see a post that doesn't do well as evidence that I'm just fooling myself into believing that I can eventually make something super cool(or that I have done so already). This isn't most days, and I've gotten A LOT better with it in recent years, but it does happen much more frequently when I'm doing marketing things.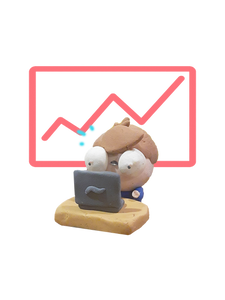 The panicked state in which I post content on social media(Actual photo)
With this in mind, I laid out a simple marketing plan of where I was going to post content about the game with a mindset that was pretty indifferent to the performance of the posts and didn't compare myself harshly to the other content on the site I was posting to. This may not be the most productive marketing strategy, but I knew from experience that it's where I needed to start to get more comfortable with posting content.
My main goal was this: If I could get one wishlist per day, just one, on the steam page then I would consider that a successful day. Kinda pathetic, but I think it's the very humbling place I needed to start in order to not get discouraged.
So how'd that go?
Super great, actually!
I ended up getting much more than one new wishlist each day, and have now reached a total of 79 wishlists on the game. Again, not sure if that's something to be proud of in comparison to what games SHOULD aim for in the first week, but I think it's cool considering how much I struggled with this stuff in the past!
I think I've been posting too much promotional content on reddit, so I'll figure out another strategy to try next week.
Development
On the development side of things, my main focus was to get something stable and solid together for the steam build and for a small virtual convention that the game will be shown at tomorrow.
I've been trying to figure out what should be the Seeker Item that the game launches with. The Hider players have a smoke bomb they can deploy to hide themselves that works great, but I needed the Seeker to have something they could use in a match to help them too. Eventually, there'll be a plethora of items for both Hider and Seeker roles to equip, but for launch there'll probably just be one for each.
Hider players can use a smoke bomb to hide themselves from the Seeker
I decided on a Clothes Clue item that, when used, reveals the clothing of one of the random hiders. This gives the Seeker some insight without revealing too much. It DOES mean that I need to think about clothing in the future- if I make too many different outfits that are just assigned randomly, then it's very possible that a Hider player will have the only shirt of its kind that round, pretty much totally giving them away if the item is used.
Seeker's 'Clothes Clue' item reveals the shirt of one random hider player
For now there's few enough outfits so that it's not a problem, but in the future I'm thinking each stage will have a unique set of clothes? I think that'd be cool thematically, and it would allow there to be a lot of variety while still having only a small pool of possible outfits available for each stage.
I've also generally been debugging a ton and fixing some some visuals. Made a new version of the winner display screen that I think looks much nicer :)
I don't think future blog posts will focus so much on the sales/marketing stuff(aside from big moments like release numbers or when it reaches 1.0) but it's been a lot on my mind this week cause I've struggled so much with that aspect in the past, so I thought I'd share.
Our heroes have successfully put up the game's steam page, but will they be able to keep the Wishlist momentum going? Will the game's first showing at a small convention be a total disaster? And will they be able to get a stable mac build?!?
Find out all this and more on next week's exciting episode of:
The Just Act Natural Dev Log!