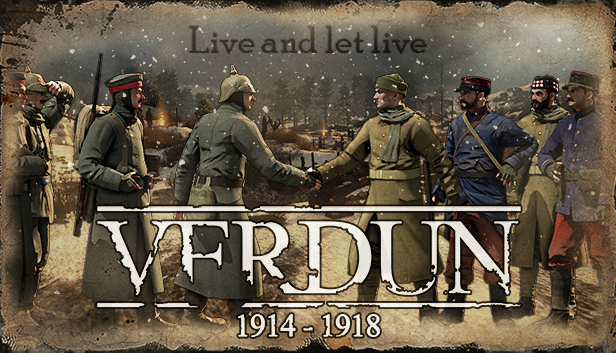 It's Christmas Truce!
World War 1 has a merciless dark side, yet also a surprisingly human side to it. In 1914 French, German and British troops held a remarkable truce during Christmas. During this truce, soldiers from the Entente and Central Power threw snowballs at each other, exchanged Christmas greetings and sang carols together. Soldiers who wrote Christmas cards from the trenches to their loved ones, had many stories of this extraordinary event, even mentioning that a number of football matches were held between the two sides. This stood in stark contrast with the massive death toll unheard of in the history of that time, marking WW1 as one of the bloodiest wars the world had ever seen.
This extraordinary event must not be forgotten, certainly not today. Live and let Live!
From December 22 – January 4 2016 the game Verdun will reproduce the WW1 Christmas Truce. This is done by releasing a new dedicated winter map where players can throw snowballs at each other, play a few football matches, sing along with Christmas carols and write Christmas cards to their loved ones. Sharing these cards might even win you an extra Steam key for your friend or enemy…
Watch the trailer: Youtu.be
Verdun game will have a 40% discount during the whole Christmas Truce. Also, the Verdun team will be streaming this event together with Twitchers; BaronVonGamez, Squire and PhlyDaily on the 23rd of December at 4pm Eastern time (GMT-5) - www.Twitch.tv/VerdunGame. Enjoy the Holidays!