Today Interstellar Rift will allow you, the players, to communicate better in game through the ancient but highly efficient use of signs.
Above every door you will now find a sign stating what room lies beyond that door. Each door will do this automatically based on the name that you assign to the room inside the ship editor. This also means that for the time being these signs cannot be changed unless you rename the room inside of the editor and salvage and rebuild your ship ingame.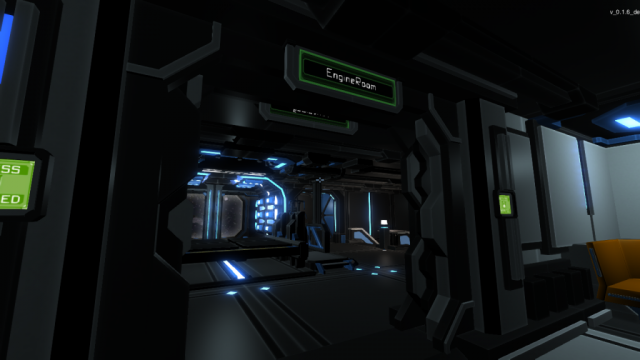 New door signs
But that's not all. We're also adding several new wall building blocks to the interior editor. Including a new wall section with a screen embedded in it. This screen will allow you to write a small piece of text and add arrows to either side. You can also customise the text color to one of 8 different colors. This sign is primarily added as a way to give directions aboard ships. More signs will be added in upcoming updates which will allow more text.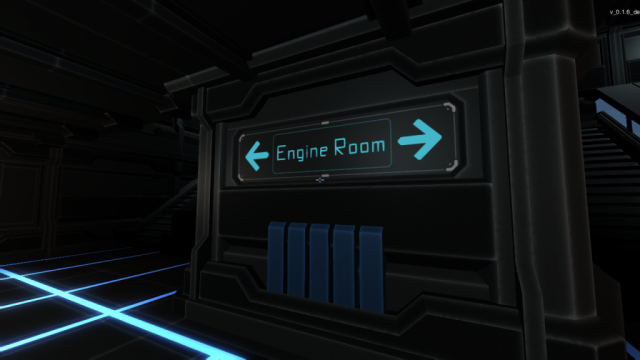 Directional Sign
In addition to the new sign system, we have also been working on adding more effects to the game. Every engine now has a visible beam of particles coming out of it, and thrusters will emit little jets every time you turn your ship.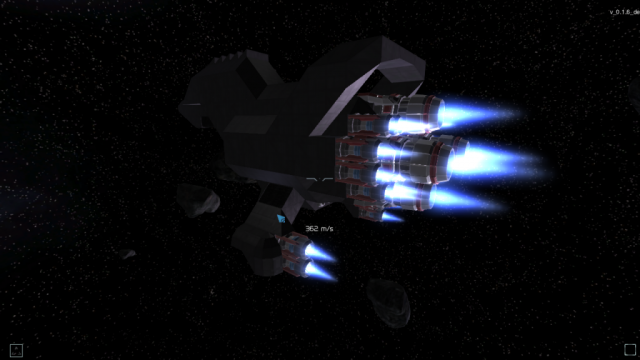 New engine effects
Most of our efforts have been concentrated on getting the multiplayer into a much more stable state than it has been over the last month. Last patch you might have noticed a significant improvement to the overall stability of servers and much fewer desynchronization events such as bumping into invisible asteroids and the like. With this patch, most of these issues have been resolved. This allows us to proceed with some major features again such as combat.
We sincerely thank you, our fans, for your patience over the past month while we worked on fixing these issues. We now have the proper tools that will allow us to quickly identify and squash these bugs as soon as they show their ugly faces.
On another note we would like to make everyone aware that Split Polygon is offering internships for tools, gameplay and engine programmers, if you're interested please visit:Interstellarrift.com for more Information.
We hope you enjoy this new patch and as always, if you would like to know more or would like sneak previews of upcoming features and patches please follow us on Twitter, Facebook and our own and Steam forums.