The world is fracturing. Borders are shifting, battles are waged for religion, for money, for resources. Atelia can feel the breath of the two superpowers either side, as they eye each other across her mineral-rich land. Atelian Warlords cease their inter-tribal raids and form uneasy alliances. The city-states strengthen their walls in preparation for what is to come, and the farmers pray to the old gods to let them survive the storm.
Fahrong has sent missionaries into Atelia, to speak the spirit of Sajon. They fascinate with tales of the great civilization, as far from the cold plains and savage mountains as can be imagined. The children dream of a better future, but the wise know that there can be no winners in this coming war.
It is against this setting that two women try and live their lives, Beryl Jakov a fighter for the Atel, dedicated to her family. Her friend and mentor, Lisetta Neah, a Fahrong missionary who has successfully found a place in Atelia. Their stories are fragments of the tattered history of Atelia...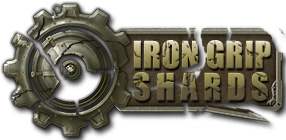 Iron Grip Shards is a brand new narrative driven blog set in the world of Iron Grip. It brings to life the characters and setting in a whole new way - and the story unfolds before your eyes.
To celebrate the launch of Iron Grip Shards, we are running a new competition! You can check out full details on the Shards Competition Page. But, in brief, send us your illustration of the opening entries for Beryl or Lisetta's story, and you're in with a chance to win $300! The artists amongst you take note!