Continuing in my series of 'Campaign Sneak Peak' posts, today I'm going to be talking about Level Systems and Objectives.
This is the most common star system type. When you enter one, the following panel pops up; it describes the level scenario, lists the level objectives and includes a picture showing the starting positions and set-up.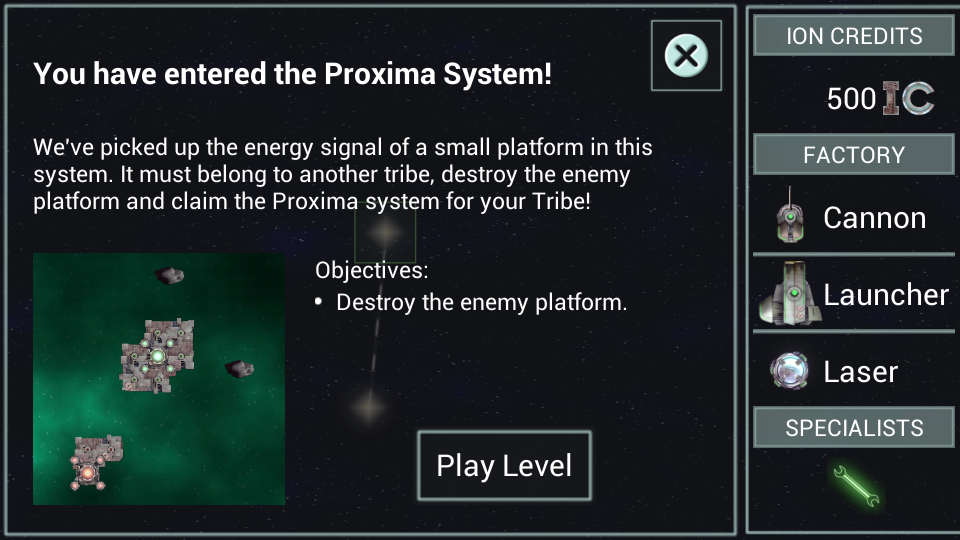 The objectives are a new addition to Ionage. Most levels will have one main objective and up to two additional secondary objectives. By completing the main objective (normally destroying the enemy platform) you will be able to progress to the next system. Managing to complete the secondary objectives while also completing the main objective will earn you bonus Ion Creds (the campaign resource of Ionage).
The secondary objectives will be skill-based and will require focus to complete. For example, the objective could place some kind of restriction on you to make things more difficult. Like, complete the level without using a laser turret, or without mining any asteroids. Or the objective could be more aggression-based. For example, destroy your enemy within 3 minutes or separate a piece of platform with at least two weapons attached.
These objectives will hopefully add some nice longevity to the game while also rewarding players who play with focus and skill. There may be a nice 'return to earlier parts of the game' mechanic too as some objectives will be easier to complete once you've unlocked certain modules for your weapons.
Here is an example of the win dialog that comes up when you complete a level.
Alright so now you can complete a load of levels and secondary objectives and earn a load of Ion Creds but what can you do with them? That's where my next post comes in where I'll start to describe all the cool unlockable content in Ionage. Stay tuned...
PS You can play the Ionage Alpha right now by heading over to the Ionage Website!