I know the summary was very barren, so here's more to the game.
The game takes place in the not-so far future, where singularity may not have been achieved yet, but robotic enhancements have. Which means robotic arms, robotic legs, whatever could work with robotics. However, unlike any other thing that refuses to take into account the fact that human body tends to reject anything xeno-like to it, in Until I Have You, it plays a huge role.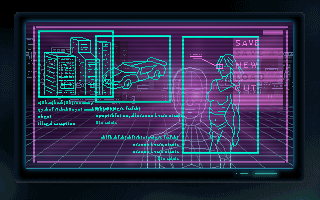 Part of an eye enhancement advert in the game
So as the hero of our story, who is actually a highly regarded thief, is wearing an EXOSKELETON suit under a suit (cause he's all about class), we learn that there are consequences to such choice. He's forced to take painkillers to make the pain somehow go away, but that means he's getting addicted to them, as the pain is constantly increasing over time.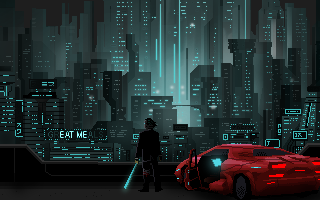 So, our hero has limited time before he begins tripping. Hallucinations and altering of environments takes big role in the game as you progress through it. This is a suicide type of mission. A mission to save Emily (your wife) from the people who took her away from you. The game splits in 12 chapters, 12 bosses to eliminate to get to her.
The boss fights are the part we love designing the most to be honest. We try and make them as unique as possible and very castlevania like. And here's some gifs of two boss fights.