Hello everyone!
We are a three-member portuguese team called "TrinityWorks", we're developing a platformer adventure game for a university project.
My name is Ivan Areia and I'm the Game Manager/Designer of "SKELBORNE" (possible change in the future), which is the name of the game project that we are currently making. Besides me, there is also Daniel Reis, the Game Artist and Fábo Louro, the Game Developer.
So what's the game about? Well "SKELBORNE" will be a 3D platformer adventure game with a pop-up book art style while keeping a fantasy setting, to make this effect, some assets will be in 2D and stand up like a pop-up page.
The main character of the game is a skeleton who "wakes up" one shinny day next to a lake (a bit anti-climactic, we are aware of that), however, they have no memories of themselves and possess some sort of purplish glowing gem inside of them.
They wander around and pass through a forest, eventually reaching a bridge that gives access to a small town. The skeleton feels a strong connection to the town and believes it will get their memories back by reaching it.
Unfortunately, the small town is in ruins and is full of zombies that appear "dead set" (pun intended) on getting their claws on the skeleton. Eventually they discover that the town was invaded by an evil necromancer cult that controlled the zombies and the gem the skeleton possesses is very important for them to summon the evil deity they idolize.
Now it's up for the skeleton to prevent that to happen and the only way to do that is by fully recover their memories that contain the key to solve everything once and for all.
Here's a draft of the game's concept art in order to have better understanding of what we want to acomplish.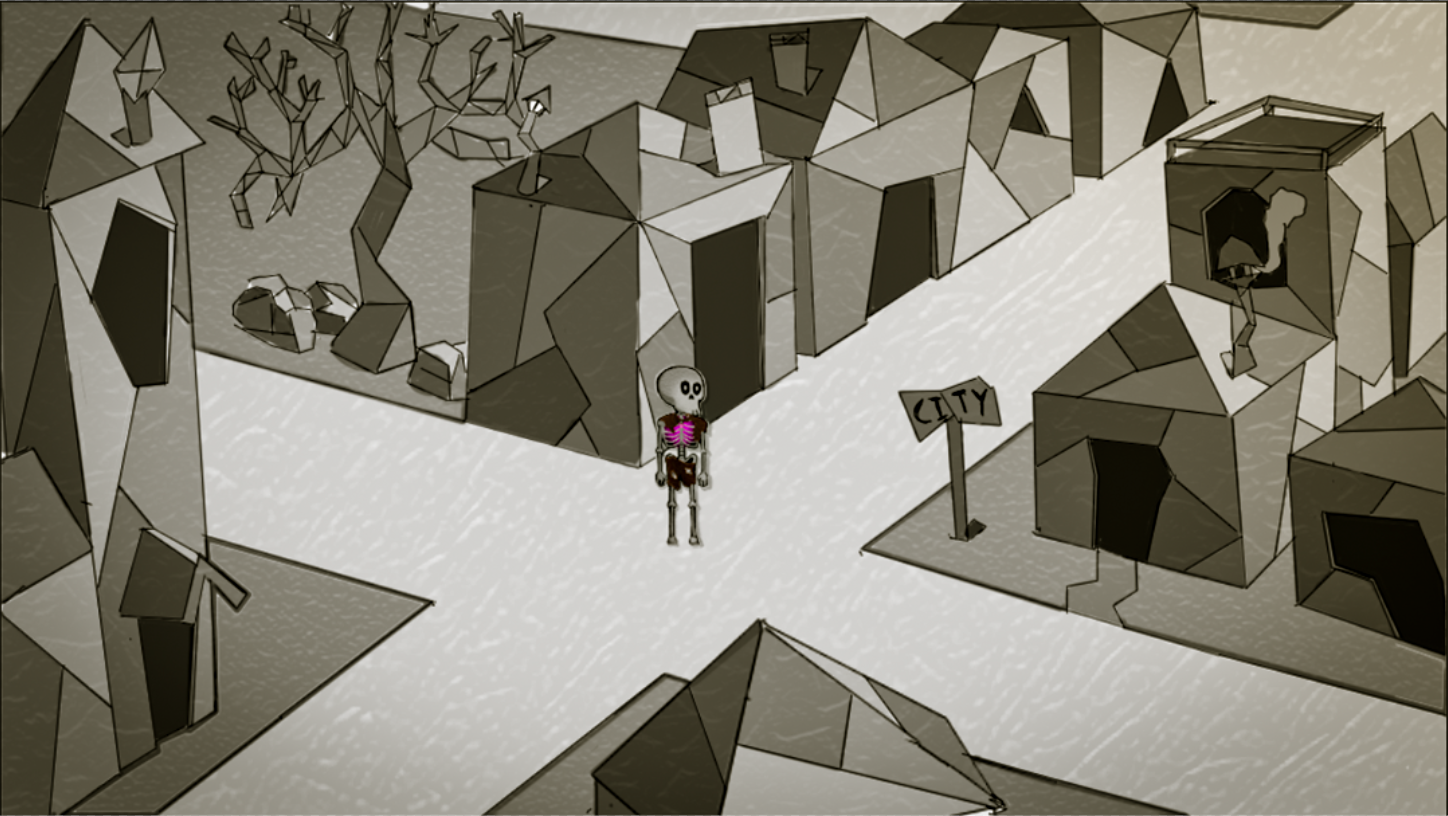 In this picture, it shows the skeleton exploring the city ruins, in the gameplay the skeleton will be able to explore it and interact with some objects and solve puzzles that are essential to progress the game's story. All of this while fighting enemies or avoiding them, depends on the situation.

This is what we can show you for now, but we will keep working hard to post more content very soon.

Until then, we bid you farewell.

By TrinityWorks.