Hey, everyone,
It's officially August and we hope to bring you a lot of great content in the next four weeks. We're 100% focused on Loowa and it's our goal to present our demo, or vertical slice, at the beginning of September. There's still much to do, but things are moving along nicely and we believe we're past the troubled waters. Let's hope it's all smooth sailing from here!
After introducing Lucas, Loowa's other main character, and fleshing out his concept art, it's now time to showcase the place that's most dear to his heart — his bedroom. This is a very personal and intimate space for Lucas, it's a reflection of all his inner thoughts and dreams and where he spends the majority of his time home.
Throughout the game, players will get to know Lucas, his life and his quirks, and the narrative will be shown through the illustrations players collect in each level. Although Lucas' bedroom isn't featured in the game, its concept will serve as the basis for these illustrations (fingers crossed, later on, it will also be the foundation for the trailer's cinematic art!), since some of them represented parts of Lucas' sanctuary. Our artist, Joana, was finding it hard to visualize and represent these parts of the room without having a structure and a general idea of what it looked like as a whole, its overall appearance and layout.
Given its importance in the story and all the things it will end up being used for, we decided to work on the bedroom's concept before moving on to the illustrations and trailer art. So, we started by sketching the room from different perspectives, experimenting with different pieces of furniture and deciding where to put each one.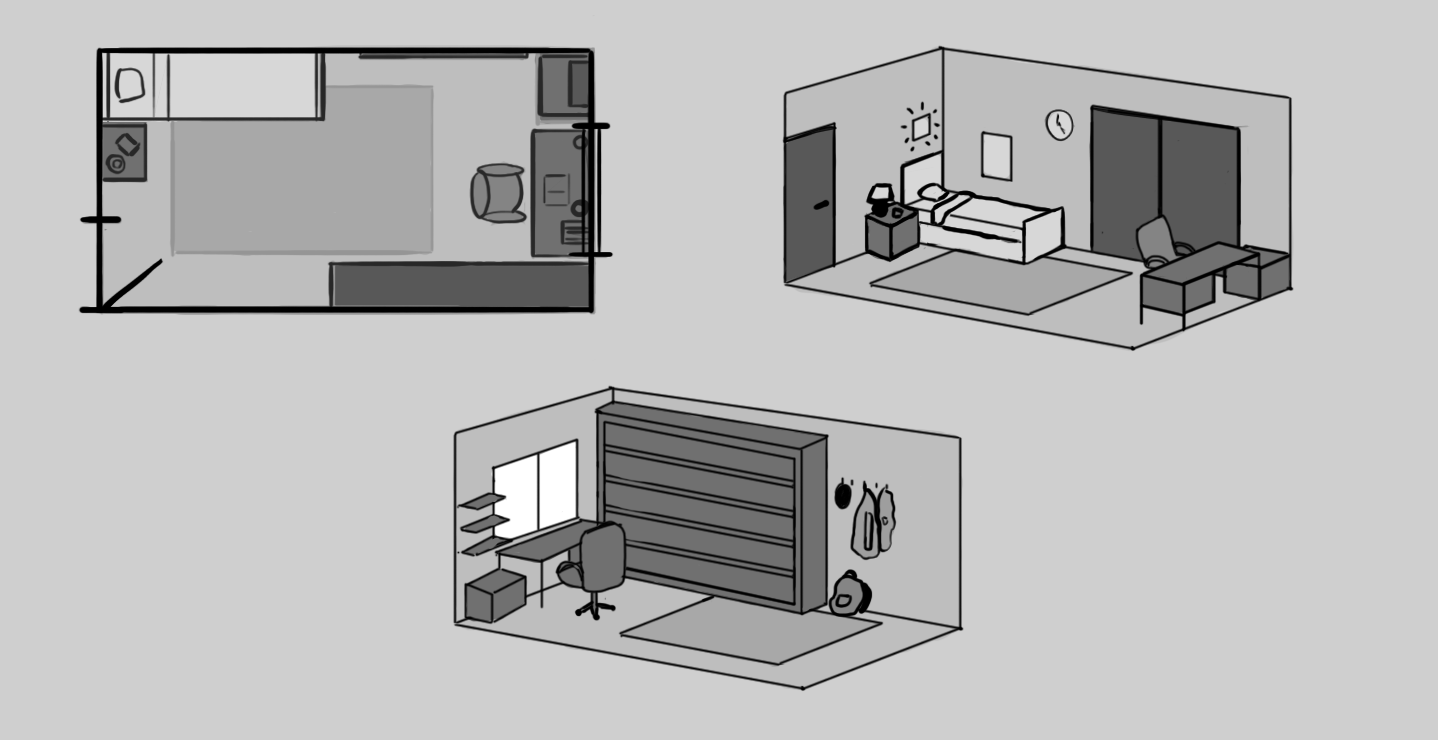 Afterwards, it was time to sketch some decorative elements that will be used in the final illustrations, like lamps, paintings and even a few representations of Lucas' own sketches and drawings.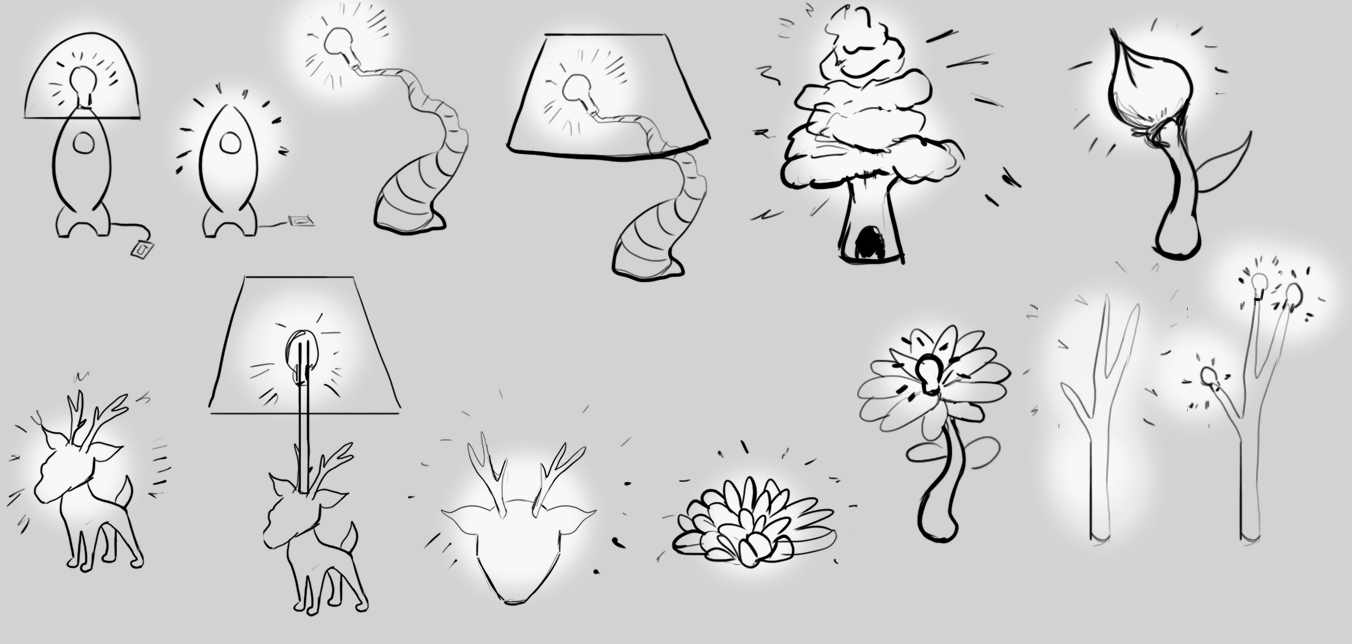 However, it still wasn't enough. Since we needed more help defining the style and colour palette, a representative image of the bedroom was born, fleshing out the idea, expanding it, making it clearer and helping us visualize it in our minds. Lucas' room was suddenly real, and it was so easy to picture Lucas reading his comic books in bed!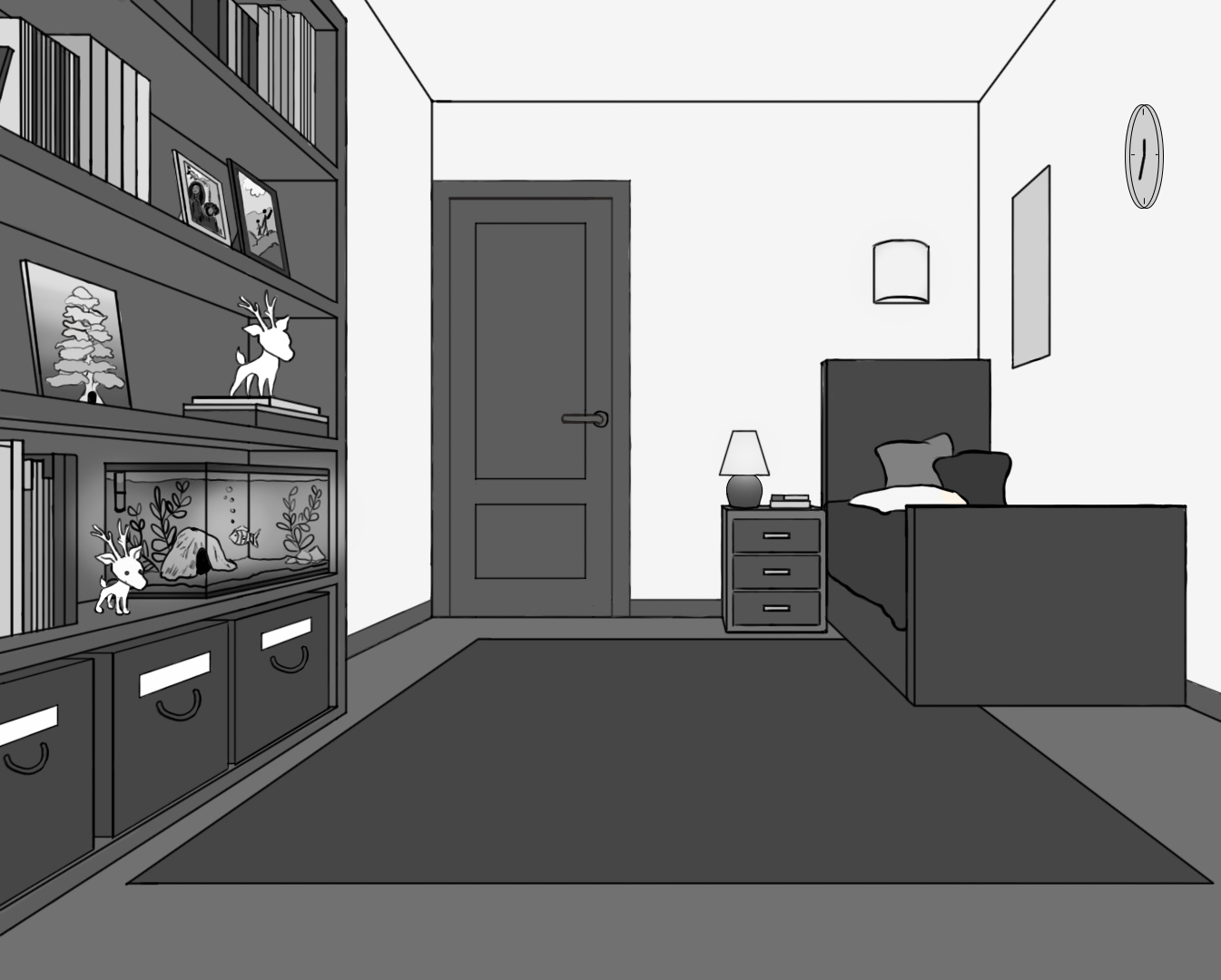 Finally, it was time to play with the values and test colour palettes.




After a few minor tweaks, we have arrived at the concept for Lucas' bedroom:

We haven't yet decided on the wall colour, and there are still a few details that need to be fixed or added to the picture. We know there will be some changes down the road, but the overall concept for the bedroom is done. In the future, we'll show you the final results of these very important studies. They will lead to the illustrations, our next big step. Eventually, we hope Lucas' bedroom concept will help us create better art for the cinematic part of our trailer, but this step is still a way off, so we won't be putting the cart before the horse. First things first, and our next stop are the illustrations!
More to come soon, stay tuned!
#gamedevelopment #indiedevelopment #indiegame #indie #gameart