December 2013 Update
After over a year of silence there's once again an update on this project.
Status
I've restarted extensive development on this project in the last 2 months after taking a fairly long break from coding. Things that are newly implemented (and working) include a new map, reworked spells and basic NPCs. The current build can handle a couple hundred NPCs one the same map (networked), however what you will actually find in-game will initially be less.
Name change
Also this project used to be called Shinobi, but for copyright reasons I knew I'd have to rename it sooner or later, so why not now? Fire & Stealth, because those are two important game elements.
Skills reworked
Skills now come in unlimited variations (dynamically generated). A fireball for example might have different attributes that changes it's behaviour suchs as: projectile speed, projectile lifetime, damage amount and others.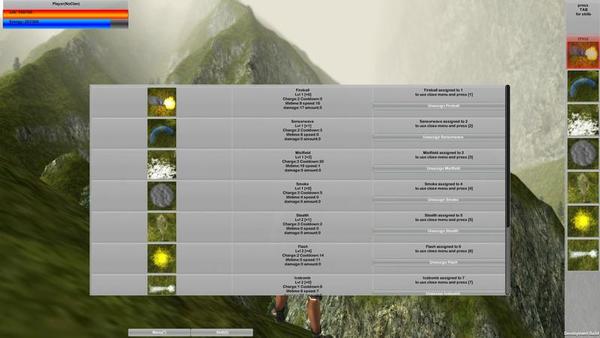 The new menu
Skills need to be charged up before being used, so a fully charged fireball will be bigger and stronger compared to a quickly charged one.
Closing in on Alpha
Having finished all essential functions of the game, there finally will be an alpha in Q1 2014 (not pulling a Dean Hall on you guys hopefully). The payment system will be similar to Rust (except for a low purchase price). After picking a server host (I will be looking for a provider in future), people will be be able to host their own servers if they desire so.
The road ahead
While its fun to run around and shoot fireballs at NPCs currently, it's is clear that F&S requires anextended gameplay. The vision is having dozens of players in each persistent world, organized in clans, fighting against each in huge clan battles and creating their own outposts/villages.
Happy new year!