Interview with IKSLM
By Patrician
In this edition I've interviewed popular programmer, IKSLM, who is currently working on Natural Born Keeper (NBK), which is a re-make of the original Dungeon Keeper game. IKSLM lives in Maribor in Slovenia, he recently gained an undergraduate degree (BSc) in Computer Sciences and is currently studying for a post graduate degree in the same area. His university research has led him to explore 3D online terrain, game programming and graphical simulations. Apart from educational purposes he also does some programming work for money.
IA: What inspired you to begin the ambitious project of Natural Born Keeper?
IKSLM: I love DK and I'm a programer so the only sane thing for me to do was to make a re-make! The original Dungeon Keeper wasn't really mod-friendly, so I wanted to make a game that would be easier to mod. DK also had some bugs and an old GFX engine, the graphics really look ugly by today's standards, so NBK is a chance for me to fix the bugs and update the graphics.
IA: What do you love about Dungeon Keeper?
IKSLM: I love the fact that you're playing the bad guy, killing the good guys, you don't see that too often in games (IA: Yes, DK was one of the games that first introduced this new, Evil perspective). I loved the dark dungeons, training your army of creatures, paying for their services and the wonderful battles... shoot, you made me want to play DK again!

Screenshot from NBK, showing impressive lighting effects.
IA: So what sort of improvements are you making to the original game, for instance bug fixes?
IKSLM: Well the most important improvement will be in graphics area; replacing original 2D sprites with new 3D models with hires textures and skeletal animation. A hires version of DK texture atlas is being made and old effects will get replaced with realtime particle effects and different lighting effects like full time perpixel lighting.
IA: With Dungeon Keeper Gold there came Dungeon Keeper Direct 3D, are NBK's graphics superior to this?
IKSLM: Yes, because I can add custom perpixel effects like normal mapping and bump-mapping. NBK only uses fixed function pipeline of direct 3D (not shaders or advanced effects). The direct 3D version of DK didn't have any effects when you possessed a creature, whilst NBK adds perpixel lighting (maximum of 8 light per block) and realtime particle engine with particle effects of animated billboards.
IA: What sort of future modding will NBK allow? Will it be possible to add new creatures?
IKSLM: The source code will be freely available so everything will be possible, you can take the source; change 10 lines and you've got yourself a new NBK. And yes, you can add creatures, but it's more of a swap as you're removing a creature whilst replacing it with a new one. The engine doesn't care what creatures you have, it simply loads whatever you say.
IA: One of the big downsides to the original Dungeon Keeper was the lack of internet multiplayer, will NBK allow multiplayer to occur over say a Hamachi LAN ?
IKSLM: The original DK had multiplayer but it used the old IPX, so essentially it sucked. Multiplayer NBK is in planning you'll be pleased to know, and it's looking promising.
IA: What point have you reached with NBK?
IKSLM: Well, the game is currently about 60% complete, I'm currently doing the waypointing system for efficient pathfinding, making a new A* pathfinder (a faster one), working on creature AI (Imp) and adding support for original DK sprites.
IA: When do you estimate NBK will be finished?
IKSLM: There are too many factors to consider (work, personal life and other things) for me to predict a finish date. It's important to remember that the original Dungeon Keeper had a full-time team of professional programmers working on it for three years, whereas I'm almost alone. Don't expect NBK to be finished by Christmas!
IA: Who else is helping you on the project?
IKSLM: I have like five modelers, one or two gfx artists and an additional programmer.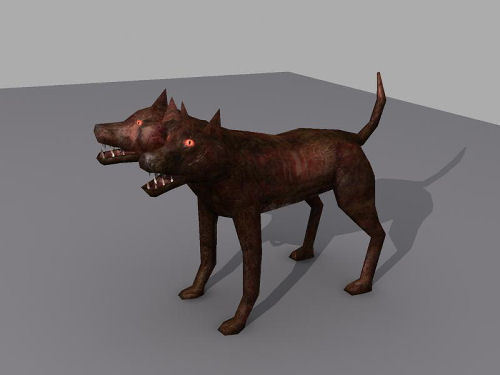 Hellhound model, one of many carefully crafted graphics from the project.
IA: Is NBK totally independent of the original Dungeon Keeper?
IKSLM: Initially we were working on a re-make that required an installed Dungeon Keeper original on your computer for NBK to work, but now it works without the original CD. I must stress that by law you should have the original Dungeon Keeper or DK Gold before you download NBK!
IA: Will there be another demo available soon?
IKSLM: Well i'm making something nice (a projectile test), that'll have Imps running around and shooting stuff, so look out for that.
IA: There have been rumours circulating Keeper Klan that you'll take on more Dungeon Keeper related projects after NBK, is there any truth to these rumours?
IKSLM: Well anything is possible and time will tell.
IA: Thanks for allowing me to interview you IKSLM, and God's speed with Natural Born Keeper, I can't wait to play the finished article!
IKSLM: No problem, I'll do anything for my fans!