Daily Magic and VR-Games. An Interview with a Daily Magic Developer.
One of these magicians is a Daily Magic. The company makes magic outside the Hogwarts realm by creating entertaining and fascinating VR-games. Artem Severin – the manager of the Daily Magic marketing department – will tell us about how to make the daily magic. He will share some details about their new VR game Witching Tower and his thoughts about VR as a whole.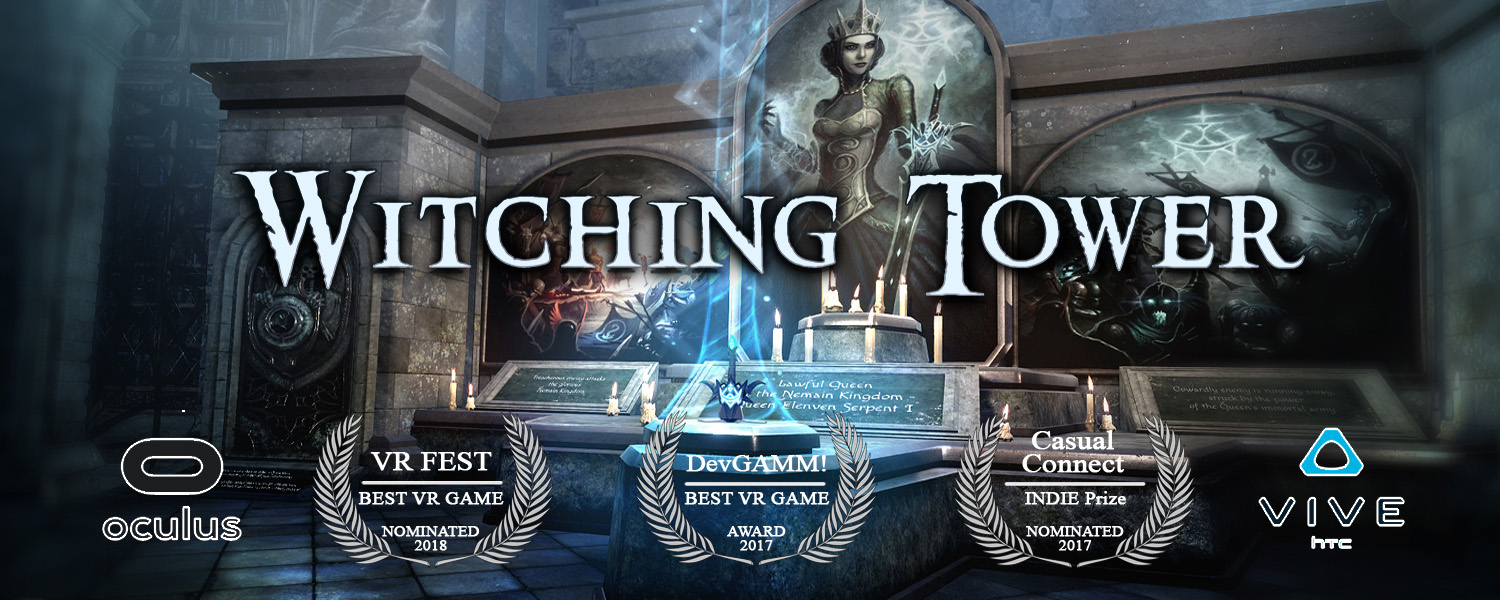 Natalia: Hi, Artem. We are glad that you agreed to tell us a bit about the Daily Magic team and its projects. First, a simple question: why did you choose exactly this name for the studio? Is there any prehistory?
Artem: Do you remember David Blaine and his street magic? Marianna - the founder of the company – liked those stories so much. At that moment, there were troubles with using the name, Street Magic, so that is why Marianna changed it a bit and adapted words for our activity. Therefore, we make it every day, nothing to hide.
Natalia: But how about the history of the studio in general? How did you start your way in the gamedev world? Tell about the Daily Magic team.
Artem: It was autumn 2009 when Marianna Shilina registered the company and with the power of three people, the idea of the game appeared. 6 months later the idea turned to a 10- minute demo and then the tight collaboration with Big Fish Games started. In 2011, we led the development of two projects, but in 2012 – there were already three of them. At the peak of the work with Big Fish Games, we led 5 Hidden Object games at the same time and found opportunities for developing another 2 projects, which were experimental for us. Some time later, we have 25 Hidden Object Puzzle Adventure games in total.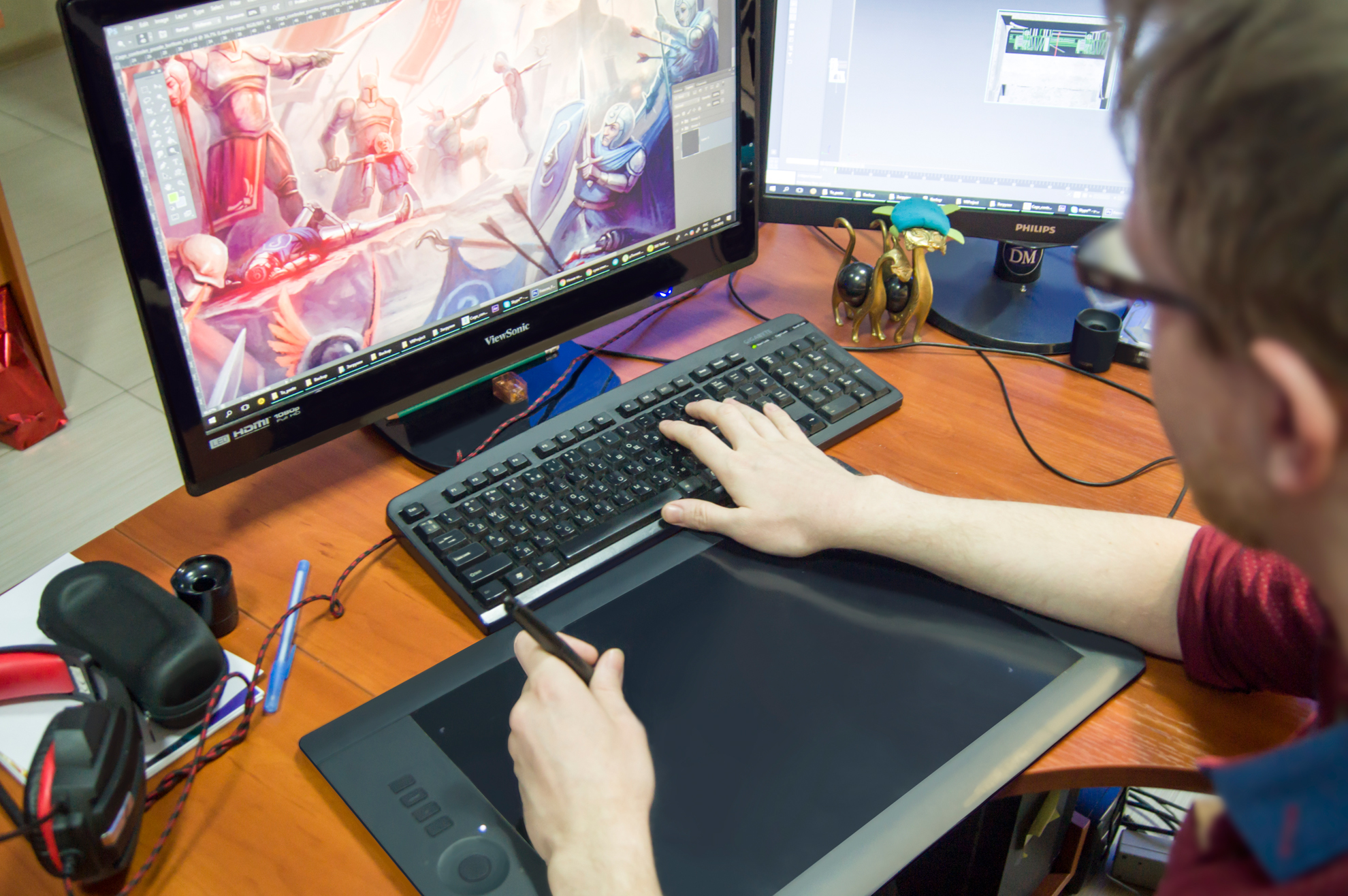 Natalia: Did you ask investors or crowdfunding platforms for help? Or did you "gnaw out" your way to industry by yourselves?
Artem: At the beginning of our activity, we had support. We worked with Big Fish Games very tight and got a huge amount of experience. In that single moment, we decided to change the direction to the side of mobile and more hardcore games. We released a successful text quest – Sender Unknown: The Woods. Now all efforts are aimed at the release of the Witching Tower VR, which is being developed completely at the expense of the company. Nevertheless, I want to point out that we are opened for investments.
Natalia: When did the virtual reality come to your life? How did you find out about this technology? Why did you decide to work with it?
Artem: I have known VR and entertainment games for a long time but I did not expect that someday I would be related to this sphere.
VR is the possible future. Right now, by gaining enough experience and expertise in developing, you could feel very comfortable in the near future when VR will be popular. Our current development is rather a reserve for the future. Let us be honest, this market is not yet large enough to make a fortune on it.
Natalia: Was it difficult to accustom to work with the new technology? Could you tell about "underwater rocks" which wait for developers when switching to work with VR?
Artem: The first thing to do is to update computer specs immediately. The development in Unreal Engine is very demanding and if Photoshop, Blender and 23 tabs in browser are opened at the same time then even 16 GB of operating system are not enough.
In addition, we need to understand that things from colors to dimensions and perception are different in glasses. All is different in VR
Natalia: By the way, how do you feel about AR and MR? Are you planning to work with them or do you prefer to stay with VR?
Artem: Despite AR and VR come almost together, they are different. I guess that in future there will be a scaled separation when AR will get into our life and solve different business tasks. In the closest perspective, we will concentrate efforts on VR because it is our sphere where we feel good enough.
Natalia: Is the Witching Tower VR your first VR-game? Perhaps, there were some ideas in that direction that have not been shown? Could you share it?
Artem: Witching Tower VR is our first VR project. Now it is very different from the one that was at the beginning. Compared with earlier ideas a storyline and an art style changed a lot. Initially the game was planned as more fairytale alike but then we decided to turn back to the experience of previous mystic titles and remade the setting in more dark, mysterious tones.
Natalia: On which platforms is your VR-game oriented?
Artem: We are planning that the game's release will be in several stages. HTC VIVE, Oculus and WMR come first. The next stage will be the porting to PSVR. I cannot tell accurate dates but I say confidently that the porting will happen.
Natalia: How can Witching Tower VR truly amaze an experienced gamer? Tell about features of the game.
Artem: Currently there are not so much VR-games in the world with a high-grade plot and a story. Generally, it is to stand, to shoot and ride on a swing or do a simple quest. However, we tried in our game to combine a storyline, simple puzzles and battle system. We spiced it up with new mechanics such as the Undead control and magic lasso and filled up with great graphics. We made an amazing salad of features.
Natalia: But what about the storyline? How can it surprise a player and make him explore the Tower's floors? Who invented it?
Artem: Olga Ivanova, the executive producer and the lead game designer of the project, created the base. She actually leads the project from the very beginning. Of course, she has designers in subordination that generate ideas and work on them. Someone is responsible for one thing, the other person – for another thing. We try to make sure that the game does not make the player be bored. We alternate the pitch, offering the player a puzzle first, then a fight, then a bit of a story to relax. It helps to diversify the gameplay and do not let you be bored. Fully completed atmosphere is very important to us and we want to make the Tower so that the player would like to look into every corner of it.
Natalia: How does the player control the virtual world? How does the player move in it? Did you face while developing the "seasickness" problem that follows developers since the moment the technology of virtual reality appeared on the global market?
Now we started to understand after the communication with experienced players that free walking is important and necessary.
Artem: Before we had started the development, the first thing that we had done was studying a question of a movement. After short but heated discussion we have chosen the teleportation system despite some protests from our realism-loving colleagues. Now we started to understand after the communication with experienced players that free walking is important and necessary. If everything goes on plan then we will add to the release of the game few variants of movement. As for the virtual world, we can interact with almost all objects in it. We can build a tower from books, throw bombs to enemies, catch a blade and crush barrels. Almost everything is possible.
Natalia: About problems, by the way. Which problems did you face when developing Witching Tower VR? How did you solve them and were there any funny situatons?
Artem: The main problem, that we face now, is a concentration of the player's attention. Being in the VR space, the player randomly looks around and loses focus. Of course, all tricks of classic level design work but usual "red flashlight" is not enough sometimes. You always need to think which side the player will look at, solving a puzzle, and effects, directed to a right place, have to drop a hint saying that somewhere is happening an action, turn around! The other technique that we use is a limitation of the space. If we need to make the player to pay attention on something, we put him to the small space. It works.
Probably, many people expect that we will classically tell about problems with the seasickness but no. Our players willingly climb up the walls or stairs and jump in a chasm searching for new sensations. It's been verified on playtests.
Natalia: On which engine was the Witching Tower VR built?
Artem: Unreal Engine.
Natalia: What the main gameplay specialties could you point out? Features? Unusual mechanics?
Artem: Our character is a necromancer and we created a very interesting and funny thing, which is the Undead's control. It is possible to take the enemy under your control and make him do the things the player needs. If we direct a skeleton to a trap then he will be teared into pieces and if we initiate him on his enemy then they will fight. In addition, we use a lasso, introducing the grabbing and pulling gameplay objects.
Natalia: For how long did the development of the game last? What you think, in general, how much time is it needed to create a high-grade, qualitative game?
Artem: It depends on the experience of a team and a size of a project. You can make a Witcher or The Order: 1886 or Hellblade. These are qualitative projects but different in size. If it is a high-grade game, not the entertainment, then the development will last from year and longer, depending on purposes, ambitions and finances.
Natalia: Okay, then how much did the development cost? On which sum should the team rely on when it starts to develop a VR-game?
Artem: Usually it all starts with words "Let's make a great game for 2 months". Then you decide to add caravans and you are already unstoppable. I will not give numbers just because they differ from project to project. If you make the projects from the very beginning, then count your budget and add to it the same sum. Probably, it will be something close to the truth.


Natalia: When will the official release happen and how much will the game cost for the player? Will payable DLC and other "buns" be released for players?
Artem: There is no accurate date of the release yet. Approximately it is the end of June – the beginning of July. The game will cost $19.99 in the USA. DLC was not planned because there will be a lot of work with porting on PSVR and a new project after the release.
Natalia: Is the game only for solo walkthrough? Are the using of online part and the addition of a multiplayer planned?
Artem: The game is for one player. Online and multiplayer will not be added because the game is not about it.
Natalia: According to your predictions, when do you plan to reach the point of recoupment?
Artem: If we discard PSVR then it will be in 6 months.
Natalia: What will you tell about the work with technology of virtual reality in general? Is it pleasant to work with, on the assumption of your extended experience in the gamedev sphere?
Artem: Our team had no experience in a 3d development. At all. We have been making 2d games for many years but we could adapt most of the co-workers for the 3d development quite quickly. Many secret talents were discovered. Thanks to Unreal Engine, it is very pleasant to work with. If it was not there then I do not know how we would have coped. There are some disadvantages but graphics in VR glasses and work of the functional are very different from the one on the screen, so you have to switch constantly to the computer with glasses and fix the work to the required level.
Natalia: If you plan to work with virtual reality then which projects should players' community that are fond of VAMR industry wait for? Could you share some secrets about future VR/AR/ MR projects?
Artem: Now there is a game in the pre-production with a secret name – Revival. Adventure thriller in the post-apocalyptic setting among decorations of a Victorian city. Sounds complicated but it will be great.
Natalia: Your professional opinion about the VR-gamedev industry. Which way will it go next? Will it develop? Does it have future?
Artem: Surely, there will be growth and development. Now AR/VR technologies are being used in the industry, education and entertainment and that do not let the industry disappear how it happened, for example, with 3d TV or Xbox Kinect. Eventually technologies will let upgrade a picture, remove wires and make the game more comfortable.
Natalia: If we talk about the reversed side of a success then what can interfere the development of the industry and make it die in the end?
Currently the VR development is very risky.
Artem: The absence of a content. Currently the VR development is very risky. Not each developer can go on that risk. Have measured all risks the developer will switch to mobile games (if there is enough competence) or make 10 platformers for the steam. For major players they want their money's worth and small companies don't have enough money to make a qualitative product. If there is no sufficient support from developers then we will stay on the current level for a very long time. Strong companies are needed; AA and AAA projects that will push the industry are required.
Natalia: Which mistakes should developers avoid to create a successful VR-project?
Artem: VR is very demanding for resources and stable FPS. Think of the optimization at once. You can save much time in a perspective. It is better not to do at first and add later rather then do a lot of work at first and delete it because it drops FPS.
Natalia: Finally, what would you like to wish our readers?
Artem: Eat citrus and have a good relax. It helps to avoid "seasickness":)