A few weeks ago I got to chat with Matthew Mauriello at Baltimore Gamer. Matthew has been running a blog series on how to start building video games called "So You Want to Build a Video Game: A Guide to Get You Started", and I was happy to discuss my experience with Party of Sin. The interview is quite thorough and discusses the game in depth. Check it out here!
This week saw the design team make a flurry of changes in response to testing. We've been testing very regularly and the game has been improving tremendously. This also follows with an attitude change to focusing on making the players feel good when playing Party of Sin. This meant getting rid of a lot of nagging annoyances which have creeped up in our design.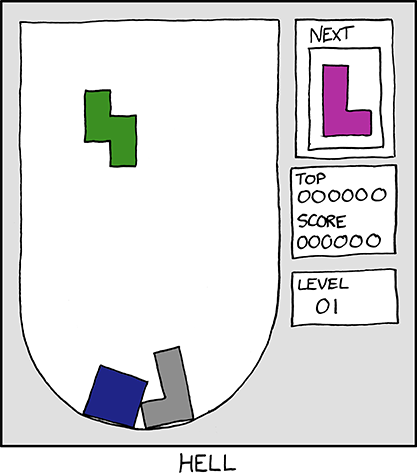 Not our design goal, from xkcd
Simple things like making our puzzle timings more flexible have become critical. We're also focused on making the action feel more seamless: If you place a meat cube on a button, for example, we add a force to make sure it stays there. Players used to have to try 3 or 4 times to properly place the meat cube down. We've also been adding lots of feedback on timers, since we found that reduces frustration levels for players (they know when something will expire).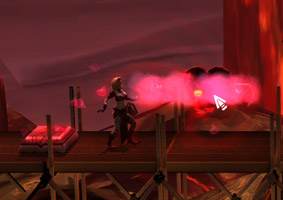 Flashing Lust platforms help to show the time left before it disappears
Jump Assist has been a really hot topic lately, and I've been thinking about the problem quite a bit. We have a basic form of jump assist in the game already, but it's becoming clear that we will need something more advanced. I will be writing an article on that next week.