Hey everyone,
It's me again. I just wanted to tell you all that I'm not dead and neither is the game.
I have worked on the game a bit but I have been more busy with other stuff over the last weeks so I haven't had as much time as I would have liked to work on it.
So, Lets go in and explain some changes I have made to the game. Lets start with a picture and analyse it.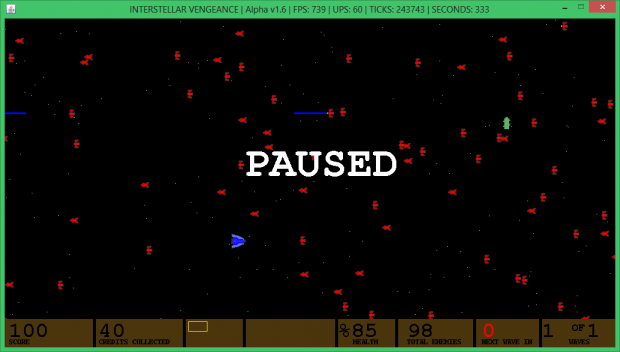 New there are a few changes here. Fist up, you may have noticed that I have an actual Image for the enemy now. Two in fact. I plan on adding a few more to add more variety. These images actually make them do different stuff (not much for now, but we are still in early development) I will explain a bit later.
Next you can see the player's ship:

It has a few little yellow dots on it. This is in fact a big change, the main change of the version. I have fully reworked the weapon system. It used to be the ship fired the weapon. Now it is the ship has guns on it and the guns shoot. This creates a few things that are needed. It allows me to add more settings. like the ability to fire the weapon to the left. (talk later on this) but this also allows us to have an actual weapon on the ship. As you can see by the image, this still needs a bit of tweaking. (bottom weapon is not in the mirrored spot of the other one) but all should be well with a little work.
While we are talking about weapons. lets talk about this:

Enemy weapons!The two different images of the enemy ships do different stuff. Right now it only makes them fire a different weapon if they happen to get it. (they are randomly selected to get a weapon depending on difficulty) As you can see this one was shooting a beam. they like to fire their whole clip off then randomly shoot again. With the new weapon system I was able to make them fire left (like i said before) and make the projectile fired be team specific. (Allied or enemy) I had a funny point before I added the teams where they all killed themselves. It adds a whole new level of difficult as you try and dodge the enemy gun fire.
Last of all to show you:

I got this image from two images. On the right is the little rectangle from the top image and on the left is from another image I took while I was playing. The empty rectangle on the right shows that I have not picked up (in this case) the credit multiplier power up. On the left you can see a "X3" inside the yellow box as well as a white bar below it. The "X3" shows that I have a three times multiplier so when I pick up scrap I get three times more credits. (in case you couldn't guess) The while bar shows the time before it goes town to one. So if it got to the bottom it would be "X2". very self explanatory. I plan on adding a few more countdown power ups or something so i left space for them.
That is all there is for now. (or at least what I am telling you) So I hope you enjoyed this. Thank you for reading I appreciate it heaps.
*Disclaimer: Interstellar Vengeance is in alpha. everything you see here can be changed if I feel like changing it*