Hey everyone,
FewCode here for another update on Interstellar Vengeance.
This past week I have been trying to get on top of some work. So I haven't had much time to develop the game any further. or so I thought... I actually had plenty of time. So, since the last version of the game (Alpha v1.5) I have added a few more things.
First off I have added a few more sounds. Just to make the game feel a bit better. It is still missing sounds in many places, but I am getting there.
Next up I have added a new Ship. (Seen in the Store screenshot at bottom of post) It is Faster then the other current ships, but It only has 1 hard point. Making it easy to maneuver, but weak int a firefight. It is also pink and very expensive right now. (Store has yet to be balanced)
Last of all, (that I actually wanna say) I have added power-ups. These were "interesting" to add in. While planning them I had decided upon an approach of "buy before use" for power-ups. My reasoning for this was that It just makes the game expand a bit more as you get better at it. It also allows you to only get what you think you will need. Example: You don't play multi-player much so you wont need the revive power-up (since it only works with two players).
Each power-up type is it's own colour. They have a little animation when they are in game. so it looks good. Kinda like they have electricity going round them.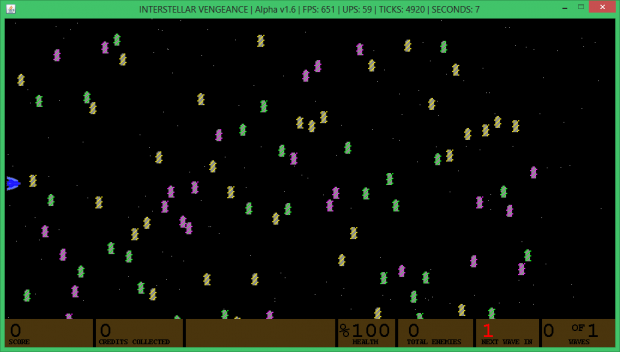 They look kinda a bit off in the store, but it works and you get the idea.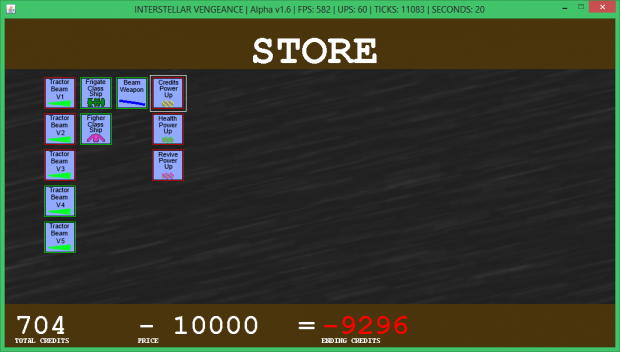 So, thanks for reading. I hope you enjoyed it. I appreciate it a lot. A reminder though, none of this represents the finished product as I can change things when I want to how i want.
Thank you so much.