Greetings Everyone!
It's thanks to everyone who up-voted us when we were in Greenlight that Interstellar Marines has become one of the most successful games ever to be greenlit. A huge thanks to all of you for making this a reality!
This weekend is a one-off chance to purchase Interstellar Marines for yourself, or as a gift for a friend, at 40% off. And if you have ever wanted to upgrade from a regular edition to become a Spearhead, we've also discounted the upgrade as well!

Click here to see Interstellar Marines on Steam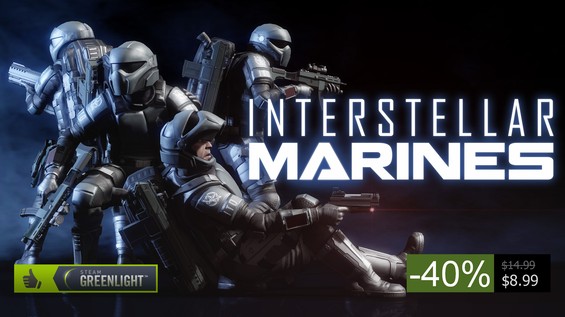 Join us!
As part of the celebrations we are also going to be livestreaming Interstellar Marines on our Twitch.tv channel over the weekend, and chatting to players on our teamspeak server. Come join in the fun and play with our community managers Bozar and Phyrefli:
Twitch channel: Twitch.tv
Teamspeak server: ts3.speedgaming.pro:10068
We look forward to seeing you there!
FOR THE LOVE OF THE GAME,
Your team at Zero Point Software