Hello, IndieDB visitors!
Few days ago I released my first game - We Broke Up and want to share some interesting,useful and surprising facts about the game with you. First of all, I have to say that game is sending a lot of analytic data, such time for finishing level, number of deaths, your gender, age, etc. All this stuff is provided by Google Analytics.
Game was launched about 1400 times but I have analytics data from 827 users.
I was surprised when I saw that 35% of launches was started by 25-34 age category (image below).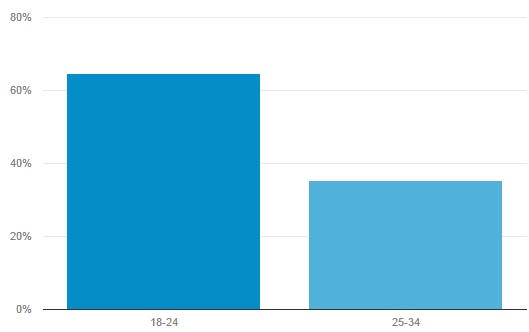 I supposed that game can be played by non-target auditory but 35% - it's too high. Maybe it's because of name of the game - it's serious enough, not like "kill all zombies 5".

It won't be an awesome fact that main part of users are gamers (image above). But interesting fact that TV lovers in the second place. My assumption that it is because of genre of the game (visual storytelling) and keywords for search engines (they consist a lot of "love story" combinations and little amount of "game" variations.
Some words about countries. Most players from USA because I released game on American sites and forums. On the second place is Russia (maybe it's because I'm from Russia) but honestly I didn't do promotions in Russia except one post in social network.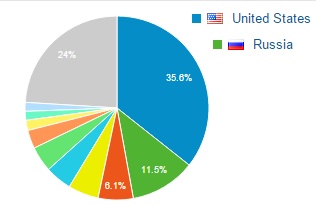 At all, game was launched in 75 countries.
Important for html5 developers: Chrome, Firefox and Safari are most widely-used browsers of entertainment-sites visitors.
At the image above legend shows position of browser, name, total number of players and % of total.

Now is important part for newbie-developers who don't want to do paid promotions and just want to upload their games on popular services.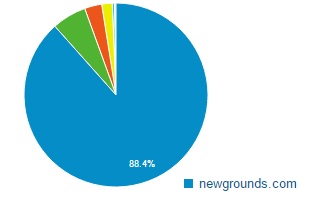 Image above: most traffic comes from Newgrounds. I just uploaded my game there and got almost 90 percents of launches without any promotion. On other popular resources it's hard to show your game to community without efforts.

So, hope my analytics will be interesting and useful for you! Feel free of asking questions!