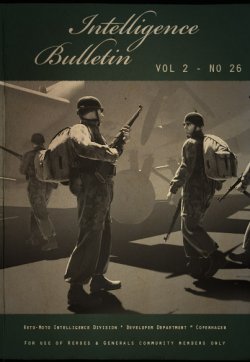 The Dietl build went up last Friday, and we've been fixing a few bugs this past week. It was mainly bugs related to the refactored Ribbons/Combat Badges and player rank system, and we believe (fingers crossed) that we have now fixed the most grave bugs related to this.
Some of you might have noticed that some Ribbons and Combat Badges have disappeared or changed, and this is because some of them were awarded wrongfully due to bugs in the backend-system.
You should also be aware, that when you log in you might not see any Ribbons or Combat Badges at all, but after completing one mission, all stats will be re-calculated and the correct Ribbons and Combat Badges will be displayed. This re-calculation only needs to be done once, so it will not happen everytime you log in.
SO… when do we send more keys???
Well, if the Dietl build with all its hotfixes behaves nicely and doesn't bite, we'll do a stress-test in the beginning of next week… Including sending 8000 new Beta-keys!
Do you want to receive the weekly Intelligence Bulletin by email? Then go to your Account settings, press 'Change account settings', check 'I want to receive weekly development updates' and press save!
Developer Blogs this Week
"The Dietl build is up, but before we run a massive stress test and send thousands of new Beta-keys, we've just sent 1000 new keys to see if the servers can handle that." Read More
By Reto.Vashu, Flash Programmer
"We've been awfully silent, due to the fact that most of us have been on vacation for the last couple of weeks. So in order to get back in gear after the summer, we've decided to show you what we're going to be working towards with the strategy game." Read More
Team Debriefing
Design


Reto.RedBjarne, Game Director
"- meetings
- planning
- work on auto-resolve algorithm for the strategy game
- work on assault team insignia updates
- GUI tweaks on the soldier screen
- oh, and another meeting..
- getting a whole bunch of new Malawi-cichlids to fill the big aquarium after the summerholiday-biofilter-ammonia-disaster."




Reto.Robotron3000, Community Manager & Game Designer
"Investigating and helping fix the mysterious errors in the stats and ribbons. Helping Leto with improving weapon sway. "

Artists

Reto.Hr.Wille, 3D Artist
"This week I have done some more work on the new scoreboard and started to rework some of older GUI elements. All to make the game easier to understand and play."




Reto.Mato, Lead Character Artist
"This week I'm making street lamps with ornamentation, wall mounted and on a lamp post."


Reto.Owleater, Character Designer
"Returning from holiday – so it has been a short week of picking up and continue with props and rubble for the enviroment."




Reto.Colding, Lead Animator
"After my jittery return from holiday (started with a couple of sick days) – I have now tracked down (with the aid of one of my heroic programmers "Reto.Ogssan") the "passengers sitting very oddly – half way outside the Douglas paratrooper plane" – Bug :D it will soon be fixed."


Coders & QA


Reto.Goonstah, Programmer and Technical Lead
"More work on the installer
Some work on the chat server that will enable players to ignore each other in the chat. "



Reto.Ogssan, Gameplay Programmer
"- Statistics & Ribbon fixes
- A little more work on the new scoreboard
- And general bug fixes"




Reto.Leto, Gameplay Programmer
"Mostly bug fixing optimization and conefire/sway tweaks"




Reto.Injection, Senior Programmer
"Perforce streams
Database/statistics fixes"




Reto.Splixxen, Lead Tester
"- Test Dietl
- Reproduce issues/bugs
- Verify fixes
- Handle feedback"




Reto.Indusninja, IT Architect
"- add/remove players from ignore list
- new event handler to inform when a mission is closing"




Reto.Vashu, Flash Programmer
"- Blogpost regarding changes that are coming to Assault Teams
- Converting Ribbons and Combat Badges to new system, showing what you need to do to unlock the first level of your ribbons and how far you are from the next ribbon unlock (Eisenhower)
- Adapted new Stats system (Eisenhower)
- Adding more information to localizer. (Eisenhower)
- Assisted in recording new videolog
- Implemented the ability to ignore other players in chat (Eisenhower)
- Playing with new players (Dietl)
- Bug Fixes (Eisenhower)"




Reto.masterdisaster17, Server Programmer
"Implementing additional functionality in the database, currently investigating some server problems that seem to be causing slow/unresponsive client actions (logon etc.)"

Sound


Reto.Draebesmoelf, Lead Sound Designer
"In the beginning of the week I have been finishing and implementing the swimming sounds for the character. The rest of the week I have been updating and creating reload sounds for some of the guns."




Reto.Lord, Audio Programmer
"- swimming sounds
- capture sounds
- work on next iteration of lobby"

Management, IT & support


Reto.Topo, CEO
"Usual paper work for a soldier doing his fighting in front of a desk – administrative! And the garand is replaced by a pen :)"




Reto.Hansg, IT Admin
"1. Perforce-slave. Get it on-line and working.
3. Check the apache setup for www.heroesandgenerals.com/
2. Check apache setup. Create new proxy sever to handle more visitors on www.heroesandgenerals.com.. Not finished. "




Reto.KenSolo, PR Manager
"I'm almost done with a new Videolog, and it will hopefully have its premiere early next week. Yesterday I also sent 1000 new keys, and right now I'm preparing the email-invitations and communication for the upcoming stress test."




Reto.Lusa, Project Coordinator
"Coordination of next build and took part in a meeting about the Mission Lobby."




Reto.Bacon, Support Manager
"-Support tickets and live.
-Testing ribbons/combat badges with beerbaron
-Saw the following 3 movies during the week;
-Hunger games (quite nice, still liked Battle Royale more!).
-Battleship (jeeeez… just…jeeeeez).
-The Dictator (funny, still liked Bruno & Borat more, but it will do!)."
NOTICE
The Intelligence Bulletin is designed primarily for the use of the members of the Heroes & Generals community. It is a vehicle for the dissemination to them of the latest information received from Reto-Moto Intelligence sources about the development of Heroes & Generals. Readers are invited to comment on the use that they are making of the Intelligence Bulletin and to forward suggestions for future issues.
Reto-Moto Intelligence Division,
Developer Department