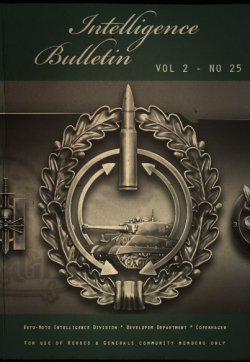 We're slowly picking up speed now that most devs are back from vacation, and the offices are starting to buzz again.
We've just deployed Dietl on the live server, and if it doesn't cause too many problems, we'll do a server stress test sometime next week.
The upcoming stress test also means that we'll send a quite large number of new beta-key, and we'll also try to gather all the veteran alpha- and beta-players to participate in the stress test.
But if you do have a key, and access to the game, you're able to play the new Dietl build now, and please remember to submit crash-reports, submit bugs and give us feedback in the forum!
In other news: Google Chrome has now officially been released in version 21, which means that you can only install new plugins/extensions through the Chrome Webstore.
The impact is has on Heroes & Generals is, that you can't install Heroes & Generals through Chrome at the moment. The immediate workaround is to use another browser, but we're working hard on a new installer. However, if you have already installed our "retox" plugin you can still access and play the game.
Do you want to receive the weekly Intelligence Bulletin by email? Then go to your Account settings, press 'Change account settings', check 'I want to receive weekly development updates' and press save!
Developer Blogs this Week
By Reto.KenSolo, PR Manager
"Heroes & Generals can be a quite deep and complex game, if you want to explore all the possibilities of the game, but it's our goal to be able to present it to new players in a simple and fun way. So, we're currently discussing at the office, how to make Heroes & Generals easier and more intuitive to newcomers." Read More
By Reto.Bacon, Support Manager
"So sometime last week I was sitting in our chat while at the office as usual and Fontan comes along. We chatted a little bit and I called him a traitor because he was talking about this new game that he just started playing called DayZ. He gave me his sales speech on it and caught my attention." Read More
Team Debriefing
Design


Reto.RedBjarne, Game Director
"- AssaultTeam insignia component + database structure.
- Work on 2nd iteration of battle-auto-resolve.
- Bugfixing on Perforce plugins for XSI
- Paperwork
- Meetings"




Reto.Robotron3000, Community Manager & Game Designer
"Back from vacation, blood levels slowly returning to normal after spending 2 weeks as a kind of mosquito-buffet, gathering forum feedback and looking at wiki/community sites backend."

Artists


Reto.Hr.Wille, 3D Artist
"This week I have been doing more images for the shop.
Also working on the new scoreboard."




Reto.Dave, Environment/Props/Concept Artist
"Been doing highpolys for a new stone hedge and started drawing insignias."

Coders & QA


Reto.Goonstah, Programmer and Technical Lead
"- Testing the new Dietl build
- Working on a new installer for Google Chrome"




Reto.Ogssan, Gameplay Programmer
"Dietl, Dietl, Dietl and new scoreboard"




Reto.Leto, Gameplay Programmer
"A good deal of bug fixes and optimizations"




Reto.Splixxen, Lead Tester
"- Test Dietl
- Test Dietl
- Test Dietl
- Reproduce bugs
- Verify fixes
- Test Dietl
- Shoot people
- Test Dietl"




Reto.Indusninja, IT Architect
"- Resetting AT which are in battle is not allowed
- Unequip weapons directly from their ID
- Place new ATs joining a war on battlefield, rather than accesspoint
- Bug Fixes:
+ Mission Queue Updater crashing some missions
+ Pathfinder search crashes if the start point is not set correctly
+ Event handler dealing with plane transport has a log formatting exception"




Reto.Vashu, Flash Programmer
"- Bug fixes
- Getting back into the development zone
- Playing the game to see what's going on
- Looking into intern and his qualifications
- Fixed Cookie error (Login error 2130)
- Worked with Support to get debugger players installed for players
- Looked into beta of threading and additional features coming in new Flash Player versions"




Reto.masterdisaster17, Server Programmer
"Getting my head back from vacation, preparing new data storage backend for deployment to test/dev environment, doing some bug fixes."

Sound


Reto.Lord, Audio Programmer
"- bug fixing
- temp footstep code fix"

Management, IT & support


Reto.Hansg, IT Admin
"1. Deploy of new perforce-slave done. Test test test and test.
2. New loganalyzer to webservers realtime log view.
3. Backup perforce and h&g servers.
4. Fix the wifi router in office.
5. More nagios setup of service check on service on CDN provider. Check if we can get the files from CDN provider.
6. Various other IT-tasks"




Reto.KenSolo, PR Manager
"I've started working on the next videolog, and I've also started looking at how we can improve the acessibility of H&G. I did a small experiment, by regularly posting screenshots and renders on our social media sites (facebook, twitter,google+ and IndieDB), to make them more active, and the response to this small experiment is really amazing!"




Reto.Lusa, Project Coordinator
"Back in business after two weeks holiday. Nice to be back – I missed my nice colleagues. Been catching up on tasks and bugs for the new build – Dietl."




Reto.Bacon, Support Manager
"- Support tickets
- Wrote a blog
- Ate some bacon"
NOTICE
The Intelligence Bulletin is designed primarily for the use of the members of the Heroes & Generals community. It is a vehicle for the dissemination to them of the latest information received from Reto-Moto Intelligence sources about the development of Heroes & Generals. Readers are invited to comment on the use that they are making of the Intelligence Bulletin and to forward suggestions for future issues.
Reto-Moto Intelligence Division,
Developer Department