This week I've worked on some new graphics, on a lot of the AI for interior behaviour, made some alterations to a district generation system I wasn't happy with, fixed various bugs and minor issues, and moved closer to the point where I can confidently say all crowd NPCs are working correctly. First, though, if you fancy some other roguelikey reading after you've read this entry, I'm building up quite a number of roguelike pieces – I wrote for KillScreen about the demonic enemies in NetHack, for Paste Magazine about the 35th Anniversary of Rogue, and for Imaginary Realities about the role of text, characters and letters in roguelikes (and URR). Hope you enjoy giving them a read… and now, onto the update, which is rather more substantial than last week's paltry offering:
Prayer Mats
I took a moment this week to do some graphics, and decided to finally implement something I've been meaning to for ages: prayer mats. Some religions now use prayer mats in their religious buildings instead of chairs, and the design of these mats is dependent on both the religion, and the civilization the religious building is found within (so religions across many nations will have similar, and aesthetically comparable, but slightly different, prayer mats across nations). The colour scheme is based on the altar, as shown in the three examples here, and the shapes (squares, octagons, etc) are down to the nation, whilst the specific layout of shapes and symbols, and obviously the religious symbols, are down to the religion. Here are some rather nice examples:
And some prayer mats in a religious building and a cathedral (note that the colour of the maps vary based on the actual mat colours, though now '=' can't be used for anything else!):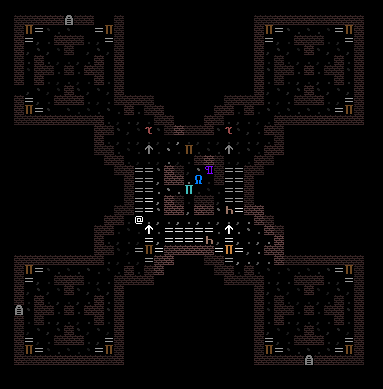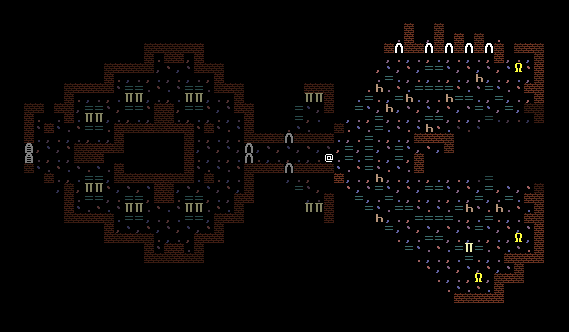 Further Interior Behaviour
This week I've done a lot more NPC interior behaviour. There is still a little bit which needs doing, particularly with special cases – NPCs going into banks should talk to the clerks, for instance, just as NPCs in hospitals should go and sit by the bed-side of someone they know, etc, but a lot of these actions are now working very nicely. In a cathedral, for instance, I just sat by and watched as NPCs came in and prayed at the altars, sat on the chairs/prayer mats, looked at the relics, admired the cathedral's decoration, talked to one another, sat down to study the holy texts, etc. Here is an awesome gif of this which is neat enough to watch to the end, I think, of various people in this cathedral (the one above) doing these types of activities: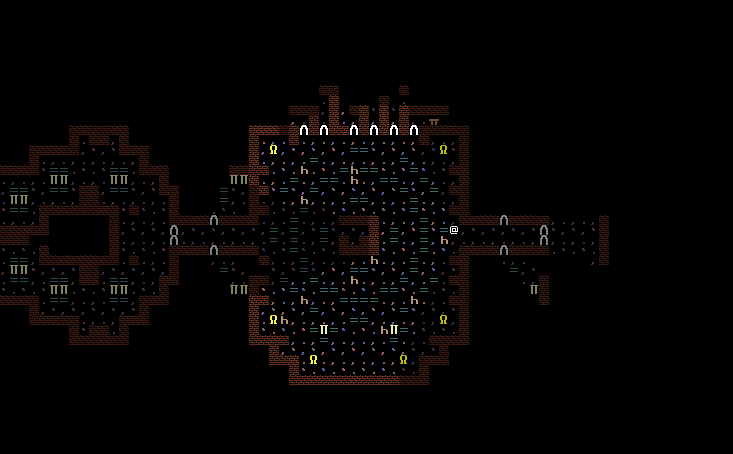 Next up was the gallery. As with all buildings, I'm leaving the "permanent" NPCs until last – so worshippers will wander around a cathedral, for example, but there are no priests there yet, as they will be tethered to that building and a particular routine – but here we now have people coming in, admiring the paintings, and showing themselves out again. Painting generation will happen when I swoop in and redo the history generation from the fairly simple system there is now, to something which truly encompasses every piece of information in the world, and begins to lay the foundations for sneaking in clues to the game's central cultural cipher. Anyway, the gallery: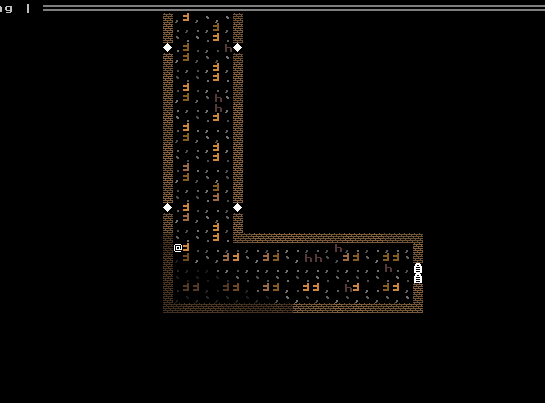 By the end of next week I hope to have more interior algorithms finished, and by the week after, they should all be done (this week is GDC Europe and Gamescom, and I'm attending 100% of the former and ~25% of the latter, so that'll be taking up a bunch of time). At this point I've implemented some general code for all buildings, and now it's a matter of going into every building and checking the code actually works there.
Middle-Class Rivers
I suddenly noticed that under the new generation algorithm for middle-class districts, when a river goes through them, they don't look very impressive at all, and we end up with something like this (with the issues ringed in red where multiple "bridges" seem to overlap: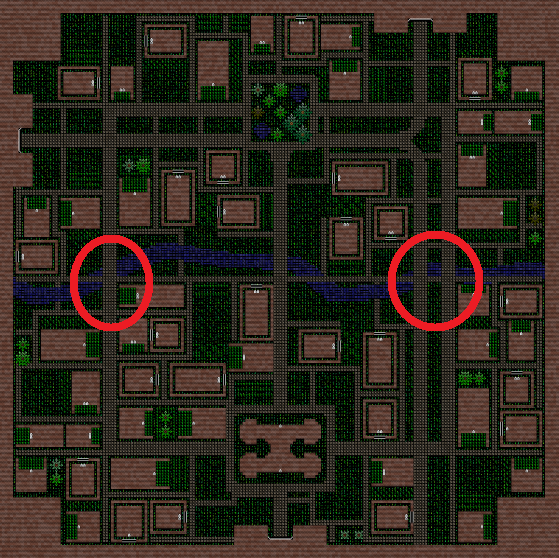 This wouldn't do, and it just looks rather dull, so I rewrote this algorithm into producing something rather more interesting, so here's the same district using this new algorithm which encourages the river to flow around/past major roads, avoid smaller ones, and to then design the rest of the roads differently and place buildings/parks a little differently in order to accommodate the river. Here are two examples with a "corner" river and a "long" river, from the same city (note that the shapes of the corners and the roads sometimes change – I set it to randomize that aesthetic choice each time I generated an area so I could make sure the new system always worked):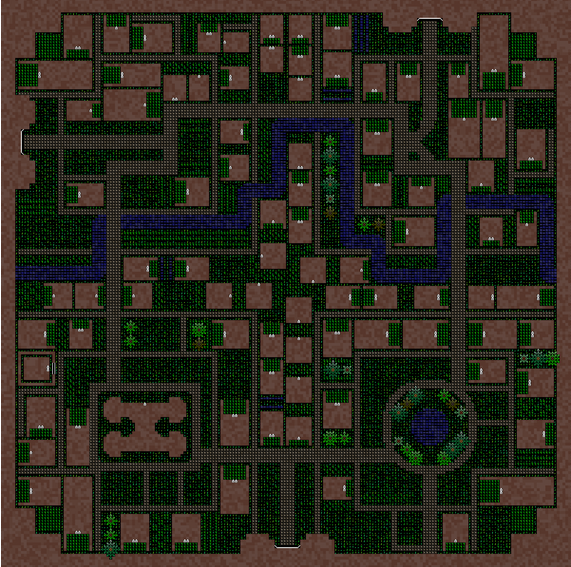 Other Small Changes
A number of other minor changes have also been implemented this week:
– Colonies can now only be established with nations with the "Imperialist" ideology, rather than all nations which are not "Isolationist" (which it was until now).
– An extremely unlikely edge case involving rivers and lower-class district generation has been fixed, ensuring you never end up with a part of a district that cannot be accessed without entering the district from another angle, due to the river's location. See below:
– Each NPC's face is now tinted fractionally to add further diversity within nations – everyone's faces are tinted a tiny bit (between 0.03 and 0.06%) towards yellow, orange, red, white or black at random. That might sound tiny, but the difference is noticeable.
– Roads are now grey merged with just the tiniest bit of brown, and all skin-tones are now very easy to read on it. However, others do struggle on the "soil" terrain type, so I'll fiddle with that too (probably make it a little more green, perhaps). Equally, chairs are made out of wood – with colours that range from light brown to dark brown – and therefore chairs, in some cities, do tend to blend a little with the populous. Again, considering solutions, but I might tint everyone's skin tone a fraction to the red.
– Fixed a thrilling bug where chairs sometimes decided to spawn in the empty void of nothingness outside the map… and then NPCs wanted to sit on them.
Next Week
As above, I'm flying out tomorrow and returning in a week, and I'll be doing lots of GDC stuff. So… expect either a shorter update, or a non-URR update, depending on how things go. See you then!