Hey everyone!
We've done it! Thanks to all of you for supporting us we've reached the goal and we're even shooting past it! With just 3 days left there's still a chance of us hitting the Wii U goal so keep up the great work!
We really want to thank everyone for making this a dream come true for us here at Causal Bit Games and we hope to make the game an awesome experience for all of you to enjoy!
To celebrate this milestone, we're releasing a very early beta demo of co-op game play and multiple control schemes. Please note that the HUD now needs to be rebuilt in order to accommodate the second player and that some things are still a bit glitchy as we've only just begun to add the support. But, you can play through the entire level in co-op mode almost perfectly! There will be bugs, and you can't tell how many lives or hit points player 2 has yet... but it's still extremely fun!!
Here is a break down of what you will see in this release:
CO-OP!!! 2 player story mode. Though the stand in player is lacking in moves, he's not lacking in strength or reach! There needed to be a no-name character for this section of the game since Finn the dwarf doesn't come in until after the second cut scene. He has been lovingly called "Nube the Warrior". The graphics for Nube are not quite completed (lacking proper double tap attack animation).
Some of Thurstan's animations have been altered. Walking now has more frames, punching has been redrawn and double tap direction and punch now has a knife attack
Multiple controller schemes! Use Keyboard or Control pad or both!
Here is an in game shot of both players: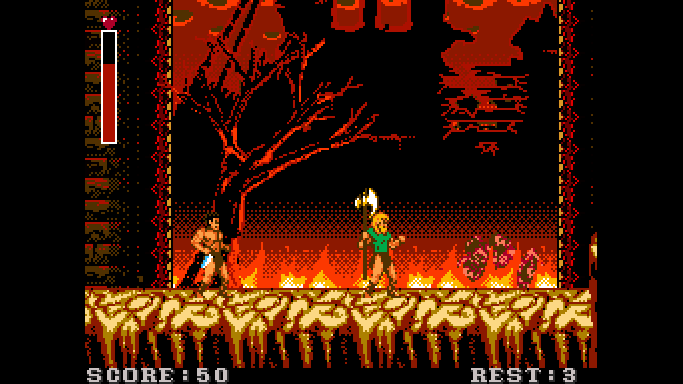 You can grab this hot little item right here!:
WINDOWS: HERE!
MAC: HERE!
Linux 32: HERE!
Linux 64: HERE!
Again, thank you for all of your support! This is absolutely amazing and we're extremely happy to keep making this a better game for everyone!
Chris and Daven