Download v0.0.10:
Dropbox.com
Download v0.0.11
Dropbox.com
I hereby grant you that the above links are 100% virus free. There is no need for me to do such things as I do not endorse such questionable practices, lol. Also keep in mind that these two versions are very unfinished versions and very likely to crash.
v0.0.09
Features strafing and some improvements on the input handling in the sim. The editor is implemented in the application. It starts up but the collision detection is messed up causing you not to be able to remove blocks. The largest difference from the last download I've provided here is that you now can launch what is going to be the simulation and the editor from one single base application.
v0.0.10
Planets in the sim got some additional values, namely atmosphere and temperature values, which also impact on a planet being habitable or not. (in fact these two values depend on eachother and also are affected by gravity - similar to real planets). You should also encounter gaseous types with planetary rings and actual asteroids, which also happen to have their own material they're made of (i.e. red asteroid = iron, white one = magnesium).
The editor is not functional in this version. The only working effect models you can choose from on start up are "NONE" and "WEAPON" (perhaps also COOLING, SEAT and ENGINE may work), choosing the others will make the application crash. Some bugs with the icon materal chooser exist as well, it may not respond as you desire. I've also made some improvements on the options screen from where you can load and change a settings file and adjust music and fx volume (this feature also exists in v0.0.9 but in a very unfinished state, if I'm not mistaken)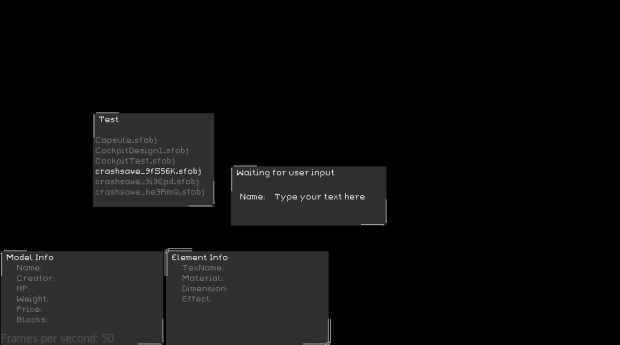 You will perhaps also notice that v0.0.11 starts up faster than v0.0.9, this is due to the internal improvements in the MaterialLibrary. The newest version v0.0.12 I'm currently working on is already a faster than v0.0.11 as well, and with a bit of tweaking also is capable to load a real shit ton of assets fast and efficiently (+1000 if not more... but that probably will kill your RAM, lol!).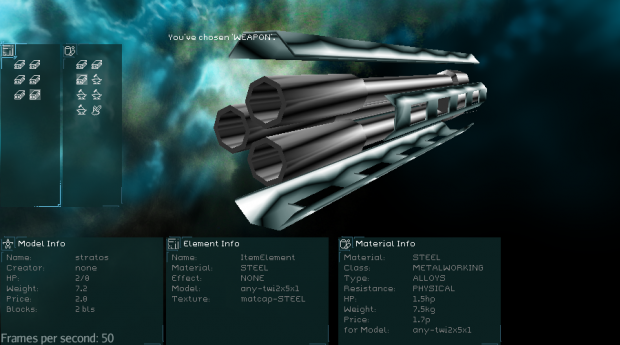 In other news, I recently got a spot at university, so it is possible I cannot work on my game as much as I used to - until then I will try to finish up as much of the source code as I can. Seeing how the course also goes in the direction of game development (or software development in general) I may be able to integrate it into my studies. Should this be the case, StarFire may end up as being my bachelor graduation project, which would be perfect. And I may be able to assemble a little team as well. Possibilities are everywhere!