It will probably be a common occurrence that I jump around and do concepts for different components of the game, this week is no exception. So we go from architecture to the beginnings of character design. I started with a design for an industrial mid-rank soldier/officer. As I stated in my last post the eras we are wedging ourselves between for real world reference are late Victorian and the industrial revolution (likely including late in this period as we move into vehicle designs). I had in mind the uniforms that were worn during the American civil war as well as mid to late 19th century European uniforms.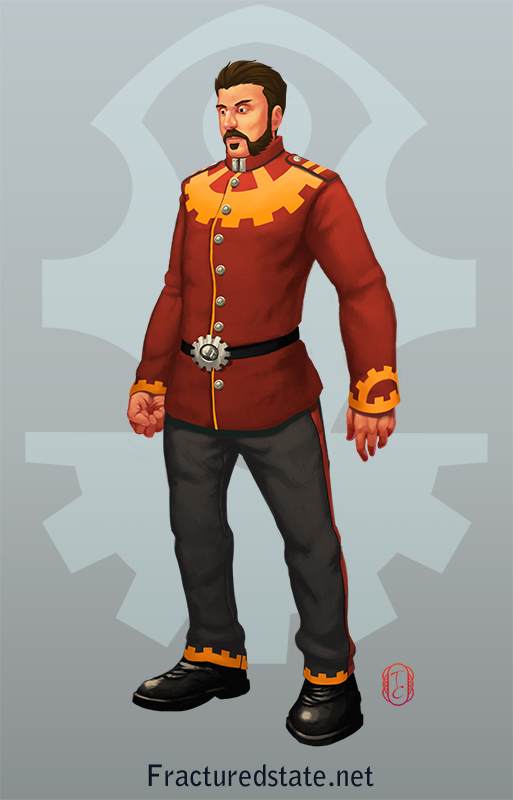 As you can see I went for a simplified and relatively sleek appearance with this uniform. In part this has to do with his rank, the higher ranking officers/officials in the Industrial faction will have more involved uniforms. Matt and I discussed this being a result of ingrained aristocracy. Class stratification will likely be a large component throughout the design process, especially for the civilian designs.
I should mention briefly that while there are two playable factions planned there will be a civilian faction of sorts that will interact in various ways (this is our plan, please do not pummel me with cudgels if this later becomes a filthy lie). I mention this as a separate faction because the designs are set up to be distinct from both playable factions. The civilians will as a rule be a neutral color scheme, reflective of their lack of affiliation-until certain choices are made during game play. That said the second design I have to show this week is of a factory foreman.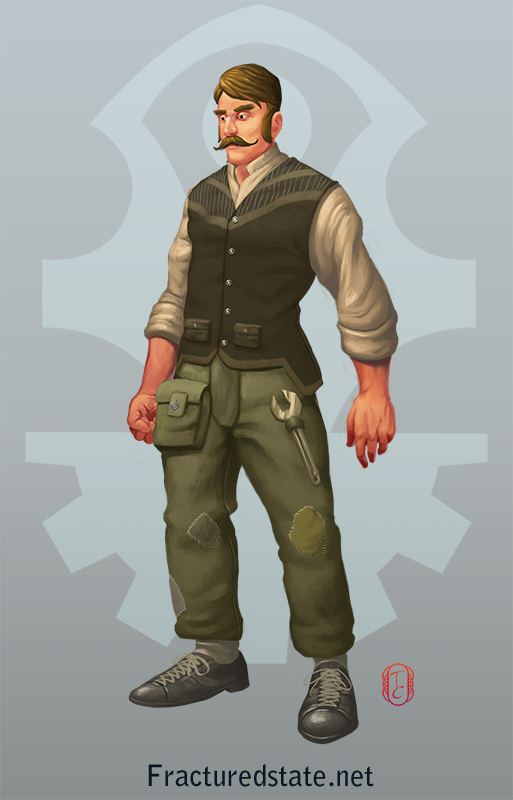 You may have noticed both of these fellows have impressive facial hair. This will also be a theme, and a fantastic one at that.

Hopefully by the next time I am due to post I will have a concept finished for the faction which for the moment we will call the Ritualists. Also there will be female concepts at some point, although I am not sure for what other than the civilian side at the moment. That thought gives me something to go badger Matt about, excellent.