Hello, welcome to the fourth, the newest Info Update, which stands for May.
Project has been reactivated!

As you can see, we have reactivated our project. We thought, that we have to change our priorities in programing and take care on other things. Last time, we had closed project because of personal and technical problems. At the moment, we are focusing on:- Working on Open Alpha, which won't be on 1st July. We'll try to make it as soon as possible. Code is being written from the beginning, but I think It will take only month, or few weeks. Stay calm, and wait for it!- Creating portal connected to the forums and game.- Many, many more smallers things…


Why beta wouldn't be on 1st July?

Creating code using Reverse Engineering takes a lot of time. RootKiller, our programmer, said, that the code needs a little bit more time, but I think, it is worth to wait for. Also, I can say, when we start Open Alpha it won't be turned off, you could drive it anytime you want, but it will be just clear Euro Truck Simulator 2 with Multiplayer, just for testing.
Can we play on LAN?
At the moment, as I wrote, we are focusing on online play. We had started server for it, which has 1000 slots for players. But that's not all. It has dynamic slots, that means, if someone wants to join if there's 1000 players online, server automatically will set itself to 1001 slots. Possibility of playing LAN probably will be added in future.


Our team.

Rootkiller - Project Leader, Lead Programmer, Reverse Engineering
Manuel – Community Manager
And a couple of beta testers.


Suspension of Companies

We thought, that at the moment of Open Alpha companies won't work. So, we decided to suspend them for a certain time. Suspension means, that new companies mustn't be made.


Progress of work

At the moment of the Info Update writing code contains:
- Reference of physics stuffs of game,
- Localized pointer of internal economy, spawn position, local player truck and trailer
- ETS2 tutorial has been disabled,
- Traffic generated by internal core generator has been disabled,
- Changed place of ETS2 user data - saves etc. (original - My documents)
- Launcher with Auto-Updater and Authorization feature,
- CB-Radio and Chat - designed type of working
- Documentation of unit system of game,
- Network protocol is designed and going to be implemented in next days


Portal connected to the game

We want to present you today one screenshot of very early version of portal which going to be connected with online world (Drivers managing etc. will be placed here).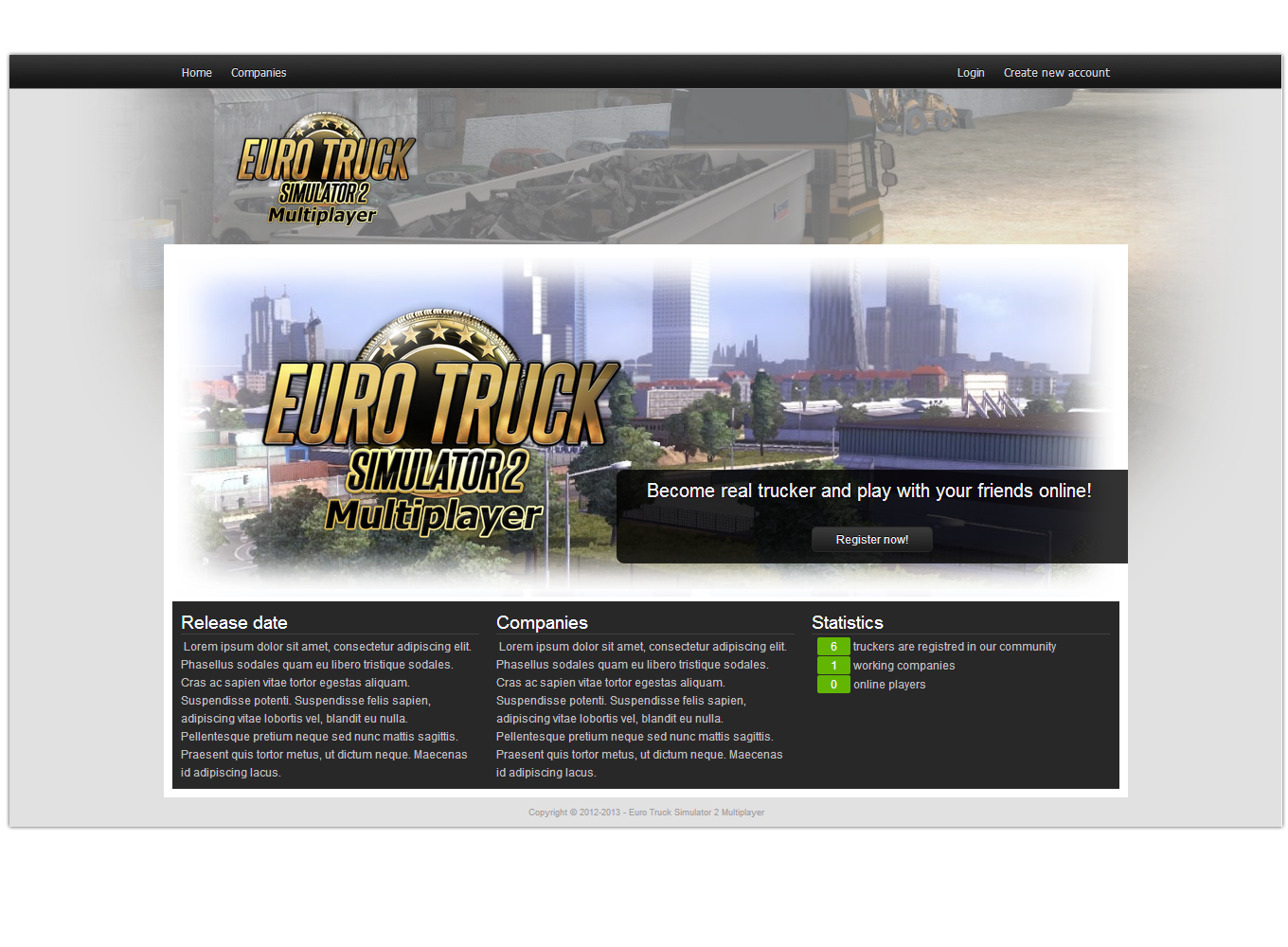 Our Official TeamSpeak is on!

You can join our TS3 whenever you want, under IP: ets2mp.com
We are waiting for you!