On nebulae:
InfinityAdmin has finished the implementation of the planetary nebulae and has also spent a bit of time to optimize performance for the cloud point generation and operations, like lighting.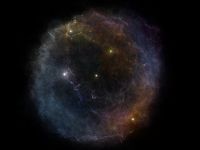 On HDRI (high dynamic range):
InfinityAdmin also started to write the render pipeline for HDRI. Nothing special to say. Lots of render to texture, many typos / bugs fixed, a few more subtle bugs fixed, overall it's going smoothly.
We still have to improve the bloom quality ( better blurring ), and have to make exposure a function of the image brightness.
On cities:
We started working on the city generator. The buildings are procedurally spawned into the city and are a combination of different building parts. Stannum made two buildings, with are made of many sections each. We are not sure of the number of combinations, but it's pretty safe to say that it's in the order of thousands, maybe more. Now, two buildings only aren't enough to make varied cities, but at least all the buildings are "unique" and have subtle, but different details.
The next screenshot shows a 'work-in-progress' city in a giant dome with HDR effects: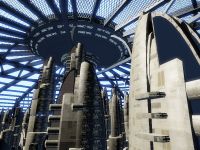 Art department:
Koshime has uploaded a lot of concept art on the Infinity profile on moddb, be sure to check out our media section!
Also take a look at fleet comparison image with all the ships modeled so far.