InfinityAdmin(Flavien Brebion) made a lot of progress on the combat prototype, and that's a Good Thing ™. He tested the space station interior with Shawn(3D artist) in network. Despite being a bit late and having difficulties with DLL hell, everything worked fine. For the first time, Shawn was able to "visit" his space station from the inside, with ships physics and collisions. I also showed him how the docking procedure will look like, and so far we haven't spotted any problem. It also seriously helped to "feel" the scale of the station, and how some sections are a bit too small even for a small ship to pass.
A lot of people have been working on their parts, too. Juan is advancing quite well in the hunter texturing. John also sent the more or less final version for the sound fx and the quality is really good for mono sounds. Koshime's still making some fantastic sketches, and Russell's busy on the storyline.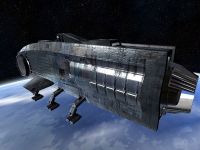 We also took a new set of screenshots showing off the texturing work of Betelgeuze on Post-Gaian, Selenian and Ymirian planet types.