The nebula prototype, we told you guys about not so long ago, is almost ready and we will soon move on to work on other features ( planetary engine, cities, vegetation ). Note that nebulae are fully volumetric and it reflects the color of the nearest stars, so it takes into account the position, distance and color to each star.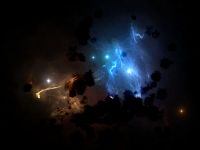 A short video of the nebula recorded in real-time can be downloaded here.
I also want to add that a lot of art and models have been made the last couple of months, not only by the devs but also by contributors. If you are intrested in contributing, you should visit to the 'contributions' section on the Infinity forums.