InfinityAdmin has spent a few days on the HDRI, shadows and LOD ( level-of-detail ) for Infinity and today he released 2 new videos showing off those new and improved effects!
Keep in mind this is a work in progress. Yes, it's not perfect. There are tons of little problems, parameters to adjust. Things will improve over time. And keep in mind it's yet another "tech" demo: even if it looks nice, it's far, extremely far from being more than a rendering prototype.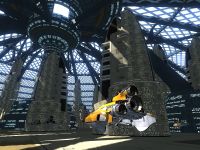 Two new videos for the price of one!
City video
Showing off the city and a few models. Stannum's buildings, Shawn's city dome, CutterJohn's Intrepid, and 100 Shadix/Petrov interceptor's loaded. Also shows HDRI and dynamic shadows.
Spuk's outpost
Showing off the small station made by Spuk. Generic textures, no skybox/background, it's a bit plain, but it shows HDRI + dynamic shadows.