Adding the ability to level-up and advance your character rapidly throughout an arcade game has been something that's been rolling around in my head for a while. How it works in Infinite Pull, for the most part, is that your character levels up when you hit certain point milestones. At which point you're given a choice between 2 perks/abilities. The one you choose will apply to your character until you die, the other is gone from the game until you die. Death doesn't always make you lose your perks and abilities, though. A perk called Greed let's you hold onto your points after death, and stays that way for the whole play, but to get Greed you have to give up Stasis, which is a very valuable ability.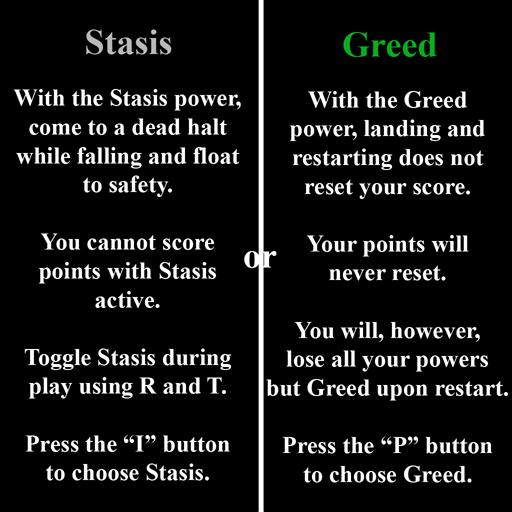 This leveling-up at forking paths that forces you to choose one power or the other, allows for different combos of powers as you play again and again. This way the player can explore different strategies in their attempt to reach the point milestone that ends the game. There are other perks/abilities like Ruby Red, Wormhole, Gold Rush, etc.
Infinite Pull is still set for a Pi Day release (3-14-2013) on Desura. If more beta testing is needed, the release date could possibly be pushed back a tad, but a March release date is definite.