We've hit 3,000+ Members on our Official Steam Group thanks to all of our fans support and to celebrate that accomplishment as well as Independence Day (I miss those BBQs living out here in Japan) we've planned a surprise! We are now launching the much anticipated "INDIEdependence Day Giveaway"!
Starting at 12:00 NOON (PST) (GMT - 7:00) July 3rd we will be RANDOMLY selecting users in our Official Contagion Steam Group and Contacting/Putting them down on a list in case you're busy with family/travel for the holidays/timezones. That's one random Indie game given to one random member of the group every single hour for a full 36hours until 12:01AM (PST) (GMT - 7:00) July 5th.
We don't expect a huge influx of users joining the group but if that is the case we've already decided that we will increase the number of indies we giveaway to compensate any large numbers joining the group as we want the chances of receiving a free Indie to be roughly the same.
So once again, this is is how it's going to work
The INDIEpendence Day Giveaway starts at 12:00 NOON (PST) (GMT - 7:00) July 3rd and ends 36 hours later at 12:01AM (PST) (GMT - 7:00) July 5th
One random member will be selected every hour and be given a random Indie title (or if you're not available listed and announced to claim within the week before given to another member)
If our group member numbers increase for some reason significantly we will try and compensate with more titles being released per hour
This Giveaway is EXCLUSIVE to our Official Contagion Steam Group so if you're not a member, now is the time to check us out and see if we're a group you're interested in (try to make it more about the game than the giveaway haha)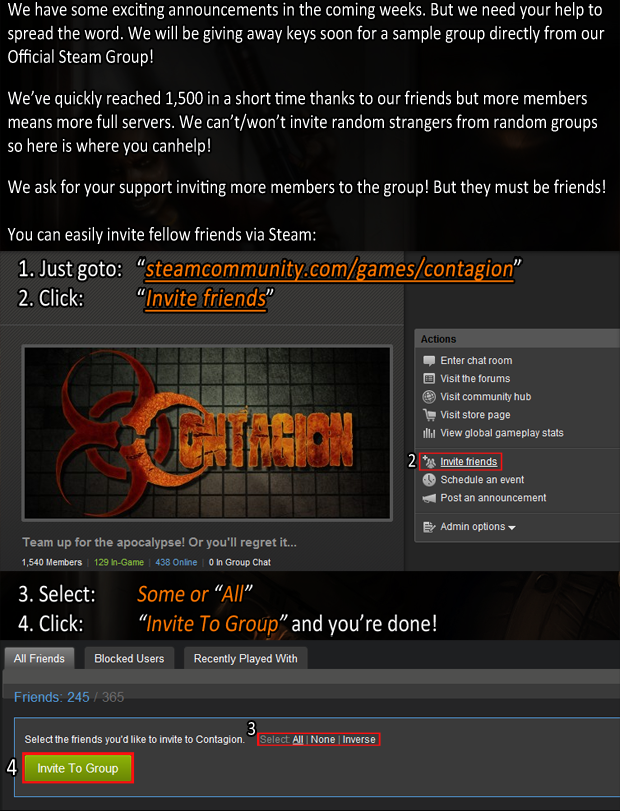 Many of us are not in the States or celebrate Independence Day so remember this has just as much to do with celebrating reaching 3k+ members so fast thanks to all of your support than it does with the holiday. We felt it right to give back and are fans of our previous Indie Giveaways.
I love that feeling of "Will I get one?!" and hope you do too as we will be not playing any favorites and will use software to randomly select all those picked.
Enjoy!
-Monochrome