Spring weather can really be hell; why not escape underground with IndieBundle's first ever dungeons bundle? Ooooh, wait, that may not work... these dungeons are pretty hellish themselves... just look at the awesome games in our Hellish Dungeons Bundle!
The Standard 3-for-$5 bundle:
99 Levels to Hell by Zaxis Games And B-evil
Guy vs the Wicked and Nefarious Land by Cog Monkeys
Rogue's Tale by Epixx.org
For more $2, you will contribute to the Alpha funding of Claustrophobia: The Downward Struggle by TheIndieForge and Dark Gates by DFour Games and get the Bundle+.
Check the BUNDLE details HERE: Indiebundle.org
Courage and venture forth!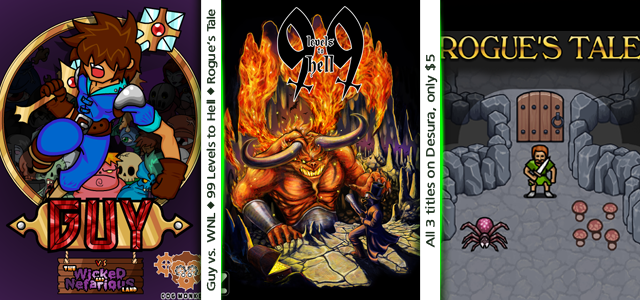 ---
Guy game Reviews:
Game Zebo (3.5/5) - Gamezebo.com
Futile Position - Futileposition.com
The Indie Sheltes (Italian) - Theindieshelter.com
Gaming Portugal (Portuguese) - Gamingportugal.com
Games Foda (Portuguese) - Gamesfoda.net