November is coming, and we're proud to present the (almost) complete 'Defend the Base!' game mode! Get prepared!
'Defend the Base!' (or DTB) is an independent game mode in USC in means of goals, challenge and strategic approach. Game and combat mechanics of course are esentially the same, and you can also use your Single Mission squads to play DTB--you can even get special awards in DTB you can then use in Single Missions with that squad. You can play with 1-3 squads (4-12 units) in Single Player, hot-seat or TCP/IP multiplayer co-op on four difficulty settings, though DTB is generally much harder than a mid-level Single Mission by design. DTB is not a "tower defense" game: the main focus is on actually carrying out and surviving the missions (i.e. defending against the waves) with your units--but you get the chance to control the combat environment much more than in a standard mission.
DTB puts you in the charge of building and maintaining/defending a base on the surface of the planet. You get a fair amount of initial resources (Base Points) to start with, spending it on additions (storerooms, armories, tech labs, etc.) that help you repel the alien hordes with their structure, and also yield placeable objects (crates, barrels, vending machines, and such). You can also set the type of connection between the rooms, and embed structures into the surface rocks for additional protection. There's only one restriction: the Command Center (the central, automatically placed room) must be accessible. Important objects are the equipment crates, which support you with resources each wave (mission), the type of resources depending on what type of room you put the crate in. After starting the game with your configured squads, you don't get the chance to go back to the standard buy menu: you'll have to use whatever supplies you brought with you and these crates yield.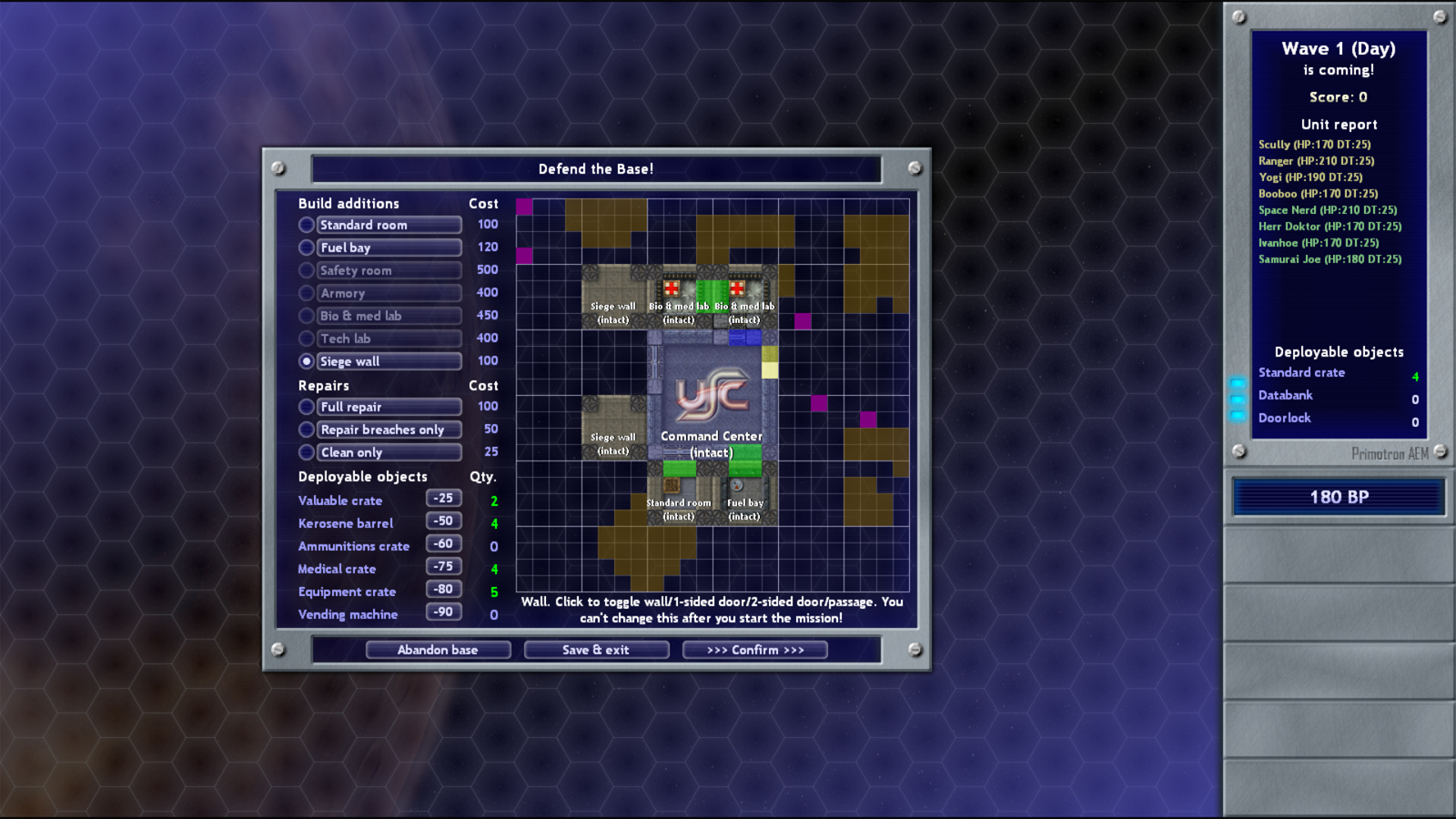 With each wave, the number of aliens increase and their ranks begin to fill with tougher types. They only have one purpose: to wipe you off of the face of the planet. Ultimately, no wall or obstacle will stop them. They will attack your barricades, tear down your doors and walls. You have to build smart, and do combat even smarter. If you do enough damage to them, they will retreat, and you 'win' the wave, which earns you a smaller amount of Base Points, and you can improve and/or repair your base once again. Repairs are done on a per room basis, and you can choose to fully repair a room, repair the breaches, or clean up the mess (e.g. radpools) only. Your units don't get automatically healed between turns, only their Morale increases. You must pay attention to have an adequate medical supply (apart from what you bring with you initially, you can rely on med crates and vending machines, and equipment crates placed in medical rooms.)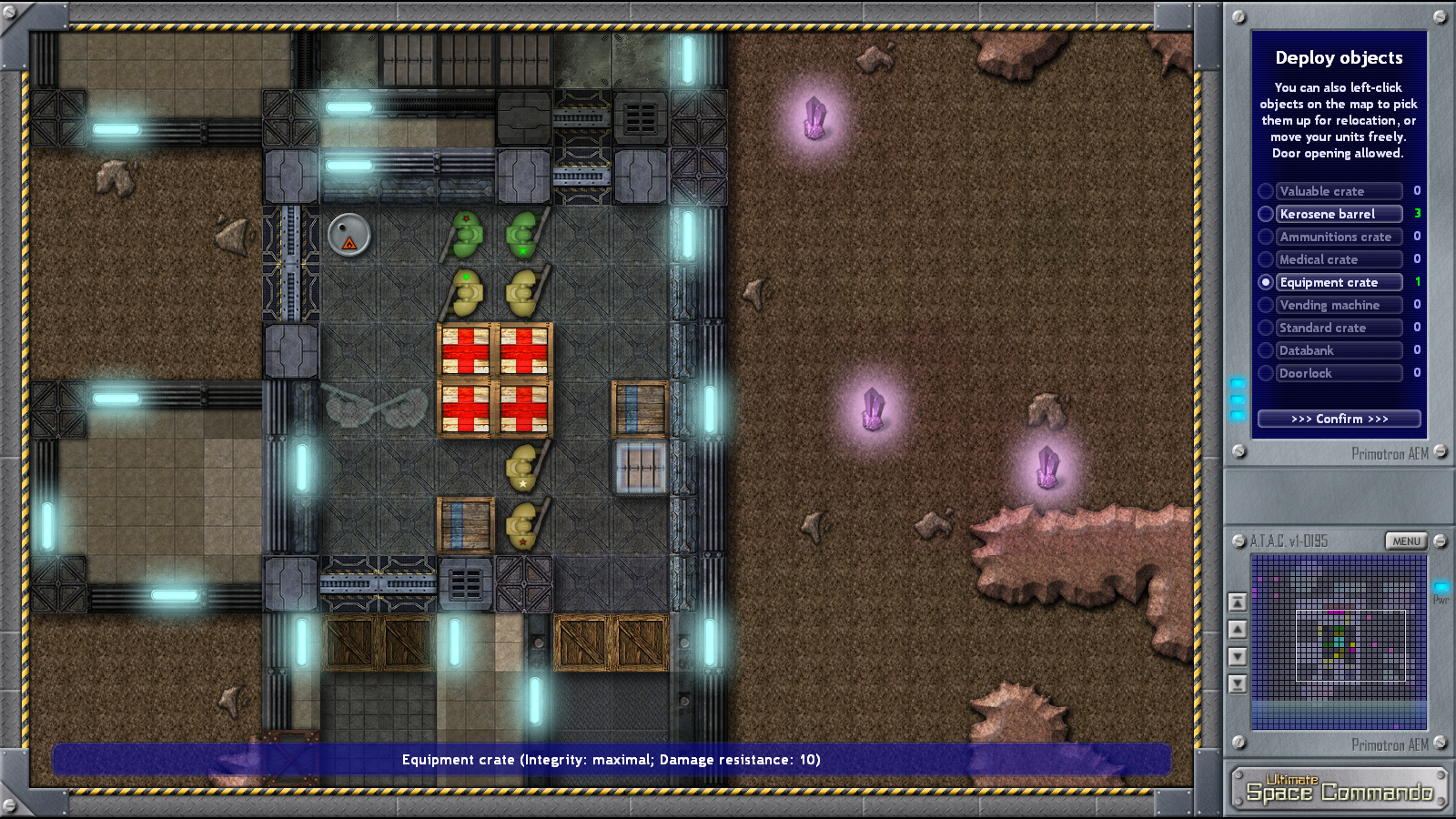 For every 6th wave survived (that's '3 days', as there are day and night waves) you get a special award increasing in value. There are a total of 30 waves (that's a lot to fight, but you can always save your game and continue later) with a huge surprise at the end if you ever live to see it! ;-) USC is generally about good field tactics, but in 'Defend the Base!', you'll also need good strategic and management skills. Deploying and using the map elements wisely, planning your base additions with care can save you on the long run. You can't really afford to lose--for example--medical or equipment crates to collateral damage or spreading walls of fire. Also, you may use objects to block breaches and doors only if you placed them smartly, and can push/pull them to the right place.
How long can you survive? Will your stand last all the five days of terror? It's no easy task! We have even re-configured and optimized the default AI for DTB to be more aggressive against structures, and don't let you sit in your little safe home! ;-) The aliens will flank you whenever possible, testing your combat and building skills ultimately. After all, it's Ultimate Space Commando!
Don't forget: the BETA release is coming in November! Keep your eyes open for upcoming features and screenshots & gameplay videos! (I just need the break from coding & testing to do them...)