Hello all!

When I started Build & Defend back in mid 2012, I wanted to create an open world with a great felling of freedom, but also a difficult game where you would die again and again. Those two aspects are very hard to combine, and I had a lot of potential ideas that I wanted to try in order to achieve this aggregation.

The first playable version of B&D was extremely simple (and also extremely short). In this first version, you were alone again endless waves of monsters, your goal being to build a fortress and to survive as long as possible. I have been very happy with this result.

The game play of B&D is naturally divided into three steps. The beginning is similar to the game play of the first playable version: You are alone and you try to survive. Slowly, you meet companions that will help you with the repetitive tasks (like chopping wood, growing food, etc.). This give you time to build the fortress and to look for more rare resources like iron or magic mushrooms. Finally, and if you survived the first two parts, your fortress will be self sufficient. At this point your goal is to organize the life inside of the fortress during day, and to fight bosses during night.

Of courses, it is up to you to follow those steps. For example, a lot of players are apparently spending all their money to buy weapons instead of investing into their fortress.

My goal for the beta of B&D is to emphasis the differences between those three steps: I want to make the beginning of B&D even more of a survival challenge where the players will fight to keep their sheep alive, and so being able to eat. On the other side, I want to make the live in the fortress as rich as possible to give a great feeling of accomplishment to players that are able to make viable fortresses.

Today was the release of the 7th minor release of B&D since the beginning of the beta. In this news, I want to give an overview of the changes of those 7th minors' releases.

• Game play changes of the Beta (so far)
+New stating inventory
When you start the game, you are alone and you have very few items in your pocket for you to survive:
- A wood sword
- Some wheat
- Four coins of gold
You also start the game with your dog and a sheep.
But you can now craft yourself some simple items (without the help of craftsmen or workshops).

+Soldier squad
The goal here is to make the organization of the fortress more flexible. At this point, soldiers (i.e. workers with the soldier job) can be organized into "Squads". Each squad can be assigned to a different task. For example, a first squad can train, while the second one is patrolling, while the third one is escorting a player. You can also define a different tasks between the day and the night. So, for example, a squad can be free during day (to do any other jobs they have), and be on duty during the night to defend the fortress.




Lift up your partners


You can lift up your partners over wall, or to get them out of water. This is very useful for newbie that fall frequently in the water, or forgot about the night and are stuck outside.

Multi-player screen split
When you play in multi-player on the same screen, you can now choose if you want the camera to move around and find the best angle to see both players (old system), or you can split the screen for each players. The goal of this new feature is favor the division of labor between players. One player can go explore the world while the other ones can stay to build the fortress.

Online multi-player save
You can now save online multi-players games (and resume them later).

+Improved tutorial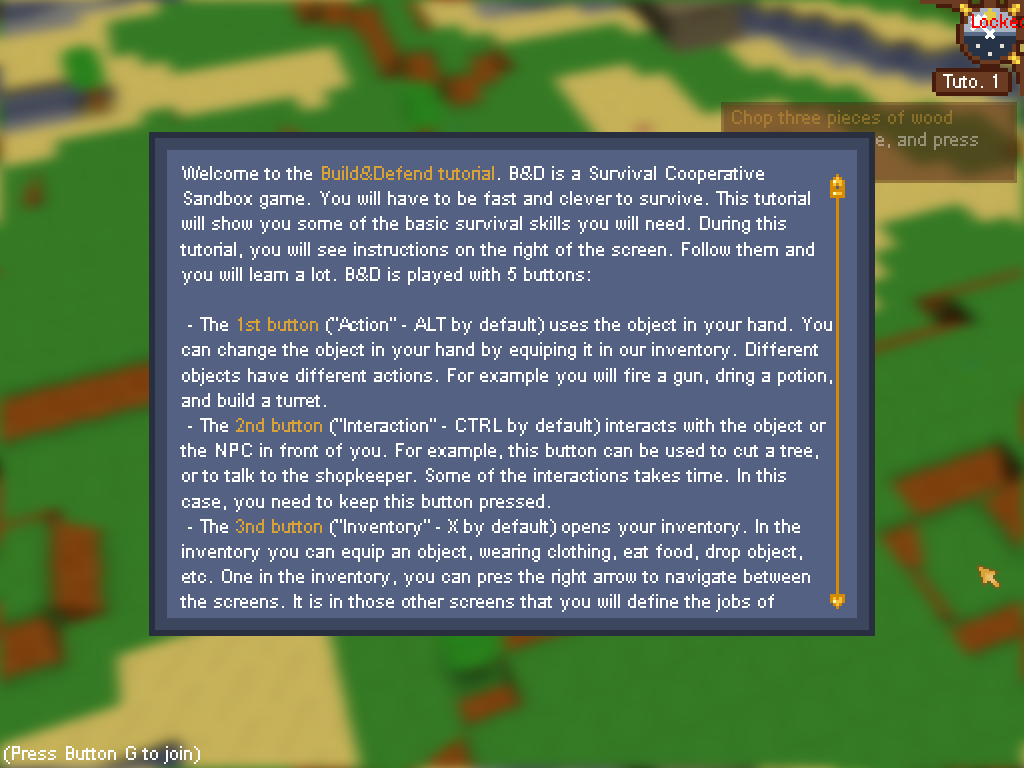 The new tutorial should be far easier to follow. Also, there are now two different buttons for the "interaction" and for the "inventory" (In the past version, a single button was used for both operations).

During the first nights, the workers will sleep on the ground. But you will quickly discover that having beds will reduce their sleeping time, and give them more time to make useful thing. Workers are now able to wear cloths; cloths that they can manufacture, or that you can buy to the shopkeeper.Equipping the good workers with the good cloths is becoming the key of success. For example, you want your archers to have armors to take fewer damages, and you want your farmers to have shoes to walk faster.

During the building of your fortress, you will be confronted to "events". Your ability to respond to those events will determine your fate. New events have been added in the beta. But I will not tell you what.

• Other modification improvement of the beta


+New lighting system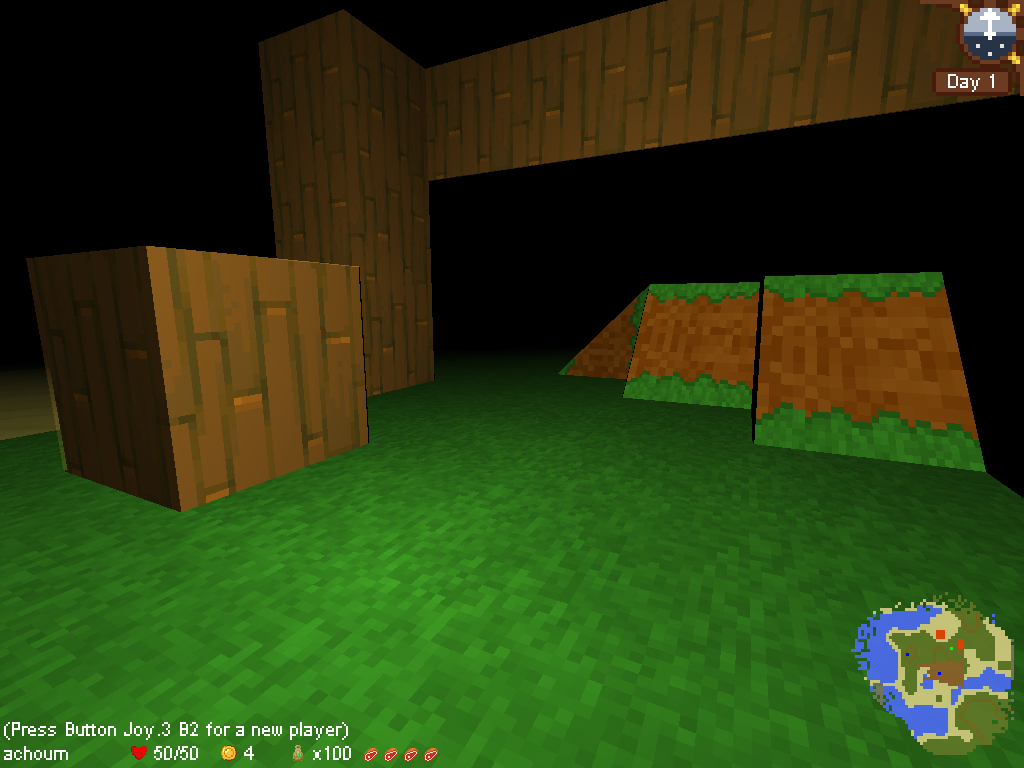 The new lighting system deals with sun shadows, wall shadow and light propagating.
+New AI system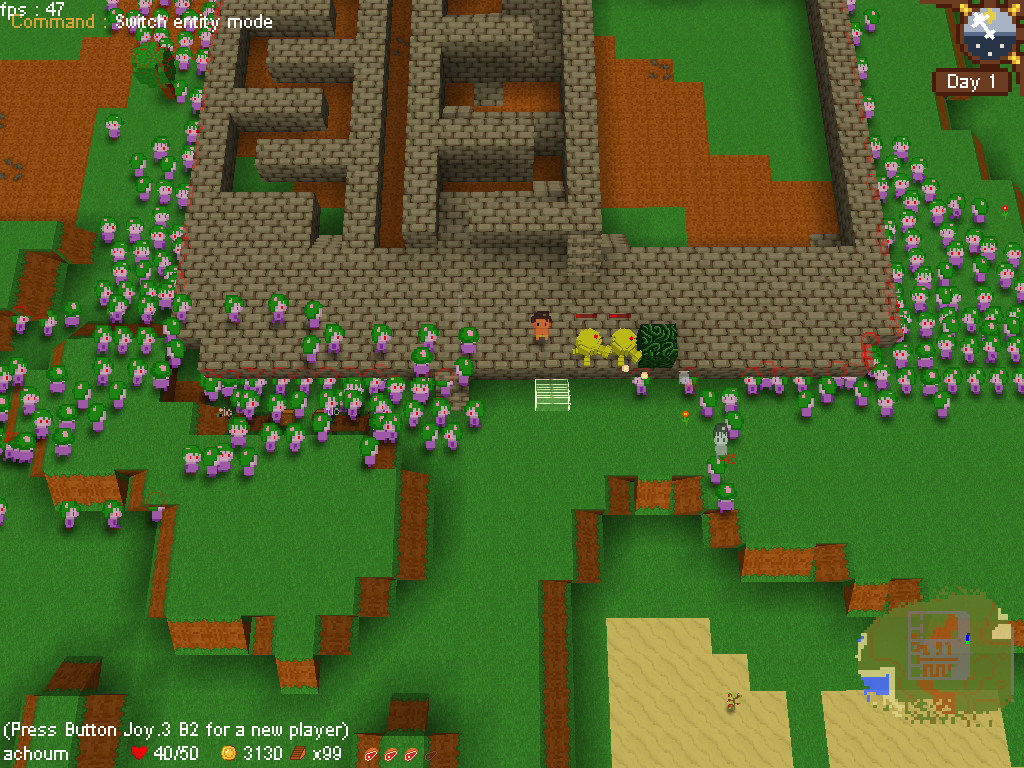 The AI has been greatly improved: It consumes less CPU and the mobs are more reactive than ever.
+Graphical improvement
This includes a lot of small changes. For example, turrets emit smoke, trees drop leafs when they are chopped down, new lava animation, explosives emit light, lava burns grass, etc.
-----------
I hope you will enjoy all those new changes.
Cheers,
Achoum