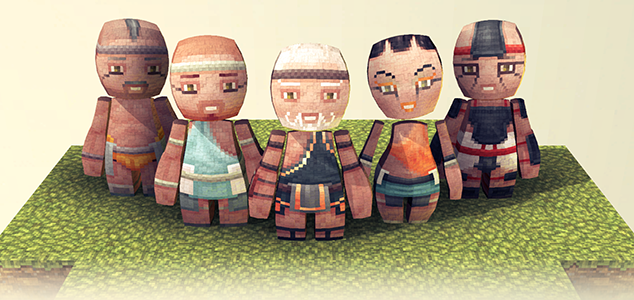 How we look defines, in a way, who we are. That is something we learn in real life, and we feel this will be just as important in Imagine Nations. Now, that does not necessarily mean that NPCs will point at you if you choose a strange skin color, wrong hair style or have no beard, but we plan on allowing as much freedom as possible for our players when creating their characters.
Character creation will be divided into two phases: base creation of your character, and specialized customization of your choices. Base creation is handled by choosing from a variety of head, body, arms, and locomotion modules. Once you are satisfied with your choices, you can begin customizing your character. The build and height of the character, his facial features, skin color, hair style, and hair color are the core basics.
We will expand to include more possibilities, such as new forms of locomotion (wings, hooves, tripedal or greater legs, fins, etc.), different types of "skin" (feathers, fur, scales) and other features (horns, gills). They might benefit your character in some way (a creature with scales could be a bit tougher than a creature with bare skin), while they could be present only for visual appeal (the shape of the hooves, shape of fin, length of beard, etc.).
Keep in mind that your character might eventually die (if we move towards aging and death) and we will have to take into account that the player can identify with the new character he will be taking over. In the case of children, certain physical features that their father or mother had will be passed on. So, your whole family line of proud warlord, of a fish-like race, could be marked by a big red fin on their head, a distinguishing feature in your culture.
If you are interested in voicing your opinion as to how character generation can affect game play (not only in terms of visual appearance), visit this forum topic and let us know what you think. Imaginenationsgame.com.
Help Support the Imagine Nations Crowdfunding Campaign! Become a Backer of this game.