The latest game update is now live including all of the features below. Please note that if you use any third party tools for Illyriad, the new UI will more than likely cause them to break. If you are having any errors in game, make sure to turn off the plug-ins first, to make sure they are not the source of your problem, before filing a petition. Aside from that, if you have any questions or issues, let us know in a reply in the forum or via an in-game petition. Enjoy!


New UIv3
The new Illyriad user interface is now in game. The old UIv2 is no longer available for use. Changes include:
Tabbed sidebar for notifications/next events, friends list and alliance/global chat
Next events now includes both items in the research and build queues and now displays the name of the item as well as the completion time
Placement and size of un-docked chat boxes, map zoom level and advanced resources state are memorized by computer/browser, with settings on the Account & Preferences page
Additional navigation is available at the top of inside pages
Lore portion of the Herald is now in book form
New Release Notes and Stats page added
Player profiles display alliance medals and titles
Visual changes have been made throughout including border and background changes, color and fonts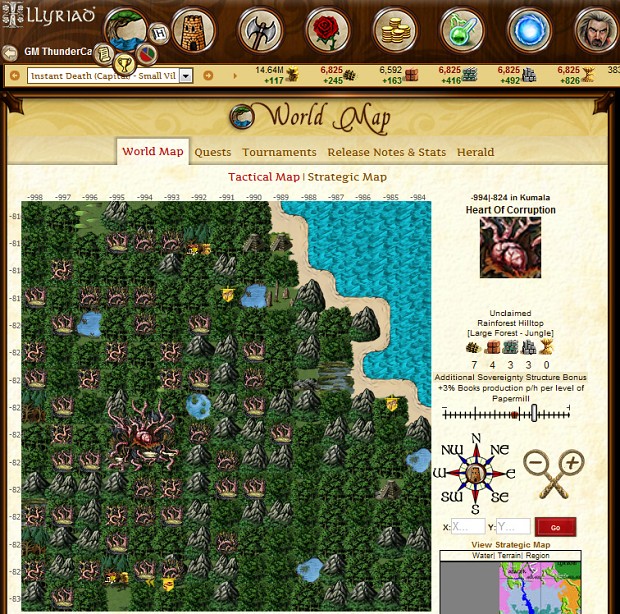 Search
Search box added to top of sidebar can be used as a game-wide search for players, towns, alliances, locations, in game functions, etc. You need to type a minimum of three characters and it will show you the top 8 results. If there are more than 8 matches you can click the "See more results" link and it will take you to a page showing them all.

Friends Lists
Players can now add people to their friends lists. Additions must be approved by both sides. This will allow the player to see when their friend is online in the "friend list" sidebar. Add players by clicking on their name and choosing "add friend" in the pop-up options. Visit the "friends list" page in game to approve friend requests and remove players from your list. Functionality includes:
Order friends in list
On/Off accepting request
Accept/Decline/Block
Withdraw invite
Online/Offline/Request notifications in bottom right corner
Remove friend
Live mini-medal updates in list
Friends name is purple in chat
Alliance Prestige Pool
Players can now donate and spend from a shared alliance prestige pool. Visit the "alliance prestige pool" page in game to donate. Visit the "prestige" page in game to spend alliance prestige by choosing the blue button options. Alliances can set prestige pool access and spending limits via alliance roles. Ledger page shows all transactions including donations and spend from the prestige pool. Once donated to an alliance pool, prestige is non-refundable and cannot be withdrawn. More info and a FAQ can be found here. You will only see the Alliance Prestige Pool if you are in an Alliance.

Alliance Medals
Players can design alliance medals on the new "medallist" page in game. Designs cost no prestige to save. Medals then cost alliance prestige to purchase and award. Cost of design depends upon components used. Award pricing is 50 prestige per award. Medals can be awarded multiple times and to multiple players at once. Medals include a player title to be displayed on the player's profile and pop-ups. Medals that violate the Illyriad code of conduct in text or design will be removed by the GMs and no refund given. Functionality includes:
Profile Medal display
Medal Cabinet tab on player profile
Re-order medals
Choose Active Medal
Medal and Title on popup
Medals on lists
Medal in chat
Delete Medal
Accept Medal (if awarded from outside Alliance)
Share designs on Facebook
Use in game mail to share medal designs that you've saved. Just click the little mail icon on the lower right corner of the medal.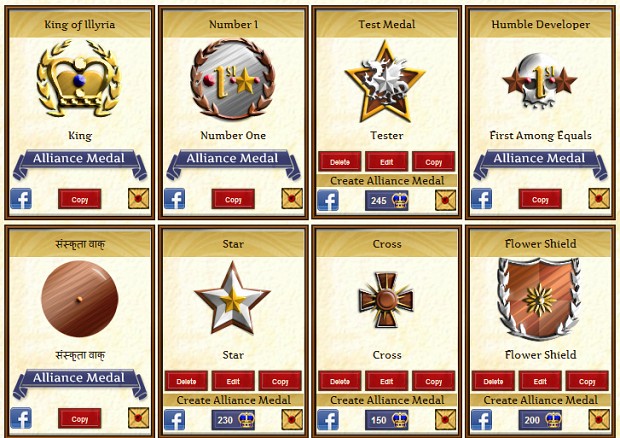 Mail Changes
The To column of "System" mails are not now hotlinked to a non-existent account - which means system mails now look different than player mails
Delete button on individual mails
Forwarding and replying now doesn't drop original sender info
Can delete sent mail (this only removes it from outbox, not other player's inbox)
Replying, Forwarding and Deleting now take you back to the same place in inbox you were previously
Sending a new mail now takes you back to Inbox rather than Send items
Auto-save of current mail draft, recipient and subject
RE: FW: only get prepended when they are not already at the start of the subject (so no more RE: RE: RE: RE: )
Original messages are now in a darker quote box in Replies and Forwards
Compose New, Delete, Reply, Forward are now at top and bottom of mail messages
Compose New, Delete, Mark Read, Mark Unread now at the top and bottom of mail list
Can change recipients on mails by clicking send message in friends list (or chat) without clearing the message
Prestige Auto-Renew
Players can now have their prestige account and prestige bonuses auto-renew by automatically deducting prestige from their account (you cannot auto-renew against the Alliance Prestige Pool). Visit the prestige/auto-renew page to activate. Auto-renew can be deactivated at any time.Functionality includes:
Prestige Auto-Renew (Preference page and saving)
Expired Prestige Account added to notifications of expiring prestige items
Auto-renewal attempt but expire if not enough prestige (notification + mail)
Auto-renewal on expire (notification)
Auto-renewal on expire, but if not enough prestige for next renewal (warning notification & mail)
Alliance Roles
Edit alliance roles page has been re-worked and cleaned up. New "daily prestige spend limit" parameter added. Edit alliance member screen now shows player population.New role options include:
Speak In Alliance Chat (default true, can silence roles)
Can Mint Medals (default false)
Can Award Medals (default false)
Can Award Medals Outside of Alliance (default false)
Can now change "Default Role For New Members". If switched off this is switched on for lowest role in heirachy. When switched on it switches it off for any other roles.
Other Changes
Siege now indicates when capturing a city is possible and if it is possible
Prestige history now displays the most recent transactions
Alliances page doesn't duplicate alliances across pages (e.g. postition 20 doesn't occur on page 1 and 2)
Commodity choice in market at top, between buyers and sellers and bottom of market place page
Accepting an invite from an Alliance without a default role or multiple default roles (including deleted roles) would cause an error. This has been resolved. If an alliance doesn't have a default role, the player is placed into the role at the bottom of the hierarchy.
Your player link is now shown as your player name rather than converting to "You" and "Yours"
Player and Alliance profile links now open in a new window when they are external urls
Player names, Alliance names and Town names can only use the following characters:
012345789
AaÀÁÂÃÄÅàáâãäåÆæBbCcÇçDdÐðEe
ÈÉÊËèéêëFfƒGgHhIiÌÍÎÏìíîïJjKkLlMmNn
ÑñOoÒÓÔÕÖØòóôõöøŒœPpQqRrSs
ŠšßTtÞþUuÙÚÛÜùúûüVvWwXxYyŸÝýÿZzŽž_- and space.
Leading and trailing white space will be removed. Searching and sorting are case and accent insensitive so each of these letters can be searched using the simple a-z equivalent.
White space has been removed from existing names
Alliance tickers, Medal names and Medal titles cannot use the following characters: []|" Leading and trailing white space will be removed
Medal names and titles can be a maximum of 50 characters each
Mail signature - Defaults to on, can switch off will remember preference.
Forum signature - Available at the bottom of edit profile page.
Mails sent around midnight have all been returned and should no longer go missing.
And... Lots of front-end speed ups!