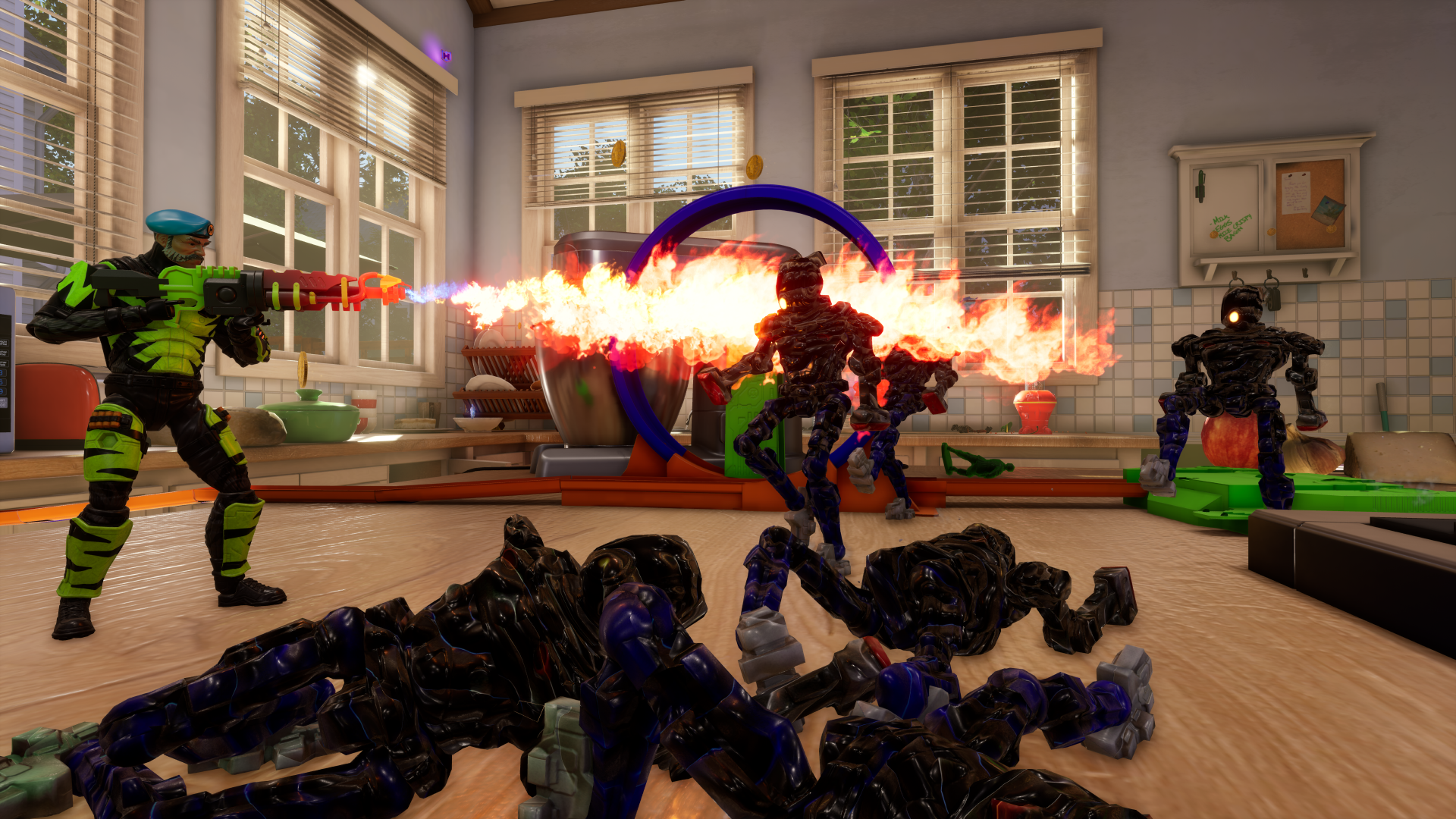 When you're swarmed by enemies the Flamethrower is an ideal weapon to push them back...or you know, melt them! We've also added a flashlight to help find your way in darker environments, and a battery charger station.

HYPERCHARGE: Unboxed is still on sale. If you are interested in purchasing it, please visit our store page below.



As always, please keep sending us your feedback. We are listening and want to develop the game with you.

Remember to join us on Discord.

New Content & Improvements:
New Flamethrower weapon! Can damage and melt multiple toys at once!


New flashlight attachment for dark maps!


Added new Battery Charger station. Spawns after completing a map on Platinum, Ruby or Diamond difficulty


Throw Batteries into Power Nodes & Chargers!


Underwater SFX system added to Garden


New melting plastic system for all enemies. (Other flame sources now melt enemies)


Improved weapon sounds, turret sound attenuation fixes


Improved hit response animations on Soldiers and Experiments


Added new Music Prompt, will now show what music track is playing from the OST
Fixed DPI scaling in Split Screen. Now improved HUD scale works for Horizontal Split Screen


New death screen icon and death text messages


Fixed Power Nodes battery not being knocked out by some enemies


Fixed Power Nodes being attacked after battery fell out


Fixed health bar lack of blur in Arcade map


Finally renamed 'Legs' to 'Bipod'


Added power cables to Slot Machine and Battery Chargers when they're activated


Fixed Mine Trap damage radius and doing damage to Cores


Fixed Rocket Turret doing damage to the Core


Fixed jets crashing in Garden


Extended the length of time of the Player Pointer


Fixed Garden map not being unlocked for some users


Shortened Cargo Plane path on Garden


Fixed some issues with the waves in Operation Alley


Fixed Meatbags having spark FX as a ragdoll