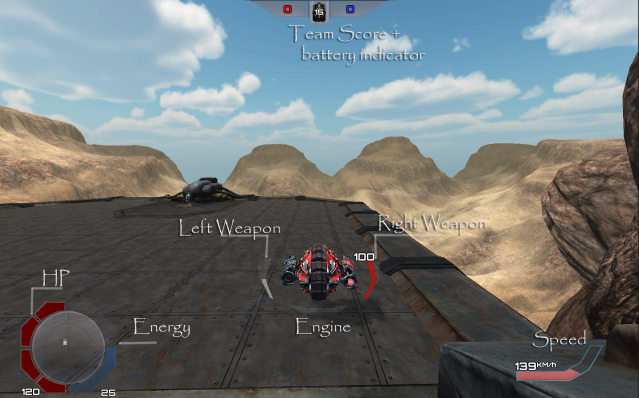 A while back we announced our brand new design of ImpactO's HUD. Soon we realized that the implementation of it was a piece of cake, but that the design part was much more difficult. Many questions had to be answered during this time, such as: "Will the player even notice changes in the HUD?", "is it taking too much space?", "can the player understand it easily?".
Well, at the end we ended up breaking it down (killed our darlings) and re-implementing it once again. Or new design is much m ore "clean" and focuses on giving much more attention to relevant information and to centralize information into different groups. As you may notice in the above picture the energy, HP and minimap is now located at the same location, while the cool down and charge of each weapon is placed on each side of the weapons. The idea was to give the player information about a lot of important information when looking at one part of the screen (looking at the HP will let the player realize the current amount of energy and at the same time possible opponent threat).
This HUD has not yet been given to our testers and the fact is that we might have to re-work a lot of it once again, putting the development team back at the drawing table. However, we all realize that Rome wasn't built during just one day.