Working is finished up on the personal assistant, its characteristics and features.
We're going to tell you about the personal assistant today. That's what the devices, animals, pets and auxiliary automated devices are called that help players to carry out, or actually carry out themselves, one or more in-game challenges. In BTD, this assistant is the Unibot, which loads upalongside you on the first map and goes through hell and high water by your side.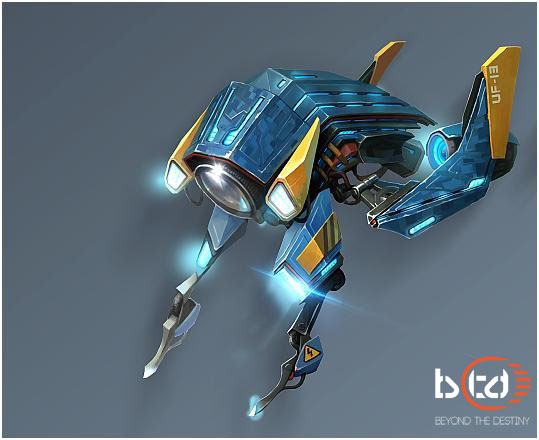 Unibot - an absolutely new type of electronic technology: it combines a clock, notepad, navigation system, flashlight, telephone, camera, video camera, computer and a holographic projector all in one device. This device is called the Unibot. The Unibot unfailingly accompanies its player, remaining by his/her side. The Unibot flies near the player at a random spot on the horizon. Players cannot get rid of or turn off their Unibot.
Batteries
Like other devices, the Unibot runson Luxurite batteries. However, only the multiple, optional and auxiliary functions use up battery life. The main functions, such as the main interface, use an internal self-recharging energy source. It doesn't have enough power to run the secondary systems though.
If the Luxurite batteries run out, the Unibot's secondary systems shut down and go into energy-saving mode. The player will be notified of this. Meanwhile, the Unibot goes into standby mode and sits on your rucksack until it finds the required batteries in the rucksack. Unibots use the battery pack from the character's rucksack, but all Unibots have one type of battery.
Basicsystems
The Unibot's basic systems display standard information:
Player biometrics - displays the player's stats (health, and energy)
Self-diagnosis– displays the Unibot's stats (battery level display, information icons showing the Unibot's condition)
Modification
Unibots come in different models which vary in size, shape and number of mod slots. Since the Unibot is a single autonomous system, the basic functions of all Unibots are identical. However, different models have different modification possibilities. This is set by the number and composition of various mod slots, in other words, the number of modules that can be installed in them. Modules vary in shape, and their number is limited by the number of mod slots.
At the moment, the BTD team presents you with the second gameplay videos of the locations - "Sector Beta"
Beyond the Destiny on social networking sites
Now you know a little more about BTD in time for the imminent launch of the alpha testing session. Follow us on VKontakte, Facebook, Twitter and Instagram and you will be kept up to date on all events.
Yors, the BTD team.