We took our game Terraforming Earth to PlayIT Budapest, the biggest Hungarian game show. The point of game shows, of course, is to attract peoples' attention, a difficult task in a noisy environment where there are a plethora of interesting things to see and do. If you are about to showcase your game at a convention, I heartily recommend checking out Nicolai Berbece's excellent GDC talk "You suck at showcasing your game". This article is about our experience implementing his suggestions as well as our own ideas. Check out our two and a half minutes video about the event! 👀
Terraforming Earth is about three quirky robots working together to save the desolate Earth. It can be played solo, however, the best gaming experiences I ever had always involved friends sitting in the same room, so we implemented co-op mode, meaning you can play the game with one or two friends, paying attention to the objectives and helping teammates to achieve them together.
Fast-paced gamepad-controlled couch multiplayer games are a very good fit for game shows and conventions, so if your game has that you are already way more likely to attract players compared to e.g. simulator games that take 10 minutes to set up before you even start the tutorial :)
To give players something to do with their hands while they were waiting for the controllers, we designed a pretty foldable Opi papercraft thingy. Check out the blueprints! It's kinda like a huge business card with a built-in mini-game :D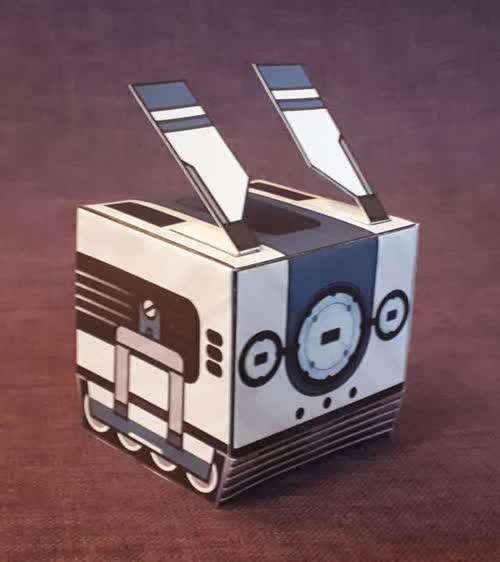 As a crowning moment of awesome, we challenged the crowd to beat one of the game's Boss levels. We offered 4 Steam keys to the players, and one Steam key for each spectator who saw the epic feat happen live. This incentivized the spectators to offer hints and suggestions to the players with the controllers, creating a friendly "Crowd Co-op" atmosphere. Many teams have tried and failed, teams rotated after a few failed attempts, while spectators and veteran players tried to come up with a working strategy. They did beat the level after 80 minutes. It was a nice experience for everybody, the players walked out with a real sense of achievement, while the spectators looked eager to play the game themselves.
If you are a fellow gamedev about to showcase your game, try to come up with a similar friendly keys-for-all approach! If you like the Terraforming Earth concept, please wishlist the game on Steam! If you are eager to start terraforming Right Now, sign up for the beta on our Discord.
GL HF at your next game show ;)