Greetings and salutations!
This week's screenshot shows further progress towards the new intro cutscene: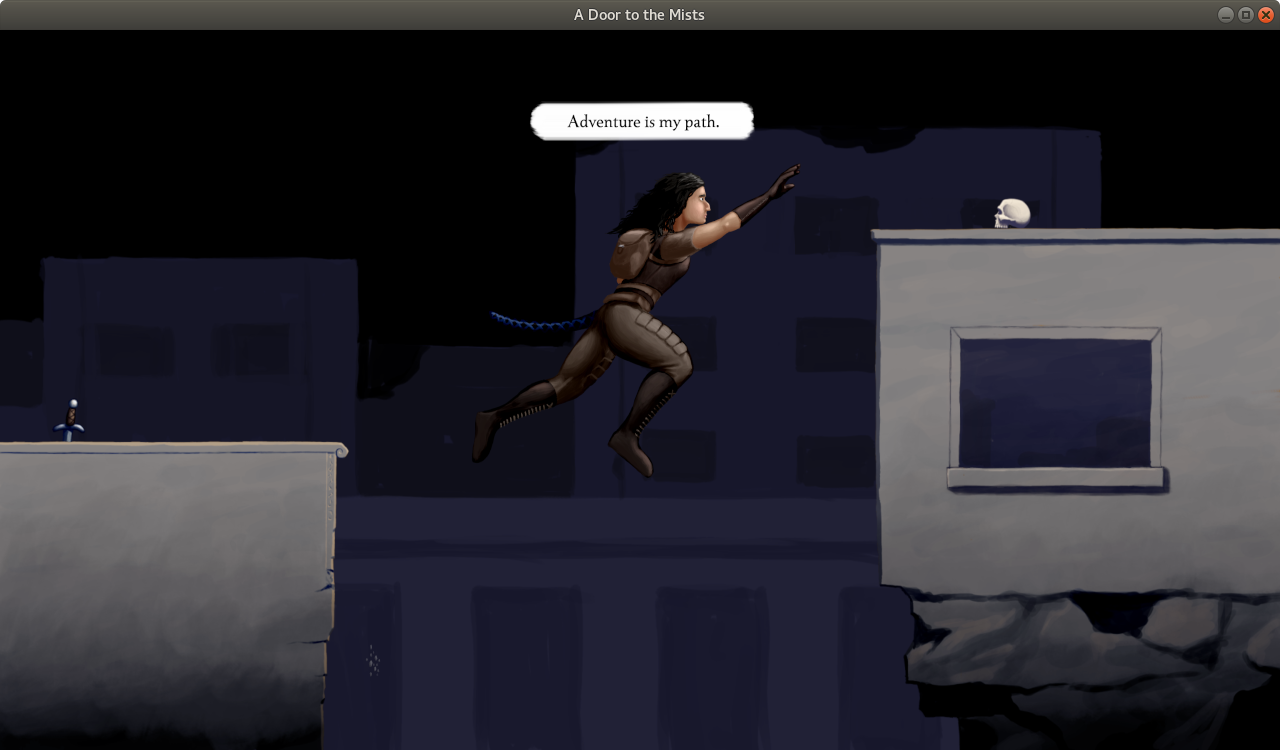 The work of the week just past was primarily given to said cutscene--but a significant game-mechanical matter did also come up:
As to the cutscene, it's still a work-in-progress--very much so--but it made progress in the week just past I do believe. The first scene--the one shown last week--has been tweaked, the brief second scene has been added, and the third scene is well underway.
That third scene actually borrows a bit from one of the wallpapers that I previously made, the one depicting the protagonist mid-leap.
The basic idea remains the same, albeit with a new backdrop: the protagonist leaping from one ledge to another amidst a ruin. Indeed, the image of the protagonist is taken directly from that wallpaper, reworked somewhat both to correct an error in proportion and to re-light the figure.
The depicted leap did, however, incur a question: was such a jump actually feasible in-game?
After all, jumping in A Door to the Mists is somewhat, well, grounded; somewhat limited: I want to avoid power-fantasy super-powered jumps, instead going for a more-human feel.
So I checked in-game, and... the jump wasn't feasible.
But it seemed like it should have been. And indeed, further testing discovered further gaps that seemed as though they should be crossable, but that were simply too far or too high.
So, I hesitantly experimented with increasing the player's jump-height. It's not a huge change: the previous value applied was 2.0, and the new value is 2.75. But it does make a significant difference in what is feasible:
That said, I am nervous about this change: as noted, it significantly changes what's feasible. Testing is called for, I think, and perhaps even tweaking to at least one level. Further, I worry that it might go a little beyond that human scale that I want for it.
The change also decreases the overall difficulty of the traversal implemented thus far. This I'm not too concerned about: After all, the most traversal-heavy level that's currently in place occurs fairly early in the game. In addition, what's easy for me--who made the game and who has played it extensively--may be less so for new players.
Still, I may make some tweaks to re-increase the difficulty of a few jumps.
Furthermore, my testing revealed another problem: it was surprisingly easy to overstep just a little when going for a long jump, thus resulting not in a leap, but a plummet.
To hopefully remedy this, I've implemented a small amount of "coyote time": a brief window after leaving the ground during which the player can in fact still jump.
It's not so much that it feels like a double-jump, but I hope that it's enough that it rescues those slight oversteps, and thus prevents frustration that they might cause.
Now, this isn't terribly realistic--but then, a player controlling an avatar has a rather more limited perception than a person operating their own body. There's less peripheral vision, no binocular vision, no proprioception, no sense of touch (e.g. in the foot), and so on. Tricks like "coyote time" thus make up somewhat for those lacks, I feel.
With these changes in place, and once testing and any tweaking is done, I'm considering releasing a minor update to the demo in order to include them.
Finally, let me once again close out with a gif--this time showing the first three scenes of the new intro cutscene, as far as they've yet been made: (Noting that the third scene isn't yet finished, and thus stops partway through.)