Today we have an important topic on the agenda, such as interface. The interface is a player's guide to the virtual world. Any game with inconvenient ugly interface will immediately turn into nightmare.
We announce the first version of our interface to you after numerous disputes, discussions and radical changes. It will be significantly improved in accordance with the results of the first stages of the closed beta testing. So this is not the final option (sorry for russian language)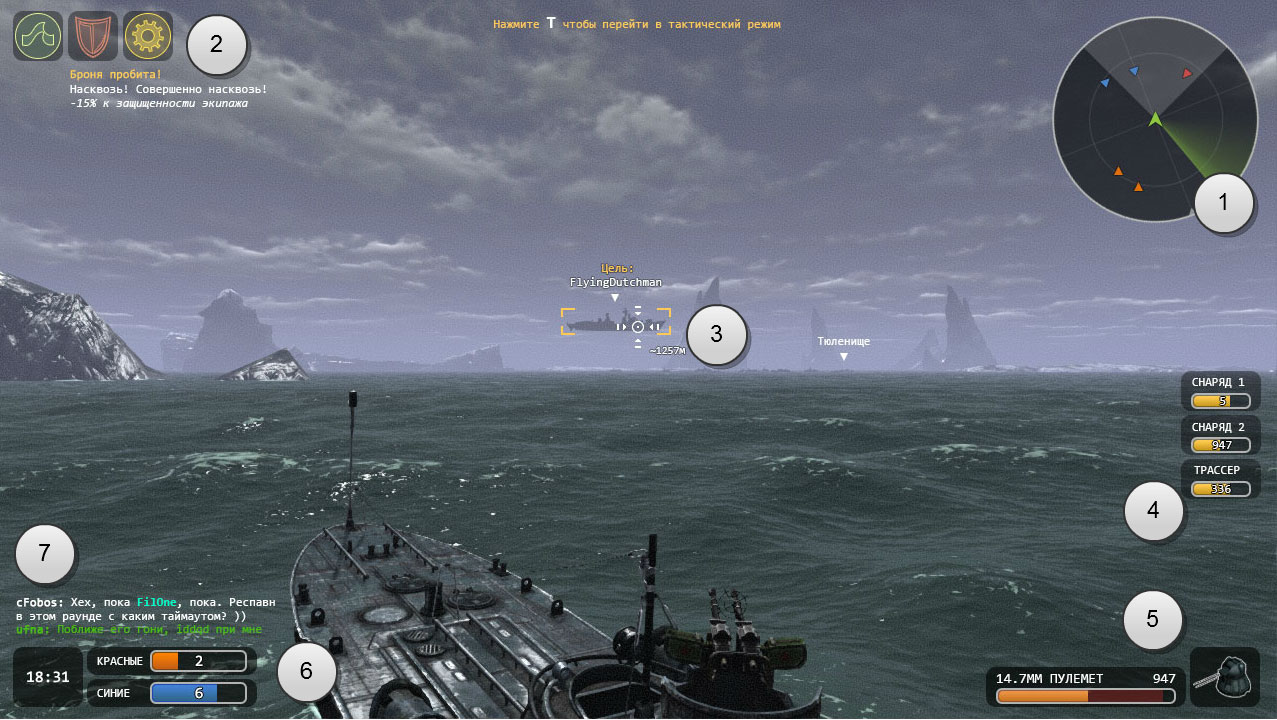 Radar. Radar displays friendly and enemy ships, missiles, torpedoes, mines, helicopters, submarines and other objects discovered by the detecting systems and its crew (visually).
System of critical events indicators. The engine compartment has been completely flooded? There is no ammo? The fire control system is broken? A storm will wash away the crew from the deck? You will never forget your status with this system.
Scope. The scope is equipped with a spot ranger; it can determine the target's nickname, and all your shells will fly here.
Ammo indicator. It shows the amount of different shells for the given weapon type.
Indicator of the weapon selected. It show the selected weapon, amount of ammo and superheat degree.
Combat indicator. Timer, number of killed in different teams, additional icons depending on the combat mode (for example, amount of transport ships within the convoy).
Game chat.
This interface for above-water vessels is relevant for artillery duels, visual detection of the enemy, antisubmarine tasks… However it is completely useless for long range missile combats. This is why we have also created the Strike Interface. While offering its concept to you, our shamans integrate it in the project.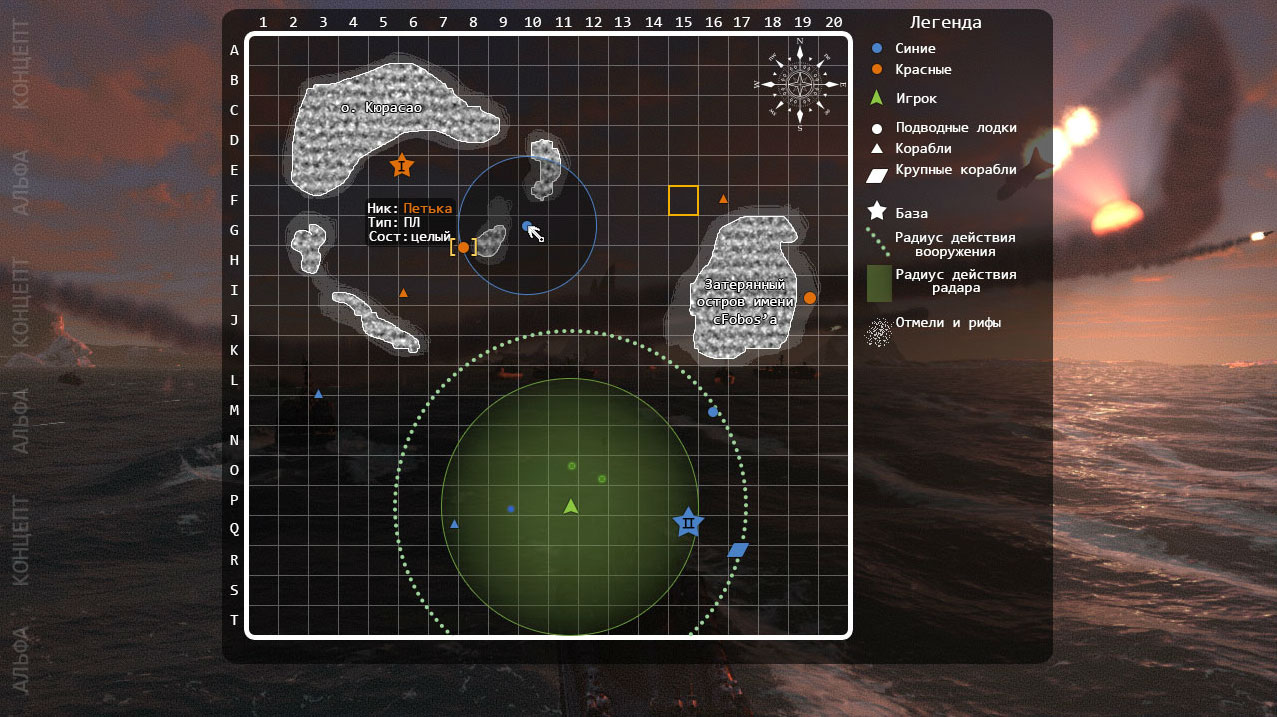 The Strike Interface represents the game map with specified radar ranges for our and allied ships (at pointing a mouse cursor on them), terrain, shallow water, detected enemy ships, missiles, submarines and helicopters as well as the efficient range of the selected weapon. This interface is used to launch cruise missiles, fire long-range artillery, torpedoes. The missiles can be launched at any place on the map (in this case they will search for targets automatically) or against a specific enemy using targeting from the ship's systems or friendly vessels and helicopters.
You can always carry out efficient combat on any working distance of your vessel and remain aware of all main events within the battlefield, respond operatively on combat changes and participate comfortably in battles using all types of weapons from torpedoes and automatic canons to huge cruise missiles.
All mentioned components are timely for the upcoming beta-version and will be significantly modified in accordance with the results of the tests. The current interface is aimed on a general run-in test and does not seem to be polished and visually attractive.
This is all for today. We will be glad to hear your preliminary impressions. Stay with us and you will discover much interesting about the Seacraft project.