Small New Update:
Just today I have completed all the character premises with the strong new direction to the "new" antagonist. If you are not in the know, check out the last news; "The Antagonist Reveals Himself to Me." Basically I have laid out there brief summery of what drives them to do what they do in the story. As with there major and minor goals in the story that they half or try to achieve. This helps me get a clear road of there paths of what they are expected to do.
So all there is left is editing the lines from past and present entries to go along with the new context to the antagonist, as well as with the level direction, and notes and memos. Now this is by no means whats left, there is still a considerable work left to get done. And I might switch back to part time to evenly balance school, job, and my hobby; (This mod). Also to the voice actors, it was my fault for not documenting the story from the start, in-staid of just drifting around in my head. If you feel by any means of payment for your contribution, I will pay, but if you feel that I need too based on this mistake I did. I am 1 trillion crystal clear sure and I love the new direction of the mod. Thank you so much Stig for your brain storm help. Story editing goes to you on this one for the credits as added.
Old:
I am not sure why but I seem to learn my lessons the hardest way, good thing I am creative to make it up. For the longest time, I have been holding back on truly re-defining my urban environment. For some reason, the architecture was stuck in America...I do not know how I forgot that the mod is set in London.
This is crustal for immersion. You do not want to leave the player out-of-context to its style of surroundings to that particular moment in the game. So lets see just what I am aiming for.
This is what I currently have in building style. At the time I was afraid to model, and my head was still stuck in American style buildings. I would not even call these bricks buildings, but just a huge brick. Anyways, recently I changed the road theme and 3d illumination lighting from the windows.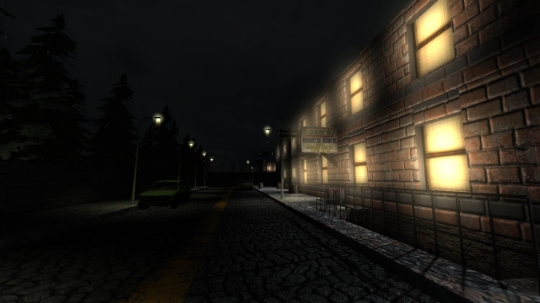 Here are the models I have re-created from research photos. (Please note the models are not textured yet)
I have at least 3 more windows created as well. Each window also has a variation; weather it has a top, or front fence, vise versa, ect.
Now I do aim to relay capture London. From its unique shape of windows, the trims of the buildings, London street lamps. After the mod is released when the time is ready, I will go back to the levels and add breathing life to them. For example in the London urban areas, I can have cars driving by, with people walking by as well. Birds flying about, ect. Yes this is a big hurdle to go though with the technicality but I do strive to achieve it. I have seen this concept done before in Amnesia. A geometry rigged character doing its own animation upon trigger.
So here is what I aim for. Good luck to me.