Community member cRo4Ti4 is guest blogging about when he flew from Berlin to Copenhagen to participate in the first trailer shoot. (Translated from German)
By cRo4Ti4, Superfan and Trailer Actor
Hello Comrades – a short story about how I met Reto-Moto and how I became "fan".
Emotions
"Fantastic, jeeeyyy, freaky omg what I have done?" … this was what I thought as I got the answer from Reto-Moto that they had chosen me to be part of the Heroes & Generals trailer shooting in Copenhagen :) . Now i really have a chance to meet guys who works on a game that I am playing and in love with.
"Damn, I've never been in Copenhagen before. I know no one there …but something told me, like an "adventure need" that I needed to go. I feel ready for this great adventure; to travel "alone" without knowing what will await me, where I will sleep and how to arrive to the right place at the right time .
I got a tip from Reto.KenSolo about a nice hostel " Danhostel". (I was the only one who came to the trailer shoot from outside Denmark and the developers told me that they couldn't pay for travel costs, so I paid the plane-tickets and hostel by myself)
Cool great all went perfect!
All went perfect until a few days before the "adventure start", as I opened an "important mail " from Reto.KenSolo where he tells me that due to the bad weather-forecast Saturday, the outdoor video take is canceled, but the Sunday indoor shoot will stay. The plan was that on Saturday there should be an outdoor video capturing and on Sunday the indoor video take.
puuuuhhh… "damn I had already paid for the plane-tickets and the hostel was reserved."
OK – I will just proceed and be "tourist" one day in Copenhagen.
So the adventure started before i arrived there…
Friday – Day of arrival
I arrived on Friday late hours, and I found myself fast falling a sleep (I found a nice Map on a "litwassäule" and walked a little around before sleep, to check up the "situation". Wind, a little spray of rain and dark cloudy weather let me steer near the "hostel" to have some nice drinks in the Lobby and chilled a little.
Saturday – The day of the canceled Outdoor shoot
Saturday Morning I woke with mixed feelings, a little "sad" by no outdoor video take. Looking out of the window " (picture) I realized that it was good that KenSolo and his crew had decided to cancel the outdoor video shoot as it looked cold and really wet out there this day. And I didn't want to think of how it would feel after 4-6 hours in the woods by this weather – so I was still okay with the decision to cancel (the camera and other gear was probably not waterproof after all).
So I thought "hey come up… Copenhagen is my playground on a Saturday and with Copenhagens 'nightliveshoW'" :-D
I decided to ignore the spray-rain and become friends with it and started a long walk around Copenhagen city. I reached at some point of sightseeing the little mermaid (ed.: this is actually quite a long walk from Danhostel. /Reto.KenSolo) – I did this until I became hungry and went into the "commercial city" streets to find a nice cool location to eat something.
After that the energy came back, and the 1/2 L beer, I wanted to walk again around in good Vibe.
For a more easy sleep I decide to drink and got familiar with a few "oldscool pubs" (vikings?) - just to get enough nice vibes from the people around me and catch up the Copenhagen beat.
Sunday – The day of the Indoor shoot
Sunday Morning
I checked out from Hostel and tried to remember where I had seen a sign the day before with that morning brunch.
I found the best brunch I think I was able to find (all you can eat brunch in a nice corner side-street location).
I was a little "nervous" about how the day would proceed, so I ate a BIG fat great breakfast (bacon, eggs, chicken wings, and, and, and…) as I didn't know when i would eat the next time. I kind of overdosed it, so I needed 1 hour to feel normal again after that. (And that 1 hour actually did that I missed the meeting time with Reto).
I walked around some streets and went to see the Reto-Moto street-door (and I took a picture to prove I was there) and I looked at the simple "name tag" and thought "cool these guys don't need 'posing' and yes, it's really a fresh startup developer ".
I finished off with some more sightseeing around Copenhagen and stayed at a cathedral/church near meeting point for a while …..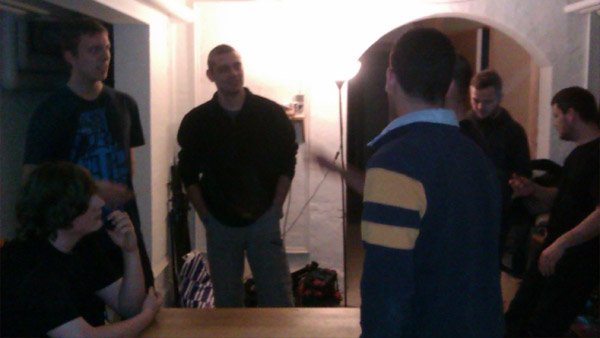 So the time comes to meet Reto-Moto
I went to the address, where we were supposed to meet for the indoor shoot, and there I saw what I thought was the first visual contact with someone who might be a dev of Reto-Moto.
By the words "Hey are you Igor, I am KenSolo. " I feelt familiar with him from the first tone. (yeah, thx again for the warm welcome) I followed him to through the gate and into the basement. All my worries were gone when i stepped down the basement and took look on the guys there.
I was not the last "trailer actor" to arrive! Some work around the basement was going on, where two other guys were preparing and setting up the basement to look more like a "basement room"… oh yeah, a basement… How do you think a basement should look like?
(I must admit, that I had not imagined that the peak of my adventure, traveling and sleeping in another part of the world, would be to come to a dirty basement at the end… but no, not one second did I feel like I was doing something " idiotic")
So i let the Vibe flow…
It was a great video-shoot with really cool Comrades and I was really glad I decided to join this adventure. Much more than before I went, like 180% more!
And I know that my dream, to have the chance to meet game artists, to be a part of the start-up of a game, and even better to be able to suggest stuff for the development of the game and know that my voice will be heard….
…comes true ……
Thx Reto, for being cool Comrades!
cRo4Ti4