So before we get into to much I wanted to go ahead and share with you the armor that we'll be discussing in this news post.
This is the redone female monk armor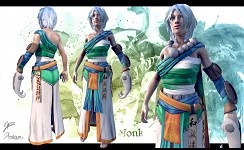 This is an image of an armor before upgrades and after 4 upgrades.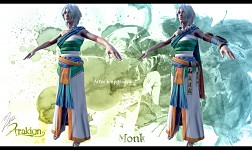 Finally this is a mock up of where your'll view your character in game.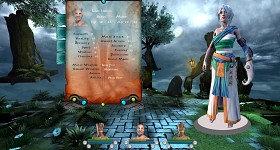 If you hadn't watched it yet go to the youtube channel and watch the second developer diary skip to about midway or round about there, listen through the weapon system description and come back here.
In the Arakion armor system you start with a base armor, each class has one, the monk starts with the basic Gi setup that you see in the screenshot, the warrior starts with rusted plate, caster with robes etc...
As a base component, this is all you will receive the entire game, but how the armor works is as you "forge" new pieces they are applied to your character, working in an additive system like the weapon forging. So you'll never have stats taken away, your stats will constantly be added and upgraded as you forge new pieces for your armor.
This will work in a grid like system, you pick an upgrade -- after you've purchased it, it closes off the previous options and opens new ones for you to choose from. The monk has a leather esque path and a cloth esque path, you'll be able to blend these two paths, perhaps getting shoulder armor from the leather path while getting sandles and a hood from the cloth path.
It's being done in this fashion for two reasons. The first is that it eases the burden on me and I won't have to make a million different armors, there will be 2-3 full armor sets per class. The second is that it allows nearly unlimited customization for the player. You'll be able to play the game 50 times with 50 unique armors for all your characters each time. If I have the energy left in me to get multiplayer in, every character will be unique simply based on how open ended the armor customization system is.
As with weapons, in armor at certain points along the grid you'll be given the opportunity to craft rare and legendary pieces for your character if you have the materials required. For example the monk is able to "craft" ancient scrolls which give a permanent percentage buff to the monks total energy.
On Saturday I'm going to either be showing off a fly through of the town, or a demo of how the town works along with screenshots, as well as information regarding an outline of the game.